For the third offseason in a row, welcome back to Blast From the Past. The random, oh yeah, remember him? players in recent Pittsburgh Steelers' history. Some made an impact to the team, others cut early and never heard from again. But they all produce a level of fuzzy nostalgia.
Sticking with the near turn of the century with defensive end Orpheus Roye.
Memories can be a tricky thing. For the human brain, they're often unreliable, mixing and matching different events into one, false recollection. A Disney study several years ago reinforced the idea. A focus group was split up into four parts with two of them either reading about Bugs Bunny or having a cutout of him placed in the room.
After, they were asked if they met Bugs Bunny at the park. About one-third of them said they did. Of course, there's no way they could have, considering Bugs isn't Disney property. It was the 'ol human condition getting in the way, conflating two events.
I tell that story to admit my own false memory. Until circling back to Roye's name today, I thought it was he who got hit in the eye by a rogue flag, causing a freak but severe injury. Anyone else remember that? It didn't happen to Roye but to another Cleveland Brown, Orlando Brown. Video of what happened seems impossible to come by, perhaps scrubbed from the Internet after Brown's untimely death in 2011, but I came across this GIF of what happened immediately afterwards with a clearly angry Brown.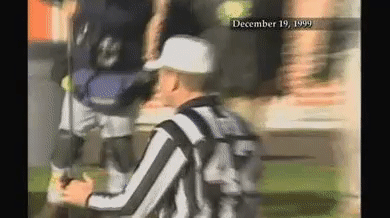 So maybe if you don't learn anything about Roye, or are apathetic to it, at least I did.
Back to the topic at hand. Roye was one of the best defensive linemen in Florida State history. Stats are hard to come by because of the era; instead, here's one clip of him swallowing Fred Taylor whole. Big, broad shoulder pads that would make Levon Kirkland do a double-take. And the old-school neck roll I'm dying for players to bring back.
The website Big Blue Interactive has draft notes from the New York Giants, I don't think from the team but some magazine that covered them, from 1996, including this snippet on Roye.
"Orpheus Roye, Florida State (6-4, 294lbs, 4.90): Good size and athletic-ability. Plays hard. Inexperienced — he needs a lot technique work. Not overly instinctive. Could develop. 4th-5th rounder."
He ended up falling into the 6th where the Steelers scooped him up. Through his first two seasons, '96 and '97, he rarely saw the field, starting just one game and recording six total tackles.
1998 brought him better fortune, starting nine games and playing all 16, in part thanks to a Nolan Harrison injury. He racked up 3.5 sacks, tied for third on a pretty "meh" 7-9 Steelers' squad. 1999 was his best year with the Steelers, recording 4.5 sacks and intercepting his first pass. That came against the Cincinnati Bengals, a day where Akili Smith was sacked four times, once by Roye. The Bengals' Enquirer has a photo of Roye on the takedown.
1999 was also his last season in Pittsburgh. For his original run anyway. He signed two hours northwest, going to the Cleveland Browns. It was a mega-deal he couldn't pass up, a six year, $30 million contract.
He would remain the starter there when healthy for the next seven years, there were several missed games over that span, but he was unable to match the sack production he had with the Steelers. Only once did he top two in a year, part of that due to an unexpected move to defensive tackle. His number of tackles saw a big increase, including a career high 88 in 2005. One Browns' fansite said Roye played at a team MVP level that year.
Also adept at getting in throwing lanes, he batted down 27 passes in his Cleveland career.
But Father Time always wins out. On February 27th, 2008, the Browns cut Roye. A knee injury suffered in 2007 played a role though his agent – as agents do – declared Roye healthy and bashed the Browns for the decision. His agent also said Roye would be in high demand. Yeah…no.
Still a free agent by mid-August, the Steelers decided a reunion was in order. Mike Tomlin scooped him up and said Roye's veteran experience would help the team.
"He is a professional," Tomlin said via UPI. "We will see what he is capable of doing and work him out. He had a very solid workout and seems to be in pretty good shape, so we will continue on him the next couple of weeks and see if he can find a seat on the bus, if you will."
There was, in fact, a seat on the bus, but on gamedays, that's also where Roye often stayed. He played in just six games, making six tackles. Pittsburgh would win the Super Bowl that year off Santonio Holmes' miracle catch and Roye would earn his first Super Bowl ring (he was inactive for the game, for the record).
Before that game was played, Roye was asked by the Canton Rep to compare and contrast the two franchises, Browns and Steelers, and why the Steelers' environment always had that family feel.
"I don't know, I guess they do a good job of bringing guys in," Roye said. "They have a good nucleus here. The owners, the coaches, everybody has that togetherness. It's a family here. Everyone has one job. Win. It feels good to be apart of that. There's no ego, there's no guys who want to be 'the guy.'"
At 35 years old, Roye would go out on top, not playing again after the Super Bowl. A career that finished with over 500 total tackles, 18.5 sacks, and four forced fumbles.
I haven't been able to find much on his life post-football though in 2008, NBC wrote about his cars for some reason. And there were many in his collection, seven in total.
"Among them are a 2004 Mercedes-Benz CL-Class coupe, a 2005 Land Rover Range Rover Supercharged, a 2006 Bentley Flying Spur, a 2007 Mercedes S550 sedan, and the most massive of all, a 2007 Maybach 57S."
Maybe he'll let me swap the McLumina for one of his.
Orpheus Roye, your blast from the past.