New series we're kicking off here to get us through the upcoming dog days of the offseason. Every player wants to improve, to elevate his game in all areas from one season to the next. Understanding that, we're going to isolate just one area, one faction of a player's game. The biggest area for improvement.
We're going to kick things off with cornerback Ross Cockrell.
Ross Cockrell – Become A More Physical Presence 
This has been one of the biggest issues I've had with Cockrell since coming out of Duke. In the scouting report I did on him way back in 2014, I made a big note of that. A player who is not physical enough.
– Devoid of functional strength
– Put on skates when stalk blocked
– Shy and hesitates to get his nose dirty against the run
– Soft tackler
That hasn't changed in his NFL career. Cockrell's lack of strength and tentativeness create big issues as a run defender and open field tackler. Let's click through a couple examples.
Gap scheme from the Arizona Cardinals, the left guard pulling across the formation. Pre-snap, Larry Fitzgerald is motioned in to kick out Mike Mitchell, leaving Cockrell as the alley defender. The guard pulls through and knocks back Cockrell, taking him out of his run fill.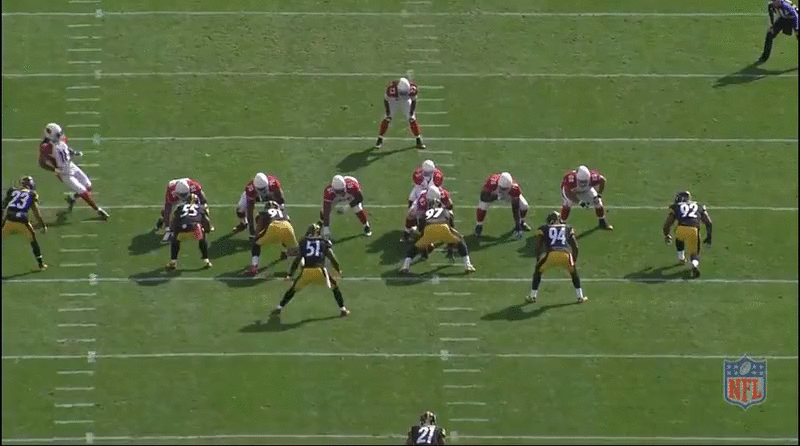 Of course, this is a 300+ pound guard and I'm not looking for Cockrell to put that guy on his butt. But he needs to be willing to sacrifice his body, cut and take out the pulling guard through the hole, creating a pileup and effectively collapsing the rush lane, allowing for the linebackers to fill in and finish the play.
Sean Spence is able to scrape over the top and make the arm tackle but it isn't a positive play from Cockrell. On these types of plays, or on crack/replace where the cornerback now becomes the force defender, he needs to be willing to sacrifice himself for the good of the play. It's something we saw Ike Taylor do and something William Gay does all the time. I'd love to create a cut-up of them playing the run.
Cockrell didn't have to worry about it a ton last year, playing on the outside in nickel packages. But if he wants to start, he's going to be involved in the run a lot more and there will be times where he's on the closed side, or without any receiver responsibility.
We have similar issues as an open field tackler. The loss to the Seattle Seahawks was particularly a bad experience, which you can apply to the entire secondary. He repeatedly missed open field tackles on screens, allowing YAC or at least, the potential for it.
Off coverage late in the second quarter against them. Russell Wilson fires off a quick screen to Doug Baldwin. Cockrell recognizes and breaks on the throw but gets shoved off once and then misses the tackle again. What should've been a minimal gain turns into eight.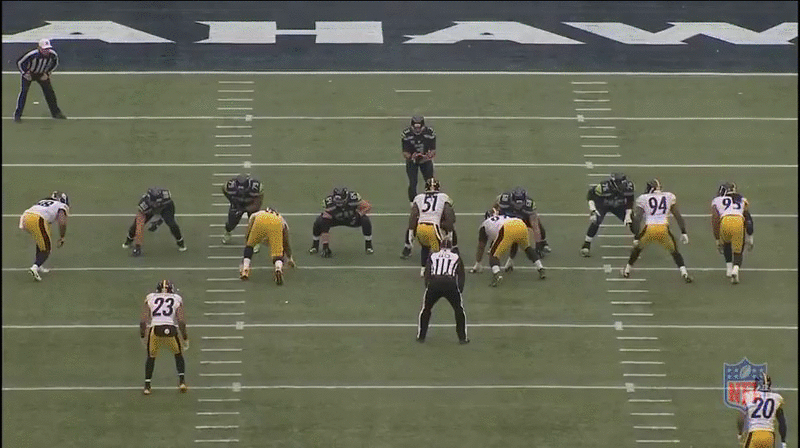 Similar story to begin the 4th quarter, though I give Cockrell credit for his effort and headiness, ripping the ball out as the receiver is wrapped up.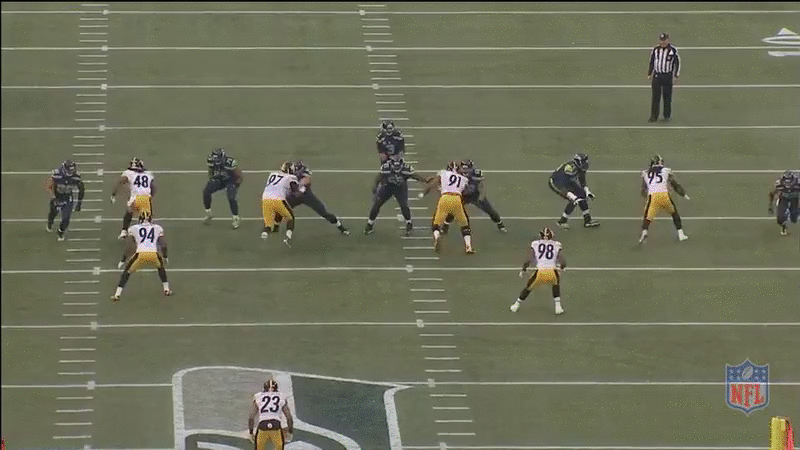 It's easily exploitable. See a guy on tape struggle in the open field and you're going to throw the smoke or the bubble all day, especially with the amount of off coverage the Steelers like to play. It could, and really should, force Pittsburgh to roll him up to the line more often and discourage those types of throws.
I want to see Cockrell get stronger and really take advantage of Garrett Giemont's program. Beyond that, his mindset has to change too. Be more nasty, physical, and play with that edge you normally think of when you of a Steelers' corner.
If I could give him homework, I'd ship over a highlight reel of Jack Lambert. Lambert wasn't a big dude but he played with greater intensity than any other player in his era, and perhaps more than anyone in history. Cockrell can be Bob Ross off the field. On it, be an enforcer.
https://www.youtube.com/watch?v=e8Lo1sAzOkU