New series we're kicking off here to get us through the upcoming dog days of the offseason. Every player wants to improve, to elevate his game in all areas from one season to the next. Understanding that, we're going to isolate just one area, one faction of a player's game. The biggest area for improvement.
Jarvis Jones – Stay On Your Feet
At this point, though I imagine Jarvis is remaining optimistic, it's clear to me he'll never live up to his lofty first round expectations. He's simply a marginal athlete who lacks the bend to consistently win the edge. Don't mistake that for me calling him a bad player. He isn't. Jones has made steady improvements over his three years in Pittsburgh and I expect him to do so in his fourth, perhaps final, year in the Steel City.
His run defense is solid, punch creates more power, hands more active, and overall, he's a stronger functionally than he once was. It's actually the type of player I'd love to see stick around as a backup – the new Arthur Moats.
Of course, it would have to come at Moats money. It remains to be seen if Jones would be willing to accept that in Pittsburgh, knowing the team passed up the some $8 million option on him this year. I'm sure he, uh, wasn't pleased about that news. Definitely a chip on his shoulder, for better or worse.
But to the here and now. Jones needs to be more active, make more impact plays, but simply telling him to "develop moves" (he has them) or "be bendier" is not a useful critique. He'll need to create his own luck. With his effort, something he already shows snap-to-snap, and just as importantly, his ability to stay involved in the play.
The cliche says you can't make the club from the tub. Focusing on the field, here's something a little less catchy –  you can't make plays from the ground. Jones' biggest plays are likely to come from his effort and fight. Something you can't do if you're buried into Heinz Field's Turf.
Check out one of his half sacks last season.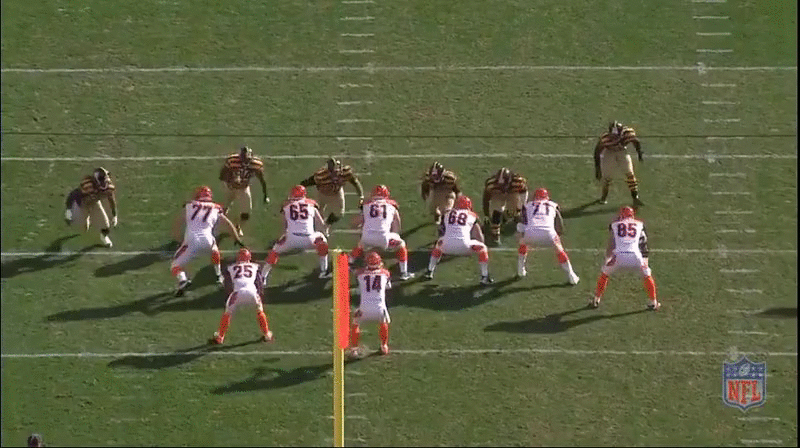 Andrew Whitworth, one of the league's best tackles and someone Jones will see twice this season, seals him up the arc. But Jones keeps working, stays on his feet, and finishes the play to earn his reward.
But I want to see more of that in 2016. Too many times we've seen him get run up the arc, only to lose his balance. It allows the tackle to bury you, almost literally kick you while you're down, and lose rush lane integrity. You can't – like he was able to do in the GIF – stay in the play to compete on the ground.
You can see what I'm talking about in the second meeting. Jones is lined up as the LOLB, going to the ground as the back chips him. He immediately gets back up but it's valuable time wasted and the right guard ends up squaring to him, ending any chance of Jones making an impact, even on this scramble drill.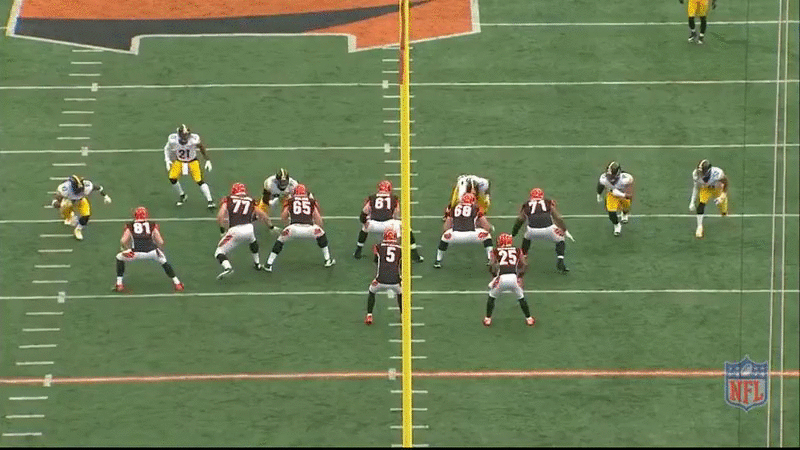 Ditto here, Jones is back at his normal ROLB spot, against the Denver Broncos the following week. It leaves an escape lane for Brock Osweiler, allowing him to extend the play.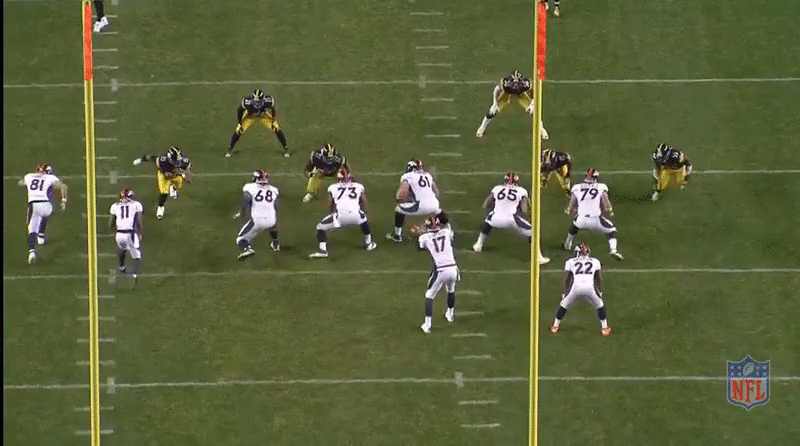 Versus Kansas City, Jones attacks the A gap but is sealed by the guard, losing his footing and his rush integrity. Big hole in this fire zone. The pressure from the free linebacker forces the ball out hot but if it was well protected, there's a giant lane for an athletic quarterback to scurry through.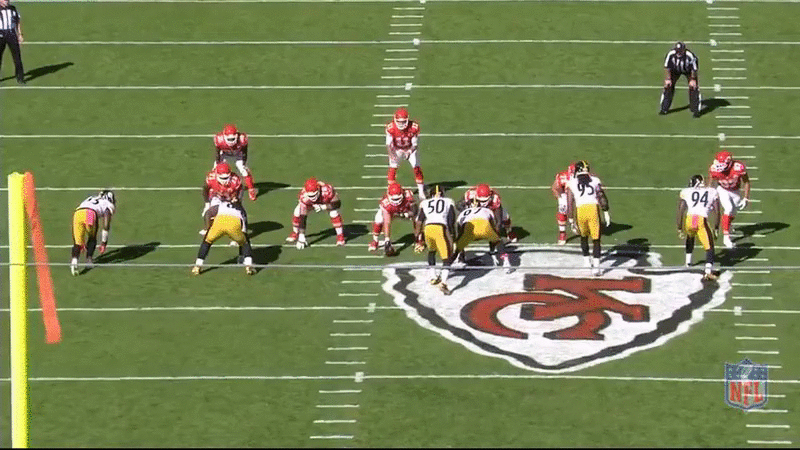 And even those blitzes, where Jones isn't coming off the edge, can lend itself to opportunities. If you can stay on your feet. Here's a good example from him, slanting into the B gap on the closed side.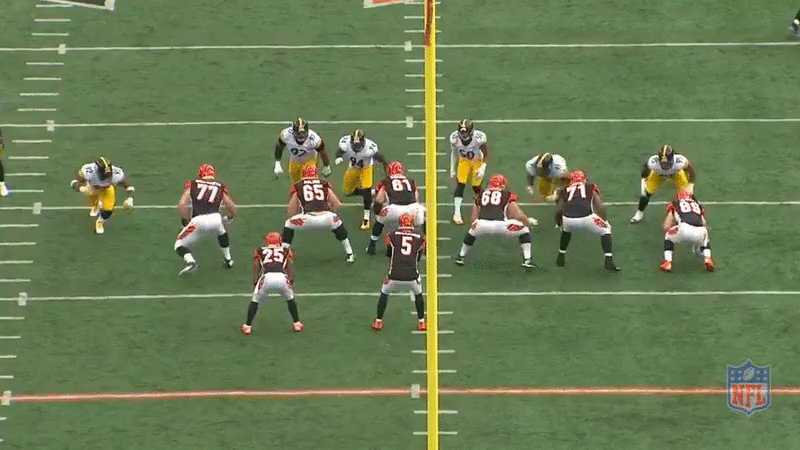 Yes, he's helped by the right tackle peeling off to get the looping Cam Heyward, but you can see the strength Jones plays with, tossing away the right guard, and getting interior pressure. That is, after all, the shortest path to the QB. But it doesn't do you any good if you're on the ground, like he was versus the Chiefs.
Let's also bring up an example of this issue against the run. Jumbo set for the Oakland Raiders who run a Lead Strong.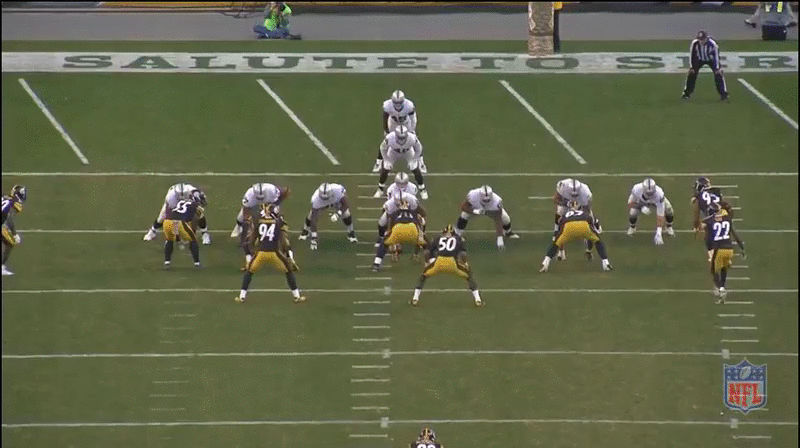 I'm not sure if the tight end knocked him down or if Jarvis just tripped trying to change directions but the result is the same. The tight end buries him and takes away the chance to maintain his gap and contribute to the play.
Jones' career will be about creating his own luck. He isn't going to dominate, to take over a game, to bully anyone but the absolute bottom tier linemen. But if he stays on his feet, allows himself to compete, and keeps working hard, he'll be an important asset. Even realizing he'll never become the eight sack guy the Steelers envisioned.