New series we're kicking off here to get us through the upcoming dog days of the offseason. Every player wants to improve, to elevate his game in all areas from one season to the next. Understanding that, we're going to isolate just one area, one faction of a player's game. The biggest area for improvement.
Bud Dupree – Perfect His Speed Bull Rush
I had some issue coming up with a concrete choice, not because he had a stellar season, but the difficulty in trying to pinpoint the *one* area he could improve upon most. His run defense was really impressive for a rookie. He lined up correctly, generally dealt well with motion, and took direction well when he screwed up. On one occasion, he slid too far down trying to be the force defender when it was Will Allen's job. The safety quickly pointed down to him and Dupree shot through the C gap as the ball was snapped, crisis averted.
Generally speaking, he plays with proper leverage and technique and quickly corrects his mistakes.
As a pass rusher, his season was not incredibly successful. In that regard, he looked like a rookie. Even examining his four sacks, it was difficult to find a commonality with them. One was a free crack at Tom Brady, another a coverage sack of Philip Rivers. Only one of his sacks was really "earned," his blow by of Erik Pears in Week Two.
Coming out of Kentucky, we knew he would have to develop counters. But entering Year Two, Dupree has yet to establish a go-to move. James Harrison has his rip move we all know. Dupree doesn't have that trusty tool to go to or work off of; and that's fine, it's only been a year.
He actually worked hard at creating counters and showing that second move mid-rush when the first one failed. Props to that. But he needs to perfect something to really become an effective rusher. Or else he's just spinning his wheels, trying something, going nowhere. The Paranormal Activity of football players, a flash in the pan with predictable "meh" results from then on.
We could go in a lot of different places for what his "go to" rush is, and I'm sure he already knows what it is and what he wants to work on. He has a great jump, an explosive lower half, but isn't particularly bendy or flexible, struggling to turn the corner and finish. And he lacks the innate strength to straight up bully a right tackle.
So let's combine the two. Convert speed to power. And that's why I'd love to see Dupree really dominate with his speed bull rush in 2016.
Every time I think about that rush, I think of the following video of James Harrison teaching it, a tutorial I'm good to reference, like the release of those Paranormal Activity movies, about once a year. So to keep the streak going, let's post it again.
The video is only a tick over a minute long but to summarize: take three to five steps, plant on the outside foot, explode into the tackle with "all you got," separate, and finish.
Sounds easy, right? Alas, nothing in the NFL ever is. Let's look at a couple examples.
Third quarter, Week Ten against the Cleveland Browns, 2nd and 4. Dupree tries to hit right tackle Mitchell Schwartz with the speed bull. But his timing is off and he loses the power generated after planting off his outside foot. Maybe he didn't expect Schwartz to get the depth he did on this half slide.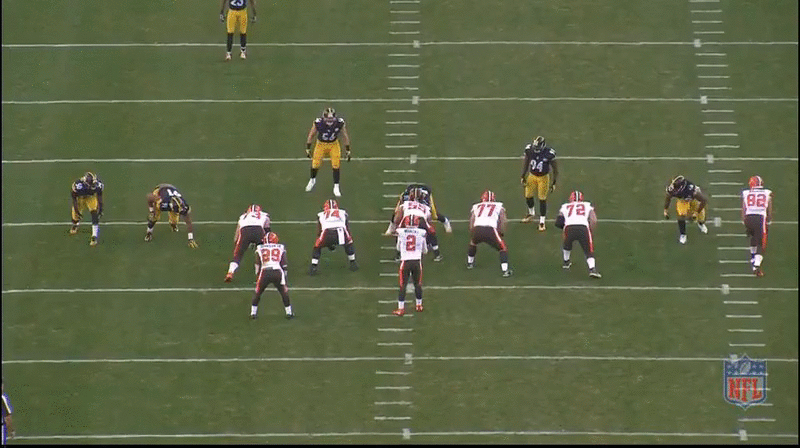 He's unable to generate any power but still tries to separate inside. Schwartz, balanced and in control, is able to redirect and seal him. So compounding the problem, Dupree gives up his rush lane integrity and allows Johnny Manziel to escape the pocket and extending the play. Made a bad situation worse.
Really, seeing the half slide and all the space inside, if he wanted to chance it, he should've just aborted the idea of the bull rush and run hard inside, hoping to beat Schwartz.
Let's look at some other examples.
First play two weeks later against the Seattle Seahawks. I understand that Dupree slows up after seeing the quick throw from Russell Wilson but you can tell he's not uncoiling hips and not using his hands well enough, flailing around, to generate the torque needed to push the right tackle back.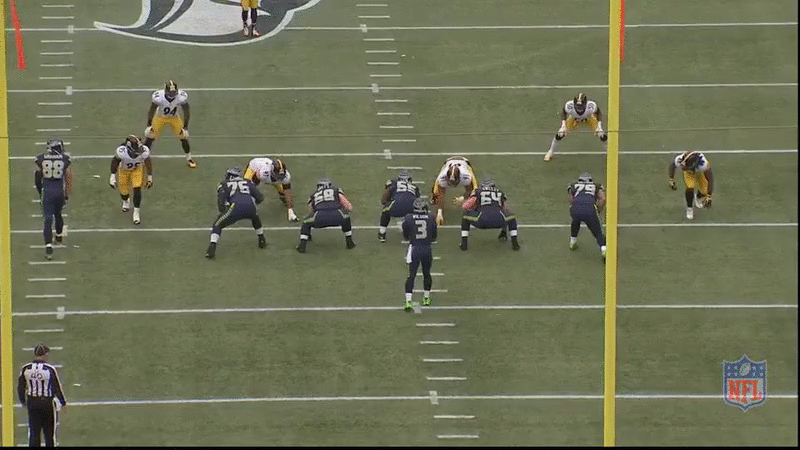 Here's a look at it earlier in the year when Dupree was logging fewer snaps and had fresher legs. Similar attempt against the right tackle that doesn't do a ton.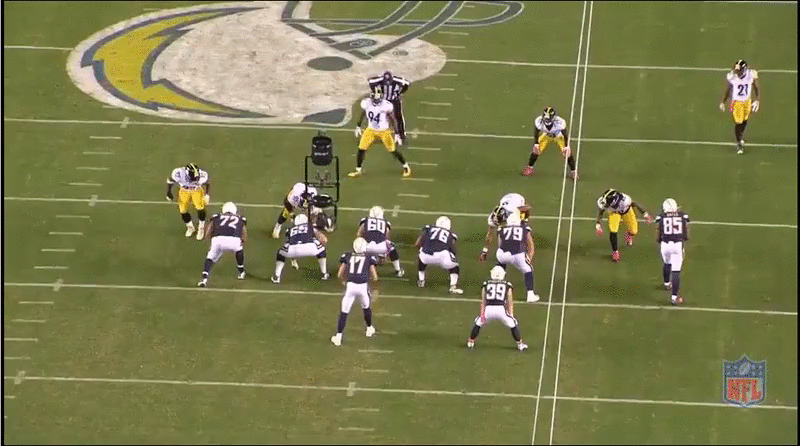 I'm far from the pass rush guru but to get better, there's a couple, not just one, area he needs to improve on. His timing, being able to push off his outside foot and immediately establish contact, his strength, and his hips, again, uncoiling them to generate that power (like an offensive linemen on a base block).
If he can build that house, he'll be able to work everything else off it. Tackles will brace for his bull and Dupree can win inside and out, refining his hand use and creating a couple of solid counters to mix up his rushes, keeping the tackle on his toes.