New series we're kicking off here to get us through the upcoming dog days of the offseason. Every player wants to improve, to elevate his game in all areas from one season to the next. Understanding that, we're going to isolate just one area, one faction of a player's game. The biggest area for improvement.
Anthony Chickillo – Become A Four Phase Special Teamer
Chickillo is a fringe player and to be clear, we won't write about every single one of those guys. Either because their chances are so slim, no one is interested in a "One Step To Take: Roy Philon" edition, or because the slate is so clean, there's nothing in particular to look for.
For Chickillo, we're still looking at him in broad fashion. His resume is light, a strong preseason but a scarce amount of defensive snaps on Sundays. His special teams resume is even pretty mild, fewer than 90 snaps over the entire season. I saw one person call Chickillo a special teams "star," but with that few snaps, he's anything but.
It does not, however, mean he didn't show positive marks there. His biggest play came in Week 17 against the Cleveland Browns, forcing a fumble on kick coverage. Let's look at it again.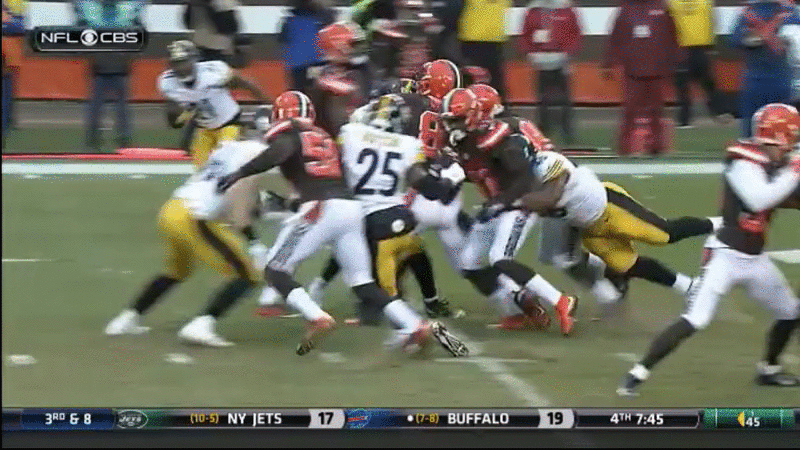 We're using the broadcast tape because it offers a clearer, closer look but also because the Coaches Film for Game Pass is running as well as the old Buick in your shed, covered in leaves and gentrified by a family of raccoons.
It's a nice start but just that. A start. With the losses of Terence Garvin, Will Johnson, and Sean Spence, Chickillo has an opportunity to make coaches accept their departures There will be plenty of competition, Steven Johnson should take one of those spots along with the slew of rookies, but Chickillo is an excellent athlete and big body who can create an impact on contact.
The winners, the players who make the team and get a hat on gameday, will be the ones who give Danny Smith plenty of special teams versatility. Guys who can run down kicks, punts, and block on the return units. The ones who take in information quickly, understand the sometimes obscure special teams rules, and work their tail off on every opportunity.
I fully expect Chickillo to do that though obviously, can't guarantee his success, especially relative to anyone else. But if he wants to make the team, just like last season, that's his path. And this year, it might be an even tougher road to climb.