One of the first things I'll be looking for come training camp is where Senquez Golson and the rest of the cornerbacks line up at. Who is outside? Who is inside? You can make a case for someone like Golson to play in either spot. He played outside in college but the fact the team dealt for Brandon Boykin – a s lot corner – after Golson's injury.
But there are two strong reasons to keep William Gay inside. His communication skills and his run defense. We'll cover the latter today, circling back on some comments Carnell Lake made during OTAs.
Lake, probably the most mild thing he said after a, um, interesting spring, talked about Sean Davis' use in the slot. He saw some work with the Steelers in the spring, not a total surprise given his background as a cornerback last season at Maryland. And Lake pointed to the fact the Steelers' strong safety and slot corner share a lot of the same responsibility.
Per Chris Adamski.
Of course, the focus here was on Davis but we know he isn't going to open the year in that role. It will be either Gay, who started there last season, or Golson for the aforementioned reasons. But Gay could win out because of his run defense. That is, naturally, just one element of a strong safety, but an important one. Let's look at a couple examples of Gay providing some nasty run defense from his nickel spot.
The first one comes in Week 3 against the St. Louis Rams. 1st and 10, Rams in 11 personnel. The Rams' receiver goes in motion away from Gay, leaving him free of the bulk of his coverage responsibility. He shifts into the box and becomes the alley fill on this inside zone to the open side.
The Rams' left tackle screws up his assignment and Gay takes advantage, sacrificing himself to cut – and flip – talented rookie Todd Gurley. It goes for only a gain of one.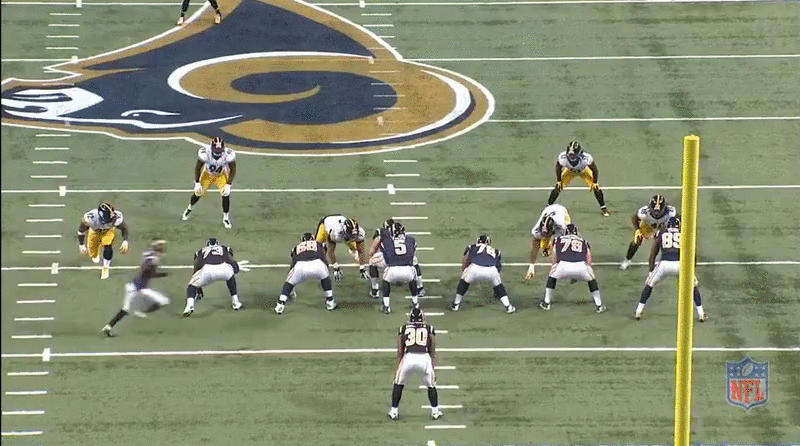 The other look comes a week later against the Baltimore Ravens. Time running out in the half, the Ravens' drive just getting underway. Gay is giving a cushion over the #2 receiver but recognizes the draw and again, fills the alley. He cuts through Justin Forsett, spinning him over as Cam Heyward cleans things up.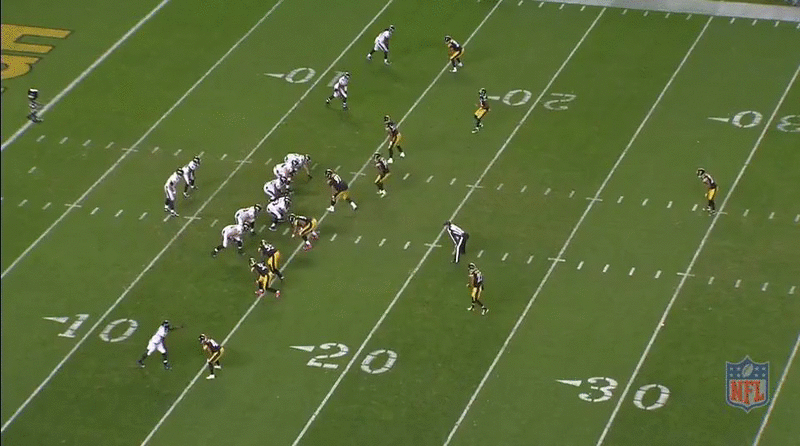 That's recognition, a good angle, and an aggressive finish. All things you want to see from anyone, especially a member of the secondary. Don't let those six yard gains turn in 26.
Run defense alone might be a good enough reason to give Gay the nod over Golson. Like Ross Cockrell last year, Golson may be best served playing on the outside in sub-package situations, limiting his exposure against the run. That doesn't mean that Golson can't play the run, small doesn't mean weak and passive, but I'd rather not find out by him failing on some crucial run fills.
And when you're evaluating #27 this preseason, that run defense will go a long way in determining where he'll line up Week One.