Boxes. They're great things. They hold Christmas gifts, pizza, engagement rings. Defensive coordinators have boxes too. And they're a great way to beat bunch concepts.
The rules are simple. I learned them from the great Matt Bowen when he still wrote for National Football Post. Four defenders versus three receivers.
Here's my look, intentionally making the defense look like a box pre-snap, just to give you a clear initial understanding.
As you can tell, the rules are easy to follow. Each defender is responsible for a certain defender based on how their route tree unfolds. Similar to pattern reading, like we've talked about many times before. For example, the outside cornerback is responsible for the first defender on an out-breaking route.
But let's look at a real-life example. We're going to give you two looks from the Pittsburgh Steelers' loss to the Kansas City Chiefs. A team that utilized a ton of bunch sets and three tight end sets.
The first is an example of the latter. 13 personnel. The Steelers run a fire zone, dropping NT Steve McLendon, to the playside, bringing the SS from the other side.
Here are the defender's roles.
James Harrison: First Out
Lawrence Timmons: Second Out
Steve McLendon: First In
Sean Spence: Second In
And here's how it plays out on the snap.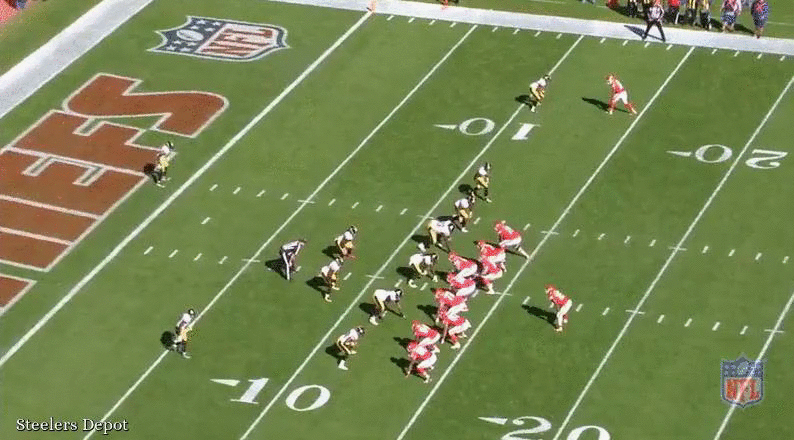 Alex Smith smartly tries to throw backside, a common progression in 3×1, but Bud Dupree gets his hand up to bat the throw down.
But you can see how suffocating this can be. Every defender rallying to a person with only the underneath checkdown to the back open. And if Smith hits it, you have four hats with eyes to the ball coming downhill at full boar. That's a win for the defense.
Similar situation, same call. A true bunch look later in the quarter, the Chiefs inside the red zone. Butler's call is the same. A fire zone with the safety coming off the edge and nose tackle – this time Daniel McCullers – dropping. The rules.
Arthur Moats: First Man Out
William Gay: Second Man Out
Ryan Shazier: First Man In
Lawrence Timmons: Second Man In
And here's the look at it. It's worth pointing out there does appear to be some miscommunication between Timmons and Shazier, leaving Travis Kelce open underneath the goal posts. Luckily, Smith tries to hit the back and big McCullers gets in the way, creating the incompletion.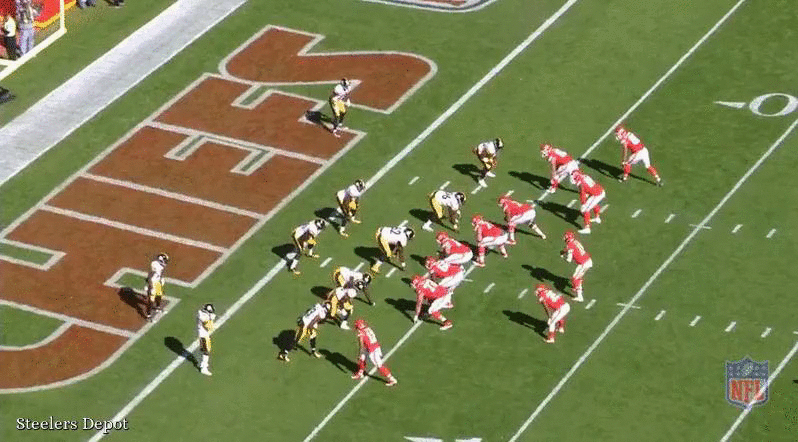 This is a planned call based on offensive personnel, formation, and as it appears in this case, line of scrimmage. It's just another tool in Butler's belt. It isn't man, it isn't zone. It's a mix and that's the way so many teams are evolving too. Especially zone heavy ones like Pittsburgh who can no longer rely on old fashioned spot dropping anymore.