Our breakdown of UDFA center Quinton Schooley.
#60 Quinton Schooley/C NC State: 6'3/3 294
The Good
– Looks to have average to above average length
– Plays with active hands, works hard to keep them inside, and will fight with the defender
– Light on his feet in pass protection, ability to mirror and sits in his base
– Base allows him to reset and anchor versus most bull rushes, shows ability to recover
– Sets his hips well in the run game and shows a high degree of success on down blocks, generates a push
– Active eyes and does excellent job of finding work when uncovered in pass pro or keying stunts/blitzes
– Does a nice job on double-teams, working with the guard to carry the nose tackle into the second level
The Bad
– Frame doesn't have much bulk, underweight
– Lacks core strength, too easily blown off the ball by zero and one techs
– Average athlete, only does an adequate job in space, best to work in a booth at the next level
– Has trouble sticking on base/drive blocks, some tendency to stop lower half from moving and falls off
– Position limited, most, if not all, work has come at center
Bio
– Three year starter at center
– 2015 captain
– 26 reps on bench, 26 inch vertical at his Pro Day
– Dealt with knee injury in spring of 2014 and ankle in fall of 2014, latter forced him to miss three games
– Has a young daughter
Tape Breakdown
Schooley might earn a comparison to B.J. Finney. A lesser version though, perhaps the midpoint between Finney and Reese Dismukes. Not exceptional – by UDFA standards – but not someone who is going to look overworked on a near-daily basis.
He's experienced, played a ton of ball, and shows solid technique as a result. I had read a 2014 article that said he wanted to get better on down blocks. If his 2015 tape is any indication, he certainly did. Playing versus Louisville's one-gap front four helped but Schooley opened up some serious running lanes.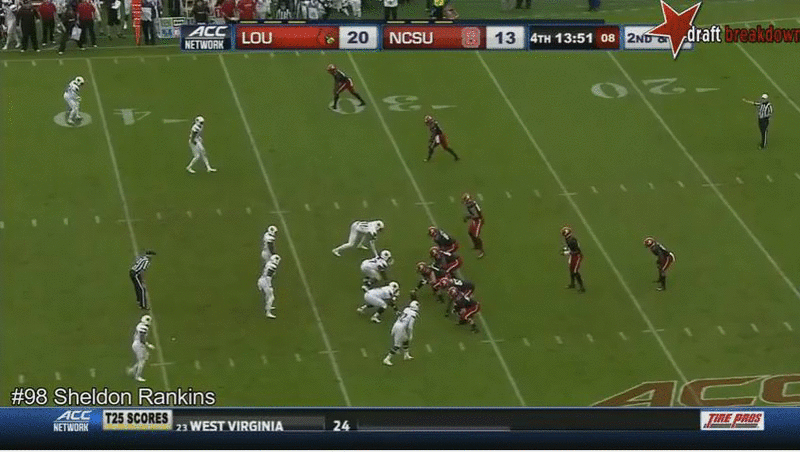 Though he is vulnerable to getting walked back initially due to a lack of strength, his technique saves him and allows him to re-anchor. Like this stunt in the bowl game versus Mississippi State.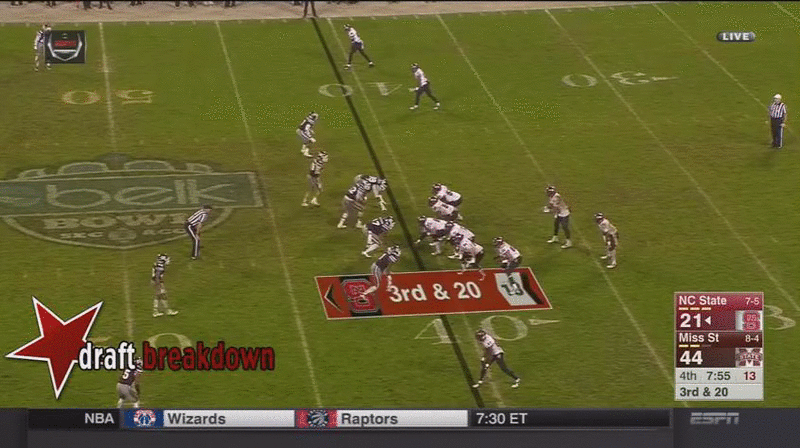 It's not a remarkable play but bull rushes rarely "look" good for an offensive lineman. Schooley is able to stick and avoid getting moved back any farther. It's an acceptable job.
Schooley is at his best as a run blocker when combo blocking or using angles to his advantage, getting his hips set and sealing the player down a gap or two. He struggles more when he has to drive block, and I've seen him fall off those several times.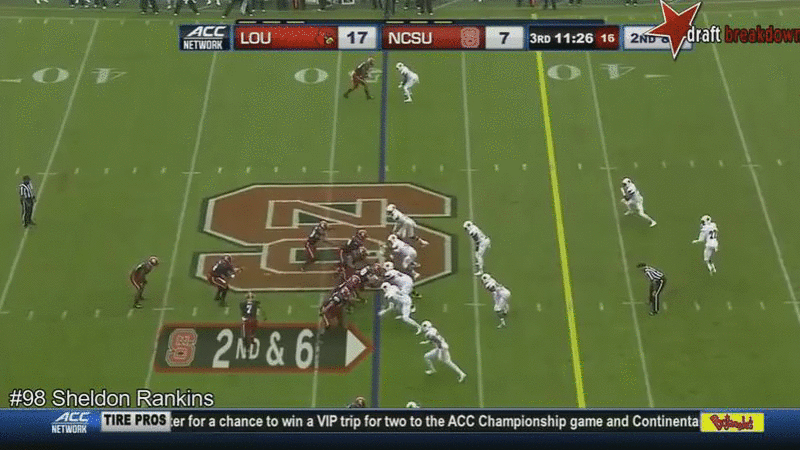 His lack of strength can get exposed too. When he's bull rushed, he has a tendency to open up his inside hip and give the defender a clear path through, like on this play against Florida State.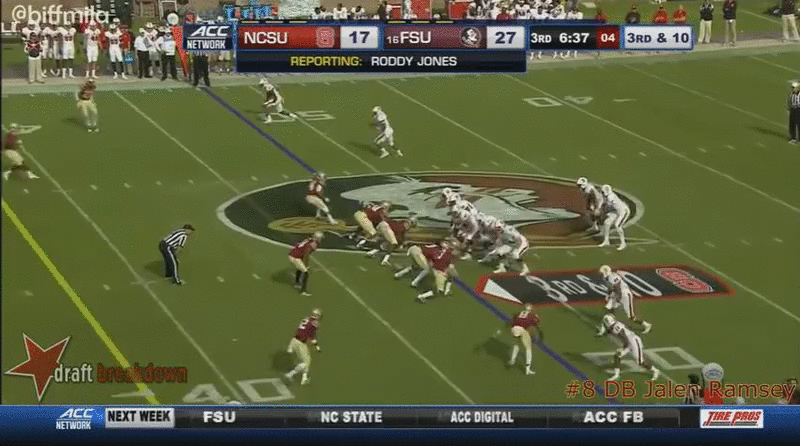 Physically, he's marginal across the board. Barely average athlete, barely average strength. But he seems like a smart guy who is a solid technician. It won't wow anyone but if Finney can make the 53, it'll open up a spot on the practice squad for someone like Schooley to replace him.
Games Watched: vs Louisville, at Florida State, vs Mississippi St (Bowl)