We're happy to have our first scouting report on the Pittsburgh Steelers' UDFA class. Let's kick things off with a look at Jacksonville State defensive tackle Devaunte Sigler.
#92/8 – Devaunte Sigler/DL Jacksonville State (former Auburn): 6034, 298
The Good
– Explosive off the snap
– Good arm-over move, quick in a short space
– Pursues well laterally, gives chase
– Shows some fire and shoving
– Understands leverage and how to engage with blocks
The Bad
– Limited toolbox
– Struggles disengaging, lets linemen into his body
– Can't bend the edge due to limited flexibility and poor footwork (almost stutter steps trying to turn the corner)
– Looks undermatched in strength against many OL
– Raw in hand use
– Lacks sand in his pants, anchor
– Poor vision, guesses play direction too much
Bio
– Totaled 12 tackles, 1.5 TFL and 1 sack in 2 seasons at Auburn; 37 tackles, 9 TFL and 3.5 sacks in 2014
– Combine results: 5.15 40 yard dash, 1.83 split, 23 reps, 25 inch vertical jump, 4.97 20 yard shuttle, 7.90 3 cone
– 2014 Ohio Valley Conference Defensive Player of the Year, 2014 Second Team All-American (AP), 2015 Preseason All American
– Is 24 years old
– Was the No. 44 DE in the nation (Scout.com) out of B.C. Rain High School
Tape Breakdown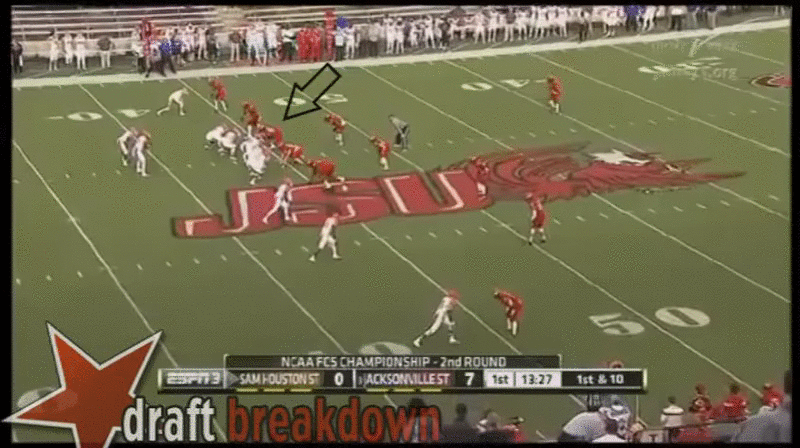 Sigler is raw in a lot of areas, and that shows through from the first action against a lineman – the hand engage. He lets this offensive lineman downblock him to well outside the hashes, purely because he gives away his inside and allows his body to become a target. From there, he is too complacent to try and recover and get back into the play, and it's not until late in the play that he uses his swim move (his best move, which he'll go back to repeatedly) to get free.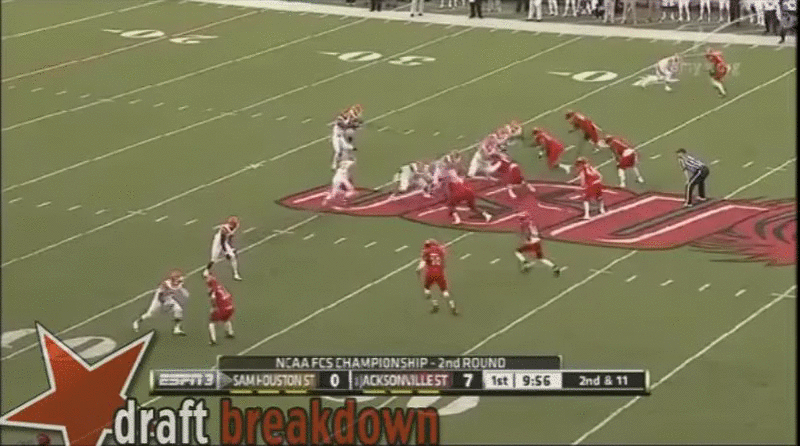 Here we see that swim move coming into play. He engages with good pad level and anchors against the offensive lineman. Quick club to the head and the arm-over. Fast move in a phone booth, and too much for the poor Sam Houston State lineman to handle.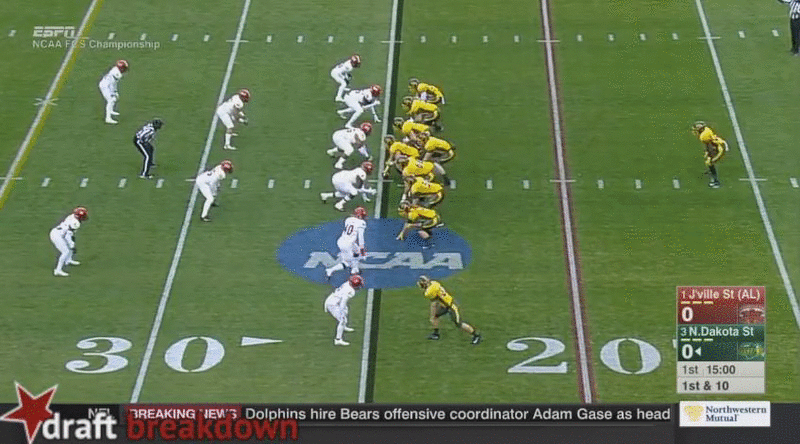 Lined up at the 2t over the LG here, Sigler does a good job attacking the outside shoulder of the guard and getting his helmet outside. Because of that slice, he's in the right place to defend against the LT, Joe Haeg. However, he just doesn't see him coming, and gets himself washed completely out of the play, creating a massive hole. If he senses the play going away from him, he needs to recover back and expect that another block is coming.
The issue is, for as many plays that you find of Sigler being explosive off the snap and skinny into gaps, there are just as many of him getting blown off the ball by sheer power and a poor base.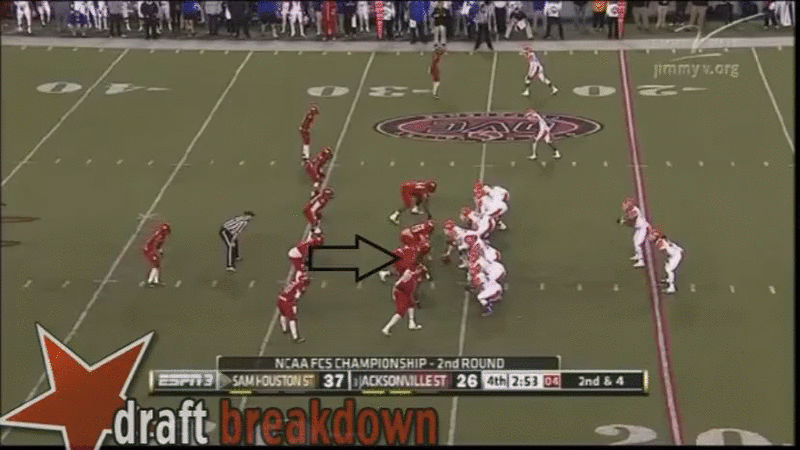 And here's the latter.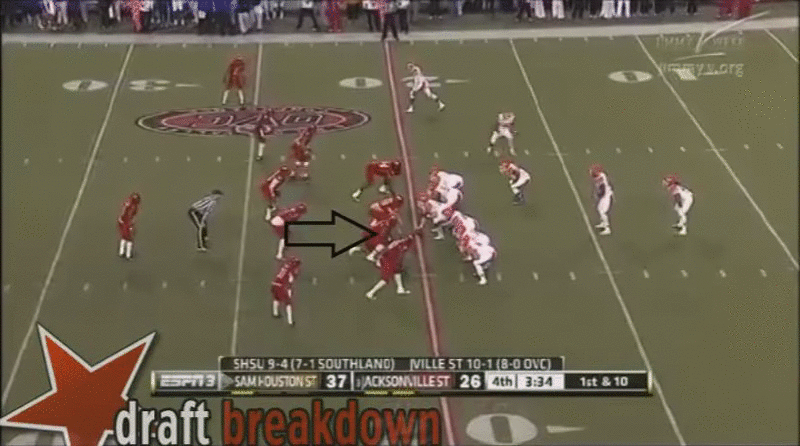 What's more, those were on back to back plays, showing just how inconsistent Sigler can be.
Summary
Dismissed from the Auburn football team in 2012, Sigler ended up taking a year off from football to clear his mind. During that time, he spent time as a bricklayer, getting his life in order to support his young daughter. From there, he landed at FCS powerhouse Jacksonville State in Alabama, where he quickly solidified a position in the rotation.
Sigler slid into undrafted free agency for obvious off-the-field and injury reasons, missing time in 2015 with an undisclosed injury. However, it's also because he's just not that ready on the field, either. Despite a dominant 2014 season, Sigler failed to make an impact consistently in 2015. He at times was Just A Guy on that line, and didn't effectively stand out, which is what you want a lower-division player to do.
Sigler is quick enough to get into the backfield regularly, but just gets confused once there. He lacks that killer mentality to destroy the ballcarrier or QB back there. He also lacked a lot of development as a member of the Gamecocks, meaning he remains very raw with his hand placement and strength usage. However, his swim move is already pro-ready and ranks highly among members of his class.
He's an older player at 24, and he doesn't have much true athletic ability to compensate for his lack of polish, but he can cause some havoc if he goes back to that swim move consistently. Probably bound for the practice squad if anything, Sigler's biggest key is going to be showing how coachable he is, and showing that he still "wants it" after clawing his way back to a roster spot at Jacksonville State.
Games Watched: at Michigan State (2014), Sam Houston State (2014), North Dakota State