A look at our 4th UDFA of the Pittsburgh Steelers. Georgia tight end Jay Rome.
#87 Jay Rome/TE Georgia: 6'4/3 248
The Good
– NFL looking frame, long with muscle
– Effort blocker who gets his arms extended, does show the ability to stick with proper technique
– Occasional moments of strength and ability to generate a push in the run game
– Gets head around quickly on breaking routes
– Works hard to get his hands extended away from his body, catches the ball cleanly and softly underneath
– Stays low out of his stance as a route runner
– Experience as a true "Y" tight end, lot of work in-line and played in a Pro Style offense that asked him to do similar things to what he will be expected to do in the NFL
– Seems to have gotten better from 2014 to 2015 tape, more technically sound and eliminated some false steps in his game
The Bad
– Below average athlete, lacks foot speed, timed horrifically, and the farthest thing from being a YAC threat
– One note route runner who doesn't show a burst in the stem of his route
– Struggles to find and catch the football vertically, several drops, and has problems adjusting to poorly thrown passes
– Average explosion out of his stance, will have problems executing reach blocks on the backside
– Often fails to carry lower half as a blocker and struggle to stick to blocks
– Play time was very sporadic, especially in 2015, and production was equally limited
– Injury history
Bio
– 47 career games, 5 starts
– 2015: 8 receptions, 88 yards in 14 games (1 start)
– Career: 38 receptions, 398 yards (10.5 YPC), 3 TDs
– Longest career reception is 27 yards
– Suffered ankle and right foot injury in 2013, limited him to 8 games, missing final four after undergoing surgery
– Timed poorly at Pro Day (4.95 40, 4.73 short shuttle, 7.82 three cone)
– Played basketball for UGA during redshirt freshman season, appearing in 7 games, scoring 3 points and grabbing 7 rebounds as a forward
– Part of Georgia's "Dream Team" as a recruit, ranked #1 TE in country by ESPN, had 555 yards receiving his senior season in football, named Under Armour All-American while averaging 25/12 in basketball
Tape Breakdown
Remember Cameron Clear? This is the Steelers' 2016 attempt at it. NFL frame, experience as a blocker, but painfully poor athletes with next to no production.
Like Clear, Rome had his own hurdles that derailed a promising college career. Both were thought as stars coming out of high school though struggled for different reasons; Clear for his own stupidity (stealing a laptop), while Rome dealt with a foot injury in 2013 that set him back.
We'll go back and compare the two in a moment but for now, we'll focus on Rome.
Finding clips of him catching the ball is tough. Not many out there. And his playing time in 2015 was awfully limited. He might see the first snap of the game and then not play again for a quarter. Felt like Georgia had 100 different TEs and H-Backs to rotate through, most of whom were markedly better athletes than Rome.
Put on his 2014 tape and you'll see a guy who played more and was naturally more involved in the offense. On underneath routes, he actually shows a decent pair of hands, soft and extended away from his body, quickly tucking the ball back into his 250 pound frame.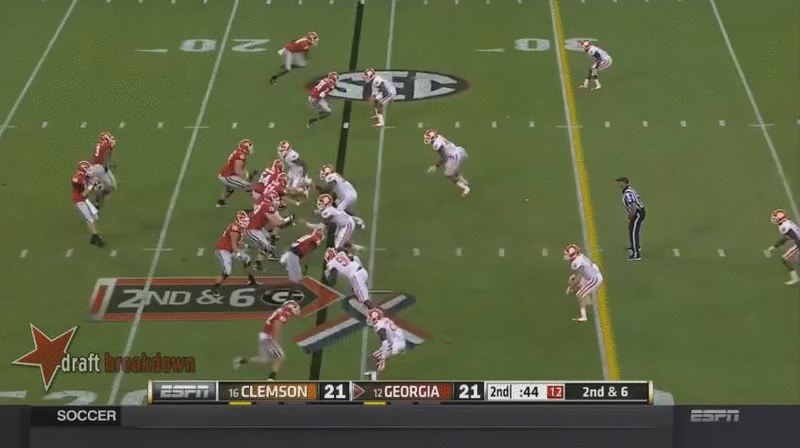 There were rare moments of him flashing as a run blocker, his main task with the Bulldogs. Nice pancake in 2015 vs Alabama.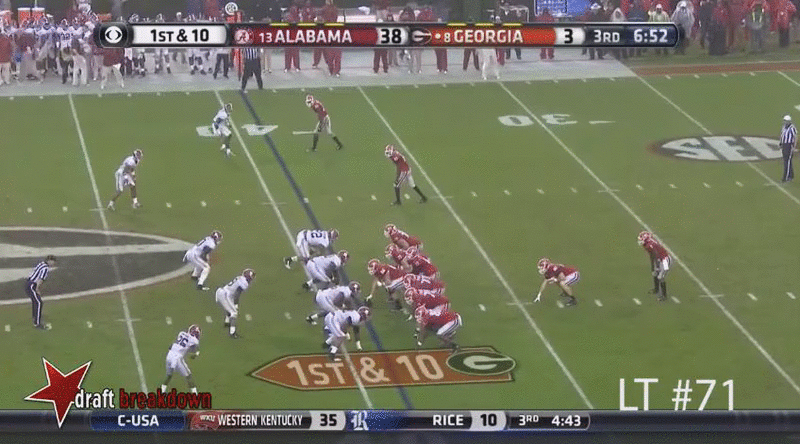 And though Rome's opportunities and playtime were scarce, he failed to take advantage of some prime chances.
His Bulldogs down 20-3, 4th quarter. Rome runs a corner route, the only vertical concept I'd see him run at Georgia, and has to make this catch. But he lets it go through his hands. Several plays later, their QB throws an INT in the end zone. I bet that one stuck with him for quite some time.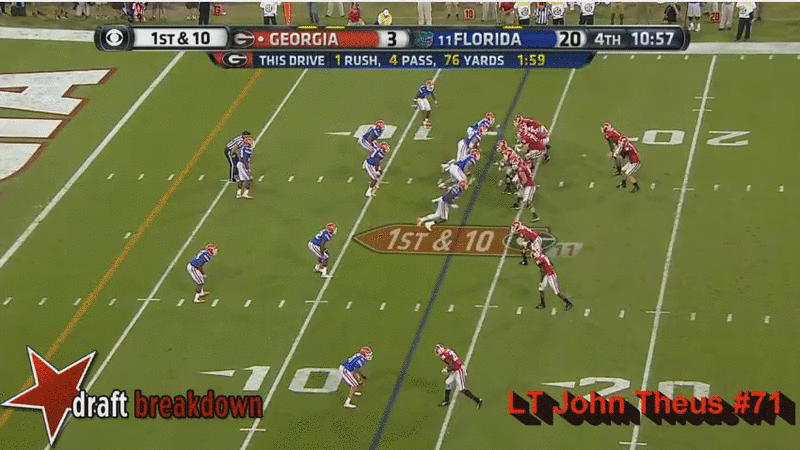 Technically, he needs some work. Think there was some level of improvement from 2014 to 2015, as you'd expect, but his lower half will stop pumping, create a forward lean and falling off blocks. Like this one, again, against Florida. The very next play after that drop, actually. Rome is the tight end to the right side of the formation.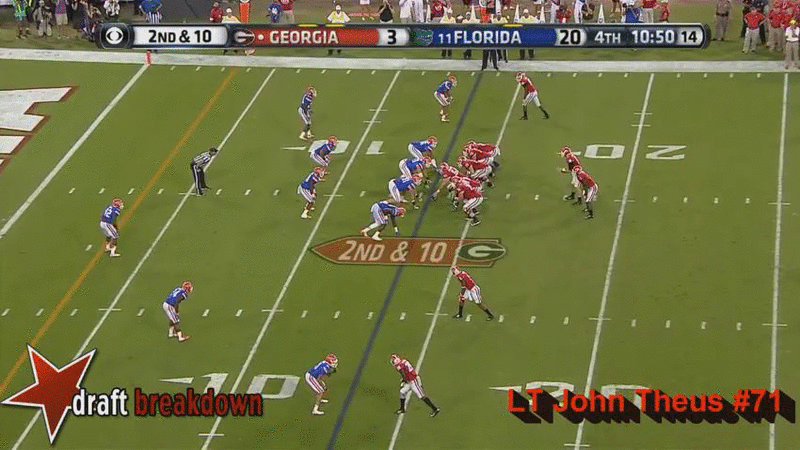 As I noted in his bio, Rome was considered one of the best tight ends in the 2011 class. But after a decent 2012 season (11 catches, 152 yards, 2 TDs) foot and ankle injuries ended his 2013 career and from what I've read, he's implied it hindered him throughout 2014, too. Here are two articles that talk about his background.
Rome is being brought in as that Cameron Clear mold. But Rome doesn't seem to offer the size, physicality, or blocking ability that Clear showed in his limited time at Texas A&M. And you thought Clear was lethargic? He turned in a 4.48 short shuttle and 7.52 three cone. Rome's numbers? A 4.73 and 7.82 at his Pro Day, where numbers are usually a bit generous.
The worst agility numbers this year came from Bryce Williams' 4.53 and 7.19 split. And if you remember my report on him, you know how stiff and lethargic I thought his game was. Since 1999, only two TEs at the Combine have posted a worse short shuttle (one of those was 328 pound "TE" Jason Peters in 1999) while only four have had a higher three cone.
To Rome's credit, I do want to point out he posted an above average 35 inch vertical, a number that would've tied for 3rd at this year's Combine.
I get why the Steelers bring these kinds of guys in. Guys who have experience as an in-line blocker, a relatively rare find. Guys who take pride in it, buy into the system, and have no problem getting their hands dirty. But it's hard, even for someone like me, to get excited about a guy like Rome.
Games Watched: vs Clemson (2014), vs Alabama, at Florida