A profile one perhaps the biggest "name" UDFA from the Pittsburgh Steelers' 2016 haul. Virginia WR Canaan Severin.
#9, Canaan Severin — WR/Virginia/6'2"/205 Lbs/Senior
The Good
-Ideal height and weight for position
-Big, strong hands to pluck ball out of the air
-Natural hands catcher
-Full route tree at his disposal
-Makes tough catches and uses body positioning to his advantage
-Career arc points upward due to increased production year after year
The Bad
-Not a burner by any means
-Struggles to create separation in and out of his breaks
-Lacks strength as a blocker and doesn't seem to want to engage in contact
-Production is nice, but gets lost on film a lot
-Routes aren't as deceiving as you'd like for position
-Came off the field a lot in certain packages
Bio
-Hauled in 102 career catches for 1,383 yards and 13 touchdowns over four years with Cavaliers
-Started six of 12 games in 2015
-Second Team All-ACC, All-ACC Coaches Second Team
-One of four team captains in 2015
-Recorded at least one catch over last 24 games of UVA career
Film Breakdown
Despite possessing the ideal size, strength and catch radius for the position, Virginia's Canaan Severin was significantly overlooked over the last few years as the Cavaliers' top receiving threat.
With 96 catches over the last two years, Severin was highly productive in a rather mediocre offense. Part of that could have led to his snub from the combine in February, but with his body size and skillset, he could work his way onto an NFL roster.
Although he was never a dominant receiver that commanded double coverage on every snap, he was a guy that worried defenses once the Cavaliers' offense got into the redzone due to his impressive ability to high point footballs on a consistent basis with his large hands.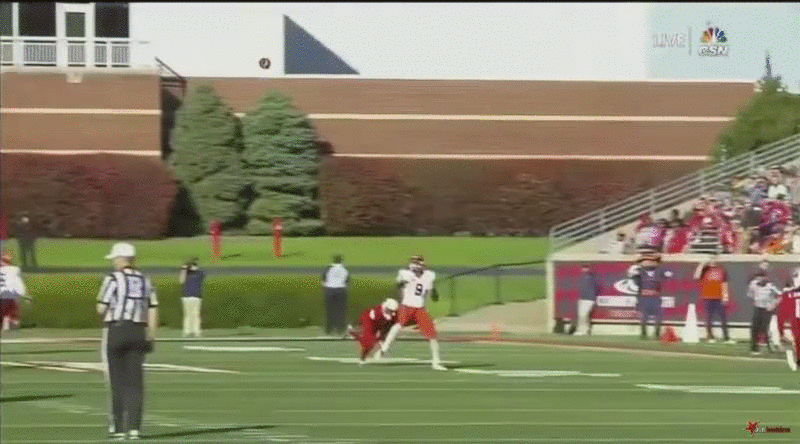 Although this isn't in the redzone, this play against Louisville shows his ability to go up and get the football at its highest point while playing through contact.
On the play you see the large hands swallow up the football, which is a good trait to have for the receiver position.
While not being a burner or a twitched-up athlete, Severin excels at making catches through contact. Due to this, he slots in as more of a possession receiver at the next level as a No. 2 or No. 3 receiver in an offense where twitched-up athletes surround him, allowing him to draw one-on-one coverage where he can use his size and strength to his advantage.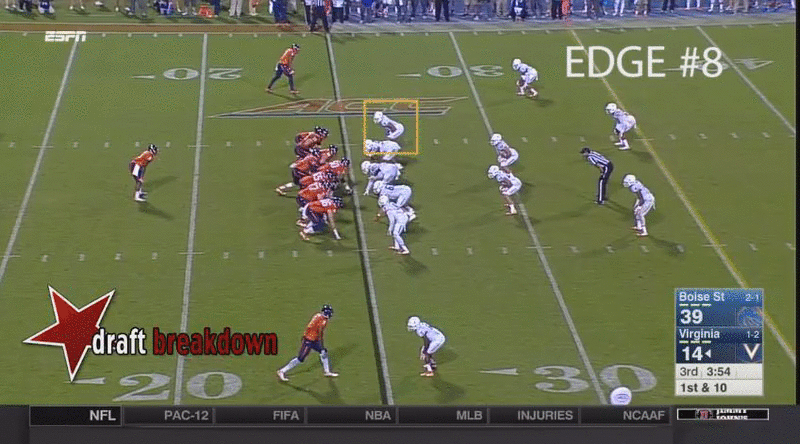 Where he really struggles as a receiver is creating separation in his routes due to his lack of long speed.
On this play against Boise State you see that the Virginia QB is looking Severin's way right from the snap. Although Severin has the height and reach advantage against the cornerback, he simply can't create enough separation to make the play, forcing him to rely on one hand to try and make the play.
While he does have a full route tree at his disposal in a pro-style offense at Virginia, he's not a deceptive route runner and tends to show exactly what he's going to run right off the line, allowing CB's to sit on routes or run routes for him, which then plays right into the defenders hands due to the lack of separation.
At the next level he'll have to clean up his route running in the sense that he has to have more deception in it, allowing him to get out of breaks cleanly to manufacture separation on his own without the explosiveness.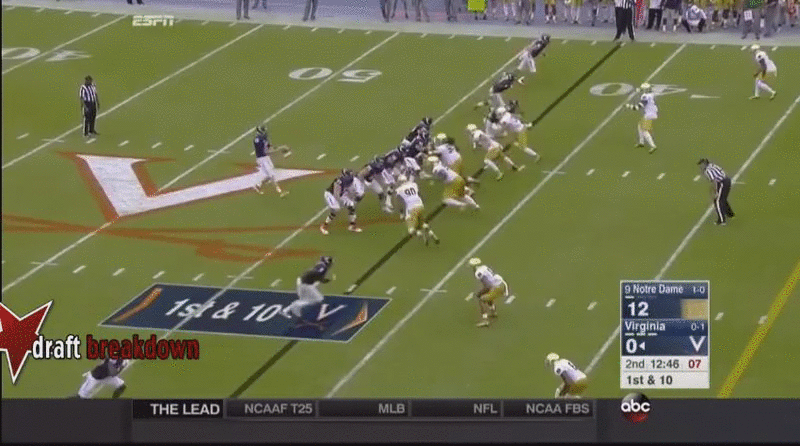 When Severin gets a mismatch to his advantage he really takes control of the situation and usually makes big plays.
This route against Notre Dame this past year sees Severin matched up with a Fighting Irish linebacker. At the snap of the ball Severin fakes the inside slant with a good head fake before then bursting up the seam, giving the Virginia QB a solid window to throw into down the field.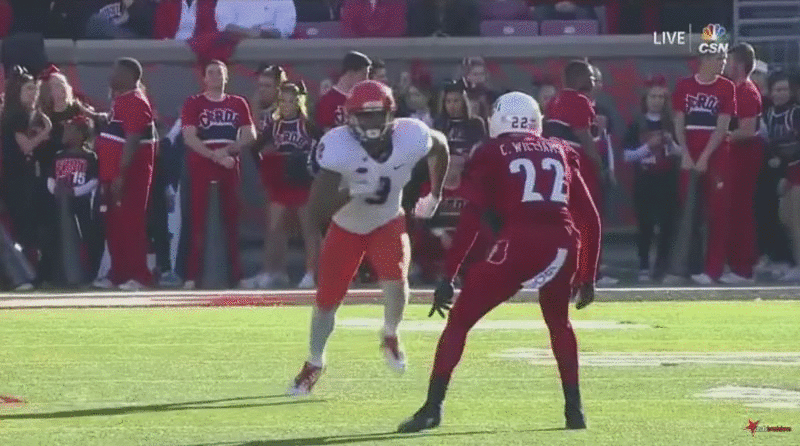 Although the GIF above is impressive down the field, Severin is inconsistent at times down the field in the passing game.
In the clip above, Severin does a nice job of creating separation down the field on the go route, but he simply can't finish the play as the ball flies through his hands for what could have been a big play.
Despite having huge hands that gobble up footballs, he has a tendency for having mental slipups when going up for catches, resulting in drops in big spots.
Ultimately, this is the kind of stuff that really hindered Severin's draft prospects.
While he has the tremendous size and strength for the position, Severin just doesn't have that standout trait that put him into the discussion for draftable wide receivers.
His fit with the Steelers is interesting, considering he could fill the role of Martavis Bryant with his redzone capability, but he faces a tall task at making the team out of training camp as an undrafted free agent.
Games Watched: vs Notre Dame, at Louisville, vs Boise State