My breakdown of Washington OLB and Pittsburgh Steelers' 6th round pick Travis Feeney.
#41 Travis Feeney/OLB Washington: 6'3/5 230
The Good
– Frame to grow in to, long arms (33 3/8 inches)
– Super athlete in testing and on the field (4.5 40, 40 inch vert, 10'10" broad)
– Violent player, no soft tackles, and puts his entire body into every hit yet reliable and doesn't fly around just for the sake of it
– Easy mover in space, long strider who covers a lot of ground and has no issue getting proper depth in zone drops
– Experience dropping into coverage
– Long arms and active hands create space and separation as a pass rusher
– Shows ability to counter and some evidence of setting up his rushes
– Versatile, thrived everywhere he's been, played four different positions in his college career
The Bad
– High-cut with a very lean frame, unusual look for the position
– Weak in upper and lower half, lacks the ability to anchor in the hole against the run and too easily washed out
– Lack of strength limits him as a pass rusher, doesn't have a bull rush and struggles to finish plays even when he shows hand use
– Lots of surface area to hit, struggles to slip past linemen cleanly, easily bumped and slowed up
– Vulnerable to getting run up the arc and take himself out as a pass rusher
– Steered out of his path as a pass rusher when tackles lock on, doesn't have strength to get off the block
– Very checkered medical history
Bio
– 32 game starter
– 2015: 56 tackles, 17.5 TFL, 8 sacks, served as team captain
– Career: 33 TFL, 15.5 sacks
– Played as an off-ball LB in 2014, more on the edge last season
– Underwent hernia surgery between Combine and Pro Day
– Had four shoulder surgeries at Washington, tore labrum in left shoulder twice and once in right
– Re-injured right shoulder in 2015, missed some time but didn't require surgery
– Moved from safety to linebacker in fall of redshirt freshman season
– Washington's special teams player of the year in 2014
– Drafted by the Oakland Athletics as a left fielder out of high school in 2011, didn't sign
Tape Breakdown
There is a lot to like about this kid. I can see why Kevin Colbert and company graded him higher than a 6th. On a baseline level, he hits all the major checklists. Smart. Physical. Athletic. Versatile. Let's look at some examples for that.
If you follow me on Twitter, you already saw a Vine of this play. Here's a clearer look of Feeney suplexing this runner in 2014.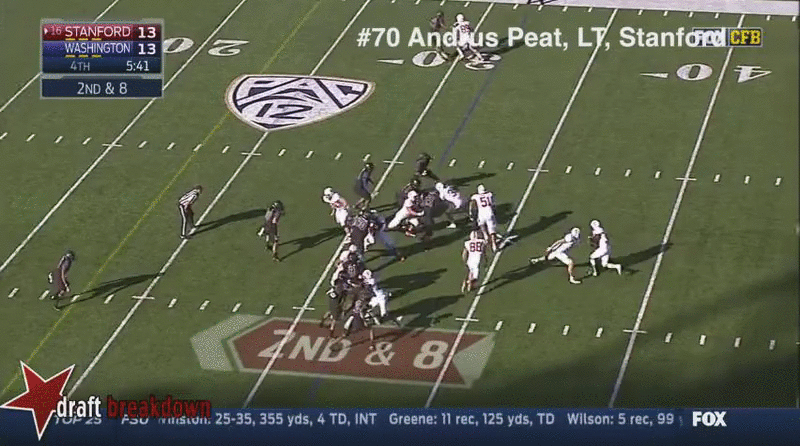 And his change of direction to get out in space and make this tackle.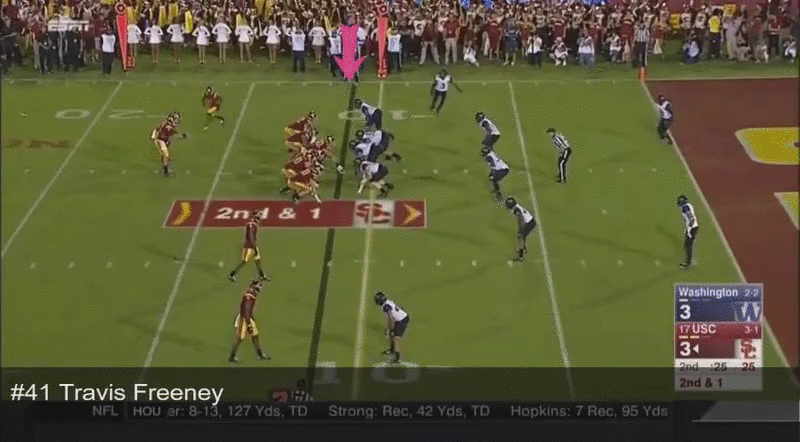 He moved to the Buck position in 2015, replacing second round pick Hau'oli Kikaha, racking up eight sacks. It's why his numbers jumped so high from '14 to '15. Playing on the edge a lot more, allowed to get upfield, instead of playing off ball and in space in 2014.
Counter and chase to sack Cody Kessler.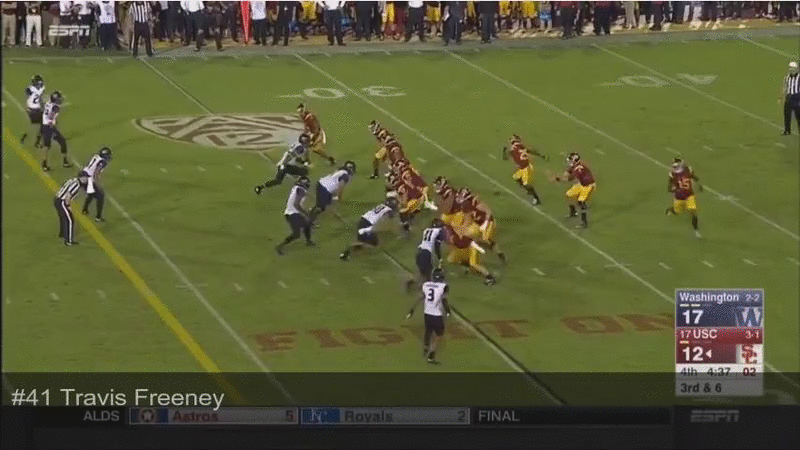 On the field, Feeney's biggest concern is strength. Or a lack of it. Struggled to anchor on inside runs versus the smashmouth Stanford front. Watch the fullback pop him and bury him into the ground.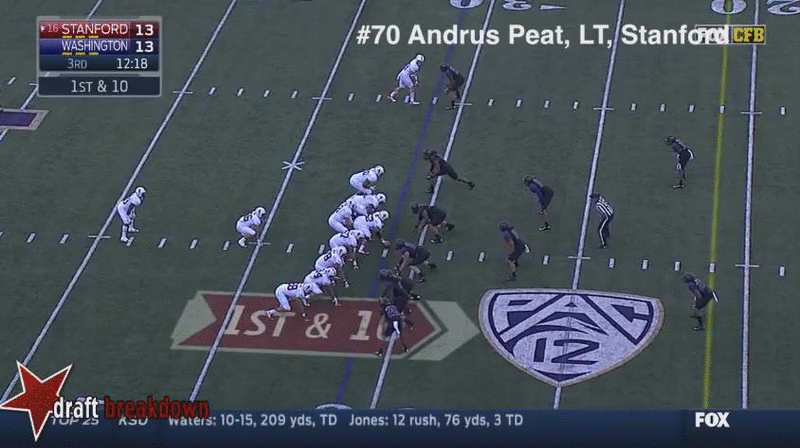 It hurts him as a pass rusher too when he gets locked on, though his hand use helps him avoid those situations. Run up the arc and can't disengage from the left tackle.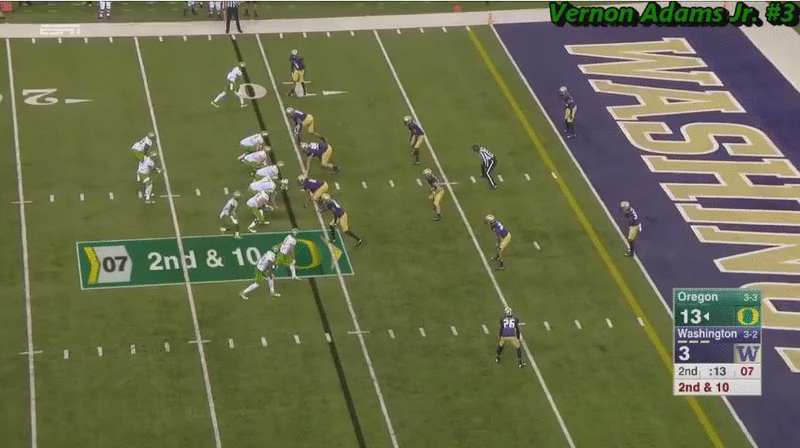 Quick summary on his background. Three-sport star in high school, he was drafted in the late rounds by the Oakland Athletics' in 2011. Hit .392 with three dingers in 79 at bats his senior year. Like I wrote, just a natural born athlete.
Turned them down to pursue his football career. Came to Washington as a safety, moved to linebacker his redshirt sophomore season. Played the WILL, then the SAM, and in 2015, moved to Buck, their main pass rushing role. That's being asked to wear a ton of hats, learn the nuances of each role, and he generally excelled. Shows he's a smart player who is willing to put the team ahead of anything else.
Off the field, the biggest worry is his injury history outlined above. His doctors were as active as Feeney was on the field. Four shoulder surgeries, recurring injuries to his left, and he still dealt with it his senior season, even if he was able to push through that (and a hernia problem).
Any missed time for a young player is a killer, and though I don't know his charts, have to assume he is at a higher risk than your average player. Especially with his reckless style. If you want to theorize why he fell this far, that's a great place to start. Remember Mike Humpal? Feeney might take the same path.
Still, in the sixth, the talent is worth that risk. He's going to be a huge threat on special teams if he can make this squad. Speed + physicality is what you need. I don't know if physically, he can exist out on the edge. Getting stronger is a must. Should he do that, and hold the point of attack better, he can play in this league. He isn't the ceiling-special teamer Tyler Matakevich is. Much higher upside and it makes for an interesting contrast.
Games Watched: vs Stanford (2014), at USC, vs Oregon