Today, we're looking at 7th round pick Demarcus Ayers. Because he has been viewed as a punt returner by the Pittsburgh Steelers, we'll do the same with him in our report. At the end, we'll touch on some things I saw with him as a receiver.
Demarcus Ayers/PR Houston: 5'9 182
The Good
– Above average length and hand size for his frame (31 1/2 inch arms, 9 1/4 inch hands)
– Seamless transition between catch and first move on return
– Plays much faster than he times, open field threat with speed to win the corner
– Great initial burst, gets to speed in a hurry and maintains it through his cuts
– Lateral movement, choppy steps and shows short-area quickness, ability to make people miss in confined spaces
– Runs harder than you'd expect and has excellent balance, keeps himself upright and a tough player to bring down
– Does nice job moving forward and getting under the ball while possessing the hand-eye coordination and body control to make the over-the-shoulder basket catch when needed
– May be too aggressive but doesn't get cocky, will call for fair catch as appropriate even on "hot streaks"
– Takes good care of the football, no muffs/fumbles in the games viewed
– Doesn't dance, straight-line initially who veers only when a lane opens up
– Detail-oriented
The Bad
– Some seemingly poor decisions to field punts inside his own ten yard line
– Nearly 60% of production came in one game
– Occasionally misjudges landing point, has to retreat back to make more difficult catch
– Straight-line speed is good but not special
– Only one year of work as a punt returner
Bio
– 2015 as a PR: 28 returns, 295 yards (10.5 average) 1 TD
– KR stats in 2013-2014: 71 returns, 22.7 average, 1 TD
– 2015 as a WR: 97 receptions, 1221 yards, 6 TDs
– Three career pass attempts, all in 2015, 2/3 with both completions going for TDs
– Quarterback in high school, threw 22 TD passes
– Basketball team's starting point guard
Tape Breakdown
Because my central focus revolved around punt returns, I didn't want to turn on just three games. Wanted to find as many as possible. In all, I watched eight games and 22 of his 28 2015 returns in addition to several fair catches.
We'll start with the game that housed the bulk of his production: Tulane. Eight returns, 175 yards, and a touchdown. That doesn't even include another touchdown called back on a penalty. Dazzling game as the stats indicate but they still don't truly capture how impressive he performed. I can barely fit them into my GIF times. So I've pieced this one into back-to-back GIFs or for those who want a seamless, but grainier look at it, click my tweet from last night.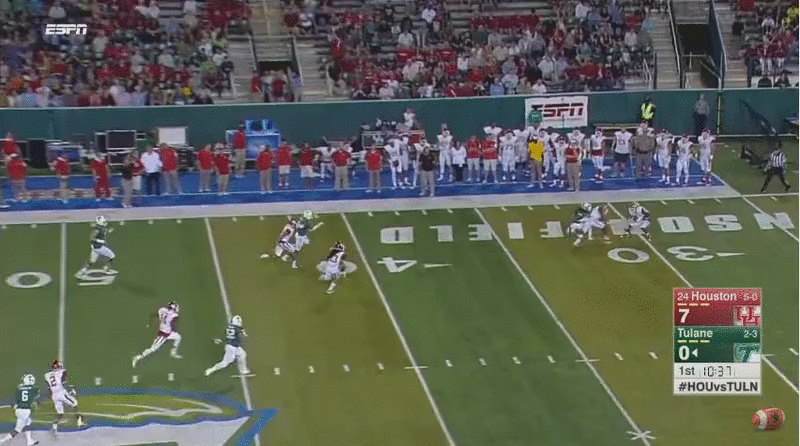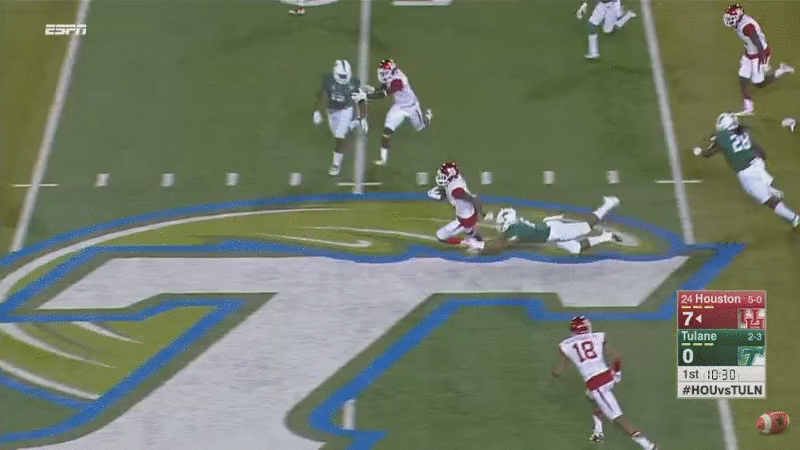 Here is his touchdown. Quick side step immediately after catching the football and then the burst to hit the lane, maintaining top speed the rest of the way through to the house.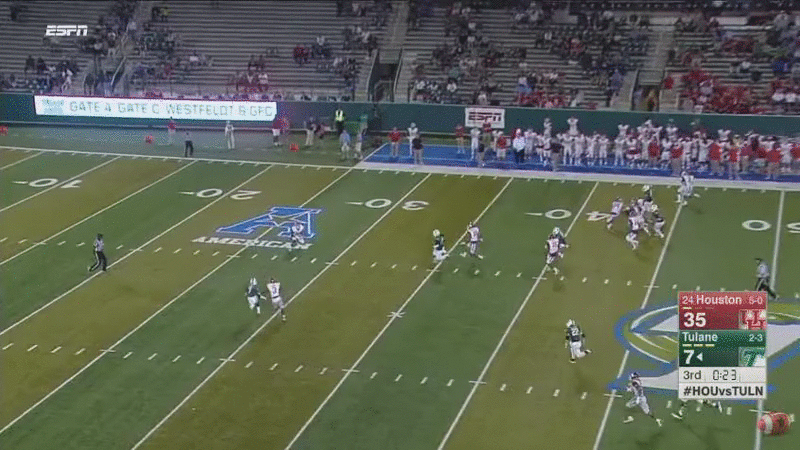 Very little dancing as a returner. Finds lane, hits it. That's what I want to see, maximizing as many yards as you can. Ten yard returns are awesome. Not everyone can be Dante Hall.
He shows impressive hand-eye coordination. Booming punt here vs Cincinnati and Ayers makes this Willie-Mays-esque grab over his shoulder, bringing it in cleanly, and looking for a lane.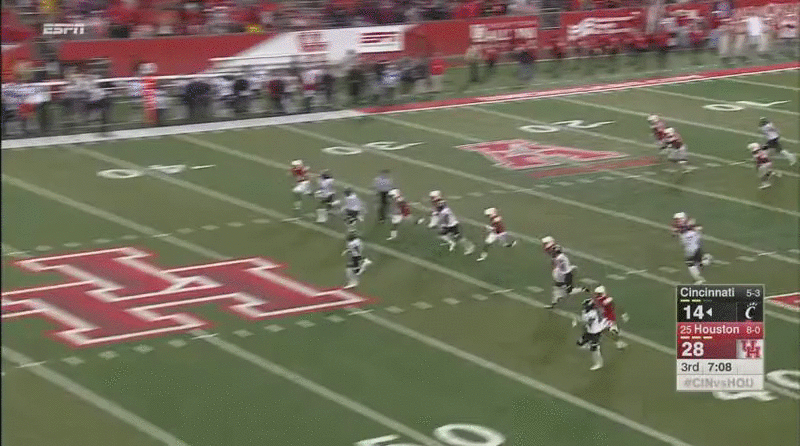 Overall, Ayers caught the ball extremely cleanly. Not a single fumble, muff, or even double-catch. Appears to be very sure-handed, even in weather-adverse games. Poured in the Vanderbilt game but the conditions didn't bother him.
There were definitely some questionable decisions Ayers had to return punts near his own goal line. At least three, according to my notes.
This punt in the Peach Bowl travels farther than what Ayers probably anticipated but there's no reason to get this one. There's a reason why your heels are at a certain landmark. Anything past? Elsa will tell you – let it go.
Instead, he makes the over-the-shoulder grab, gathering himself at the one. He returns it to about the ten, a big net loss. Pretty clearly a guy pressing on his first crack in a bowl game versus a powerhouse.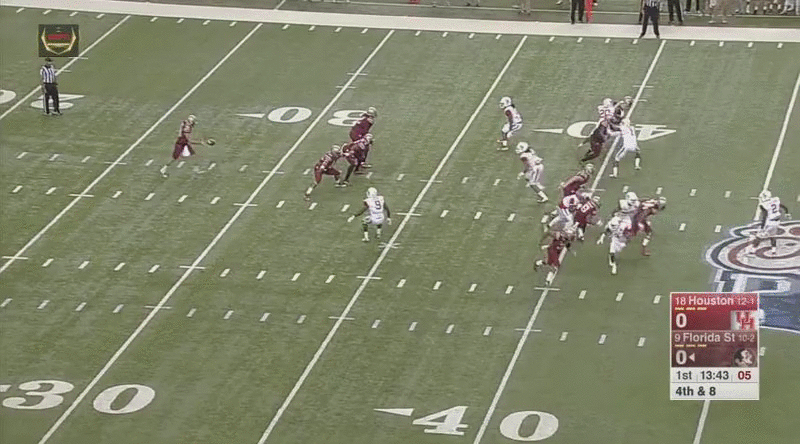 Ditto here versus Navy. Maybe his coaches left him be more aggressive at the end of the half, but on the goal line with his team up seven? I dunno, seems unlikely. The return is productive, out to the 25, but I still consider it to be an unneeded risk.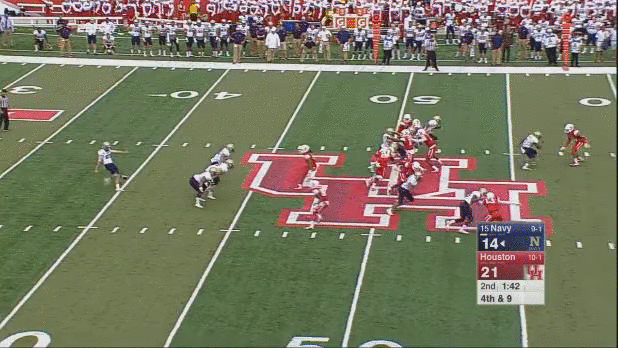 I only watched one game – the Florida State one – with a focus on him as a receiver, too. Your typical slot guy stuff. He was a gadget guy. Flare out of the backfield, jet sweep, and he even threw two passes. One went for a TD and another should've been complete. Honestly, this was a dime to his QB. Get a little bit of that Antwaan Randle El/Hines Ward feel. Could be a fun guy to mess around with.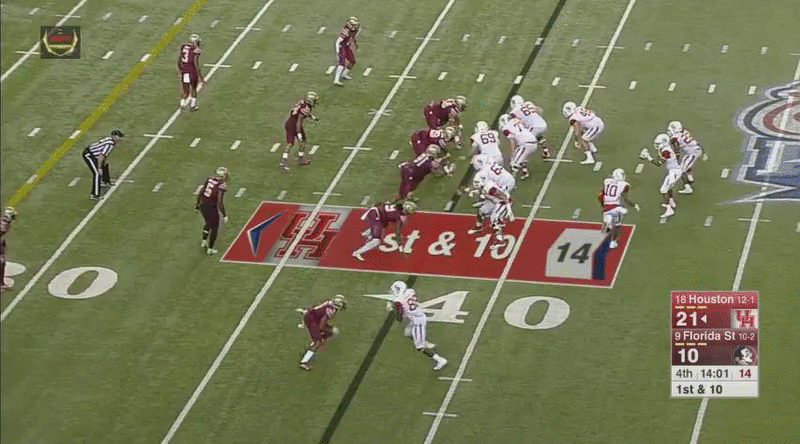 From a football standpoint, he shows excellent body control, making tough catches. Like this one versus Navy. Defender blocked his view but Ayers is able to make the falling grab the second time around.
He has flaws. Relatively limited route tree, plays that get him into space, too much of a desire to make fancy catches, and leaving his feet to secure the ball. With his size, his upside is predictably limited to a niche role.
While pure-return men are far and few between, Ayers has many attractive traits and his versatility on offense could help give him the nod over a guy like Eli Rogers, even with the knowledge Ayers' time on offense would be very limited. Snaps from him means snaps away from Le'Veon Bell and Ladarius Green, but it's an added element for someone using up a game-day hat.
It'll be a battle but Ayers has the draft pick in his back pocket, something you can't ignore when making tough calls. Very exciting to watch.
Games Watched: at Tulane, vs Vanderbilt at Cincinnati, at UCF, vs Memphis, vs Navy, vs Temple, vs Florida State (Bowl)
https://www.youtube.com/watch?v=cKakZ6h16-U
https://www.youtube.com/watch?v=KgGxPiVwRsQ
https://www.youtube.com/watch?v=MRcR2AQeND0