As you should know by now, our attention has now shifted to the 2016 NFL Draft as it relates to the prospects. From now until the draft takes place, we hope to profile as many draft prospects as we possibly can for you. Most of these player profiles will be centered around prospects the Pittsburgh Steelers are likely to have interest in.
Breakdown of underrated defensive tackle Kyle Peko.
#99 Kyle Peko/DT Oregon State: 6'1 305
The Good
– Thick build, big lower half and a bubble butt to generate power
– Forceful punch to stun linemen, how he most commonly wins as a pass rusher
– Shows strength to hold POA when playing with proper technique and ability to slip off blocks
– Decent explosion off the snap, lack of height gives him leverage, shows explosion and proper hand placement
– High effort pass rusher who has ability to finish with quite an impact
– Versatile, moved around OSU's defense
– Above average athlete for size, capable of flowing down the line against zone and perimeter runs
– Experience one and two gapping
– Athletic bloodlines
The Bad
– Raw, one year of football at FBS level, so much nuance he has to learn
– Struggles to disengage as a pass rusher after getting initially stuck, only wins in one or two ways (club, rip)
– Has to keep eyes on line of scrimmage, too willing to turn back versus the run and as a pass rusher
– Head dips down on contact as a pass rusher, loses sight of the pocket, and greatly takes away his effectiveness
– On ground too often, lacks balance, and needs to keep lower half moving to avoid overextending
– Lack of height and length may limit him schematically at the next level
Bio
– One year starter (12 games), one year of experience playing football at FBS level
– Began football career at Cerritos Community College due to not taking the SATs, spent two seasons there
– Transferred to OSU in 2014 but forced to sit out due to academic issue, finally cleared as a senior for 2015
– 2015: 45 tackles, 4.5 TFL, 2 sacks, 1 blocked kick
– Has a son
– Cousin is Domata Peko
Tape Breakdown
Your best football is ahead of you. That's the best and most common way to describe Peko, whose career took an unfortunate set of twists before he could finally play football at the Division One level. I talked to Peko more than two months ago, and you can click here to read the full transcript of that conversation.
The cliffnotes are in the bio above and I'll sum up again here. He began his career at a JUCO, went to make the jump to Oregon State in 2014, but a slew of academic problems resulted him in being ineligible to play, though he was apart of the scout team all year. He lost his scholarship, nearly left school and gave up on football, but his grandpa paid his way for the rest of the year, and he was finally reinstated for his senior season.
The story has a nice ending but the downside of him playing on Saturdays for one year still rests over him. Despite those immensely frustrating challenges, Peko cracked the starting lineup immediately and started all 12 games, turning in a productive year. Though there are certainly issues that pop up on tape, he isn't someone who looks totally lost out there, and that's a big credit to his work ethic and IQ.
He's short but thick with that Mike Mayock-trademarked bubble butter aka the power generator. Shows power, especially on his punch as a pass rusher. Watch the left guard in these two clips. Especially the second. That's Josh Garnett, my favorite guard in the draft. Tosses him away. In a vacuum, that's impressive.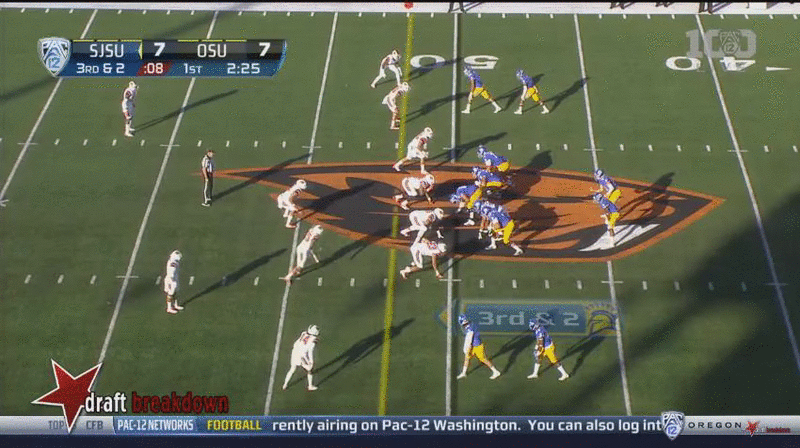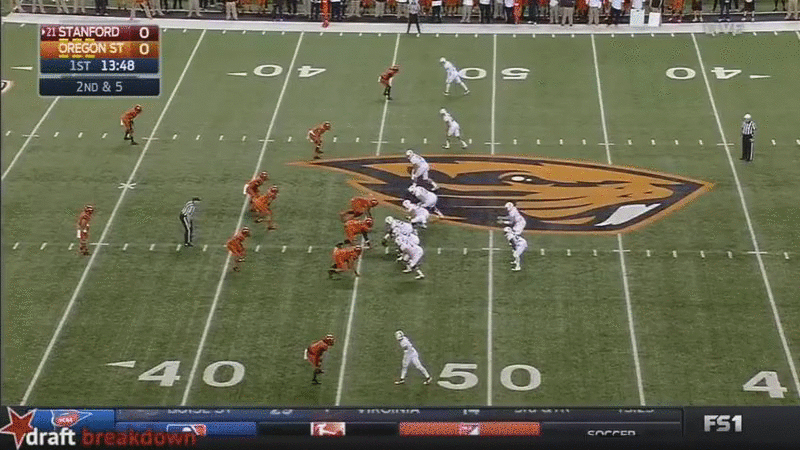 Here's one of his two sacks on the year, a nice effort play and finish on Vernon Adams.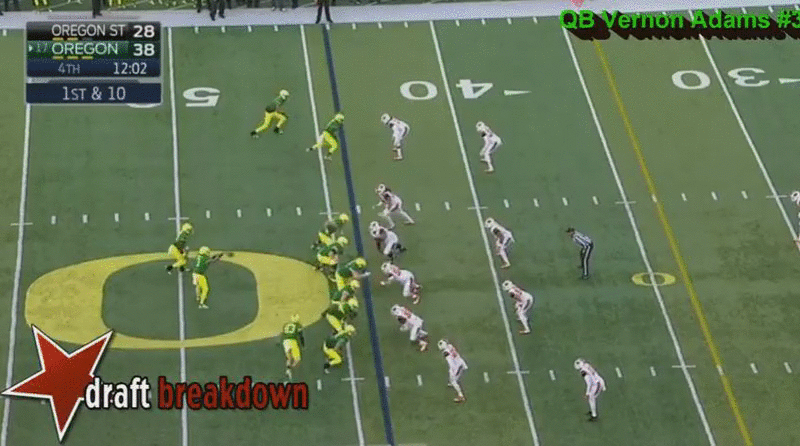 He needs to work on staying square and keeping his eyes to the line. Likes to spin to try and shed but he loses sight of the quarterback or runner.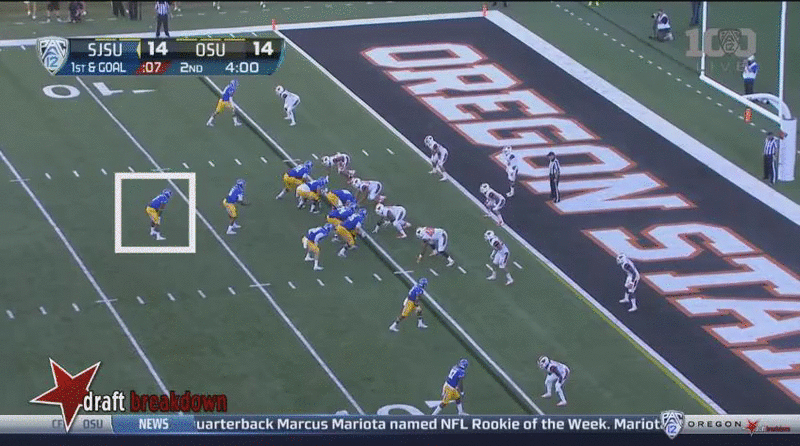 And he gets stuck as a pass rusher too often when he isn't able to win right away with his club. Can't work off the left guard here.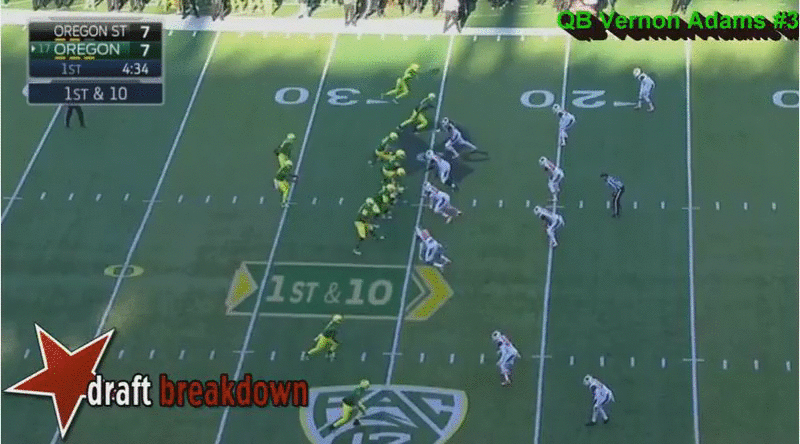 His base can get narrow as a pass rusher, sapping him of power and balance. Here he is at nose. When he gets that bicycle base, his feet coming together, he loses his balance, just like you see when it happens to offensive linemen.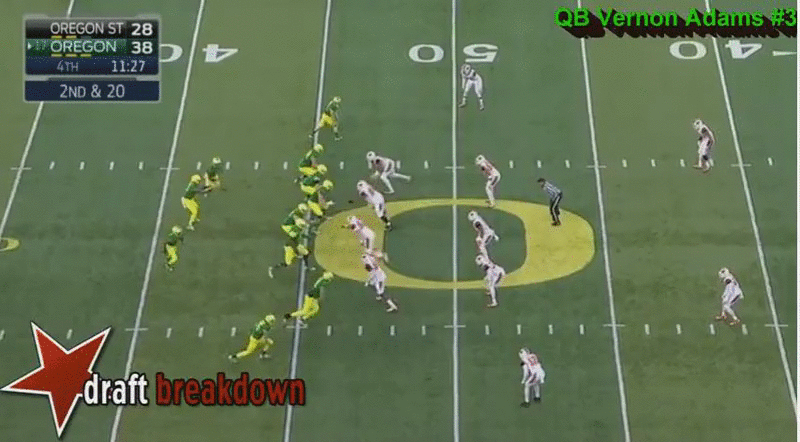 This came one snap after his sack on Adams, so we're seeing some snap to snap inconsistency that is expected with a player who has such a limited body of work.
Though I think he's a pretty strong dude, there are moments where he doesn't play close to that power. Maybe it was something going on with an arm injury, wrapped or braced in games I saw. Worst play I saw was Garnett steamrolling the crap out of him.
The Steelers have continued to show interest in Peko throughout the process and there is a small connection here. Oregon State's trainer is Ariko Iso, who was with the Steelers and left her mark as the first female trainer in the NFL. That's a pretty insignificant fact but scouts are aware of that fact and hey, that's a pretty nice way to find out the medical side for such an unknown player who didn't go to the Combine.
He's an underrated prospect in most circles but the steps he took in a single year are impressive. The talent is definitely draftable and there's a good shot he will be. If not, he'll be a nice snag as a priority free agent.
Projection: Late 7th-Priority UDFA
Games Watched: vs San Jose State, vs Stanford, at Oregon