As you should know by now, our attention has now shifted to the 2016 NFL Draft as it relates to the prospects. From now until the draft takes place, we hope to profile as many draft prospects as we possibly can for you. Most of these player profiles will be centered around prospects the Pittsburgh Steelers are likely to have interest in.
A final look at one more prospect. Ohio State wide receiver Braxton Miller. 
#1 Braxton Miller/WR Ohio State: 6'1/3 201
The Good
– NFL size, long and lean frame
– Impressive catch radius, makes difficult grabs, and shows plus hand-eye coordination
– Tracks the ball well over his shoulder, competes for every pass
– Sells his routes with everything he has, shows high degree of success on vertical concepts, uses eyes/hips/feet to create space at the top of his route
– Able to stay on track coming off the line, uses shoulder dips and stems his route to avoid getting rerouted
– Laterally quick, able to win in short spaces
– Detail-oriented player, works his butt off as a run blocker and makes an impact in that phase of the game
– Versatile, played everywhere, even when making full-time switch to WR in 2015
– Showed surprising refinement in one year at the position
– High character, personable, and appears to be a quick learner
The Bad
– Length is just average for frame and he has below average hand size (9 1/8 inches)
– Inefficient route runner on horizontal concepts, too much wasted motion and takes too long to chop down and makes his break
– Will struggle against press, too many steps and doesn't always have a plan to win
– Average straight line speed, isn't going to blow by many
– Only one year playing receiver, raw, and unlikely to make an immediate offensive contribution
– Lacks production
– Long-term health concerns
Other
– 7 career starts at WR, caught 26 passes and three touchdowns last season
– 34 career starts at QB, 42 career TD passes
– Over 3300 career rushing yards, 260 (6.2 YPC) in 2015
– Underwent two right shoulder injuries in 2014, likely labral repairs, and missed entire year
Tape Breakdown
In my final scouting report of the season, we look at another prospect asked to make a late-career position switch. With the influx of talent at QB, and maybe influenced by his shoulder injuries, Miller moved from QB to receiver in 2015. The production wasn't great but the level of refinement he showed in such a short time speaks volumes.
He works hard to sell his routes and did it a whole lot better than most I've watched. He's still mechanical in a lot of areas, and we'll examine that soon, but on vertical concepts where he is able to maintain speed through his cut, this guy can separate.
Ball doesn't come to him but you see the separation he has at the top of his route on the post (left side of the screen). And that came against Kendall Fuller, commonly thought of as a second round pick.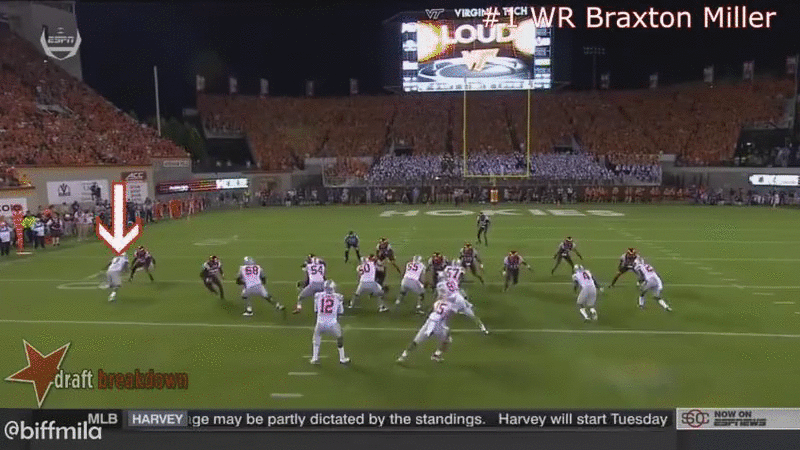 You see him able to win here with this double-move, freezing the DB, and creating separation down the seam. We also get a look at something else Miller does very well – track the football. Over his shoulder, shows body control, and makes a difficult snag.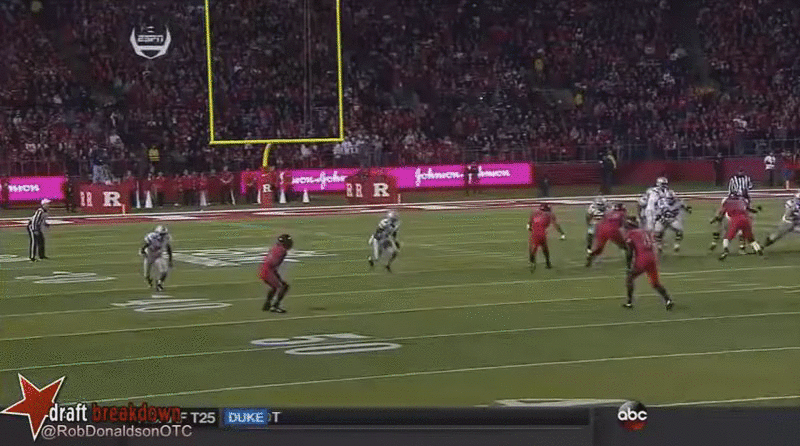 This is a horrible throw by Cardale Jones but Miller bails him out, laying out to make a diving grab. Doesn't go for a touchdown but the two hooked up for six on the very next play.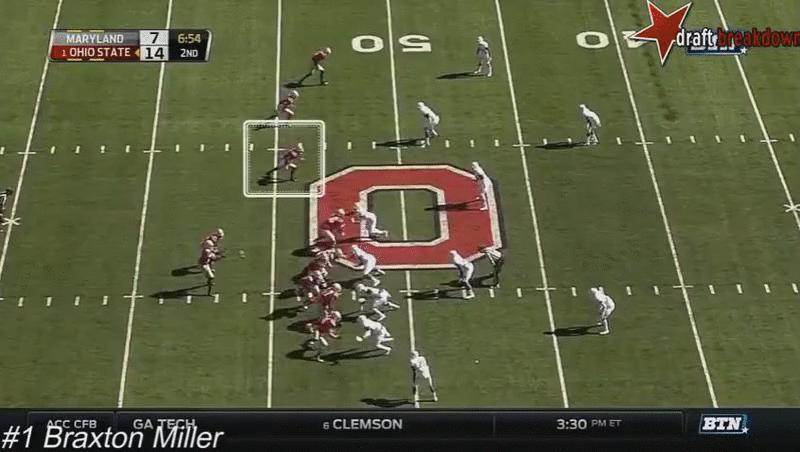 I love what Miller offers as a blocker. Plays every down hard. Physical and gets into the frame of DBs, pushing them around. Many examples but this is my favorite clip.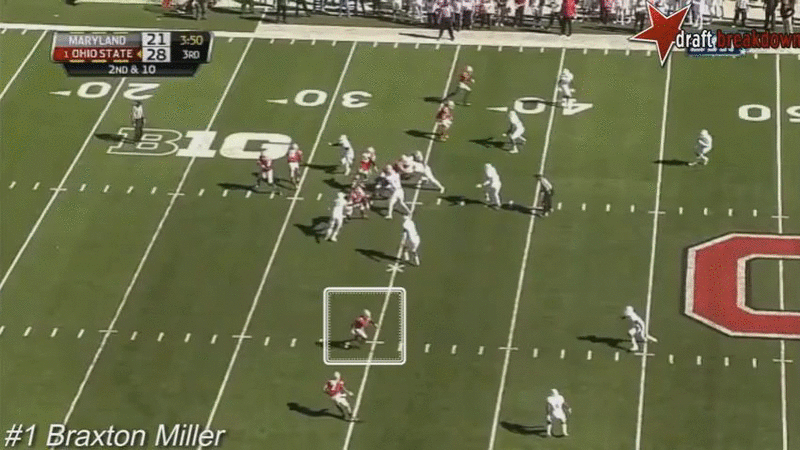 Hines Ward would approve, yes?
But we also realize Miller has spent one year at the position. And there are clearly some things he has to work on. Inefficient route runner underneath and that could be a bigger problem for someone expected to play in the slot.
Right slot receiver below, running a dig. Too much wasted motion at the top before he finally breaks it off.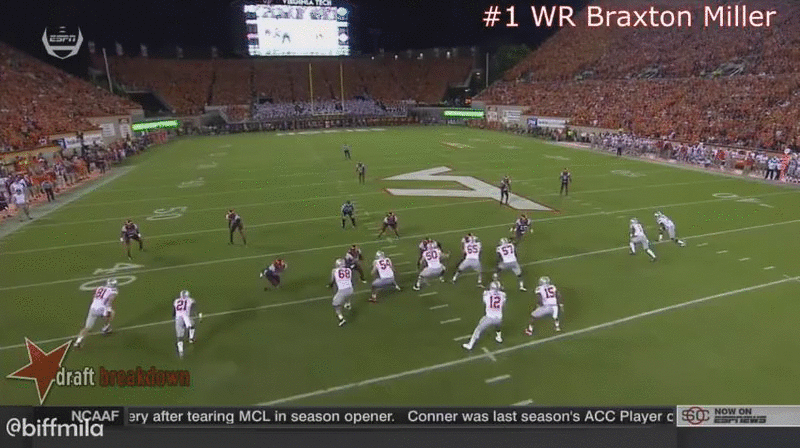 Some other minor problems, like struggling to hear the snap count on the road and being late off the ball. Happened twice in the cut up posted versus Rutgers.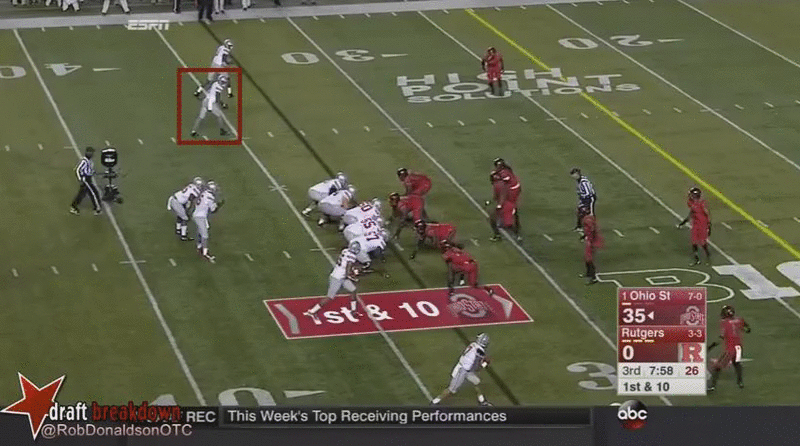 I saw some issues working off press in individual drills at the Senior Bowl. That wasted movement, lack of a plan. The plus side is Miller enjoyed a strong week of practice and he seems coachable. Takes to coaching quickly and when he was told to correct something, he'd do it in his next rep. Well-spoken, coachable kid, and that's going to chip away at the mountain he needs to climb.
There is a worry over his shoulder injuries. Obviously, playing receiver is going to lessen some of the wear and tear, he re-injured it in 2014 throwing a pass in practice, but a chronic problem could exist. This cleveland.com article discusses it in-depth, raising concerns over a heightened risk of re-injury.
It doesn't sound likely he is going to get out of the second round, meaning he is very unlikely in play for Pittsburgh. But I like him and think he can become a very good receiver in a short amount of time. By year two, he'll be ready, wherever he lands.
Projection: Mid-2nd
Games Watched: at Virginia Tech, vs Maryland, at Rutgers, Senior Bowl