Welcome, Ladarius Green. Frankly, I didn't think I'd see the day. To break away from the mold of block-first, slower tight ends. Todd Haley gushing over Cameron Clear, Cameron Clear, last offseason.
That isn't Green. But who exactly is he?
I put in four games from different points of the season. Week 2, Week 5, Week 14, and Week 16. So we're going to look at him, objectively, in every facet of his game. The good and the bad of his game, just like any other player.
I want to start with one stat before I jump into the rest of the report. A primer to start us off.
Over four games, I watched Green play 210 offense snaps. Of those 210, he played with his hand down in a three point stance on 77, or 36.7% of his snaps. That number was higher when Antonio Gates was suspended, but overall, the figure was actually a little bigger than I anticipated. Especially When you consider some of those came in obvious pass situations. Of course, this doesn't come close to what say, Heath Miller did (my guess is at least 75% of his snaps came with his hand down), but gives you an idea that he wasn't *just* a wide receiver who stood up on every single snap.
Anyway, with that in mind, to the rest of the report.
Ladarius Green As a Receiver
Obviously, this is his calling card. You can look at his Combine numbers if you're into that kind of thing. 4.56, 34.5 inch vertical, and a 10'4″ broad for a 6'5 and 3/4, 238 pound tight end. We see that athleticism on his tape today.
Three of his four TDs in 2015 came with him standing up in the slot. Two were identical concepts. Slot fades. It's one of the toughest routes to cover. Defending a vertical route in space – there is no benefit of pinning a receiver to the sideline like there is on a go route from outside the numbers. We've seen the Steelers use it before and I'll go more in-depth with that in a separate post. I just want to show one clip of it, to give you the idea of how effective it is, given Green's skillset.
Green is in the slot to the bottom. Slot fade. Tracks it over his shoulder, completes the catch for six.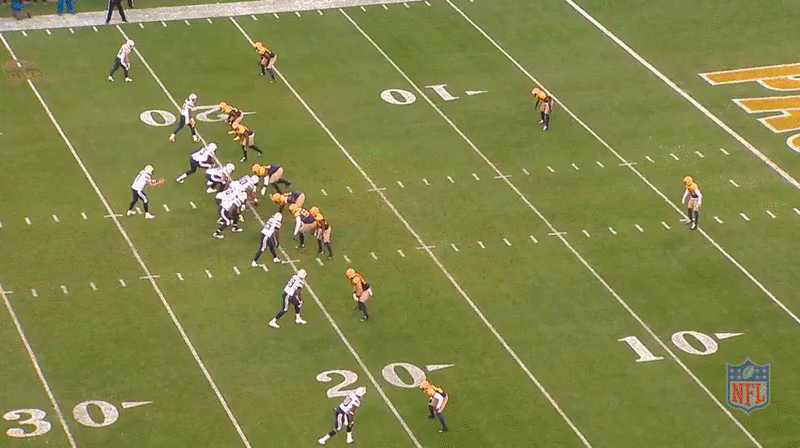 This is another touchdown that shows off his speed. Simple mesh route he takes 31 yards to the house. Outruns the DB in the open field, despite the defender having the angle.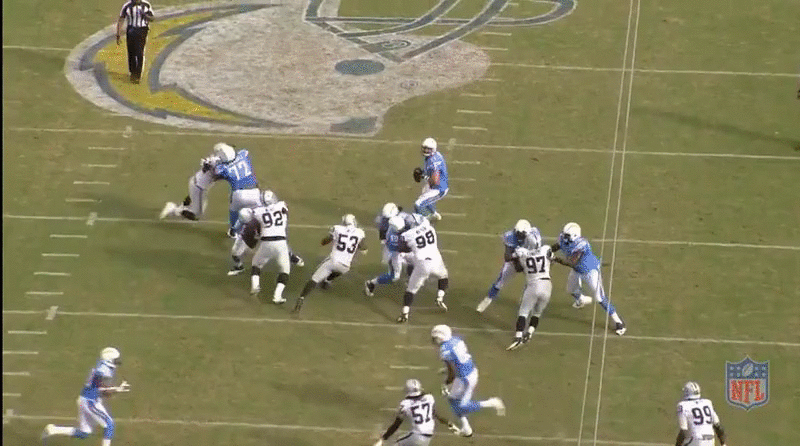 And this last clip shows his ability to stem his route, get his head around quickly, and make a catch with bodies flying around. It isn't as spectacular as the others but shows another element on his game.
But I don't want to show you just a couple of GIFs and call it a day, like some places might. So let's treat him like a rookie. Here is my report on him just as a receiver.
The Good: Obviously fantastic size. Big, long frame. Wide stance, easy to identify. Tracks the football well. Able to use size to box out on vertical concepts, defenders are afraid to play the ball around him. Gets proper depth on routes and doesn't round them off, shows refinement as a route runner in that regard. Shows some minor technique in his route running, bends his route vertically to sell one way and go another, but it's pretty basic stuff.
Excellent hands who consistently plucks away from his frame, doesn't get lazy even on "easy" catches. Tucks ball away quickly and gets upfield, making him an increased RAC (run after catch) threat. Sneaky open field speed, a long strider who can win even when the defender has the angle. Vertical threat. Understands man/zone rules and finds grass relatively quickly.
The Bad: One speed player who doesn't show any extra explosion off the ball or a second gear through his routes. Not a very nuanced route runner who doesn't sell his routes that well, outside of basics, and prefers to use size and scheme to win. Obvious difference between the way a veteran like Gates sells and the way Green fails to. Needs to do a better job in scramble drills, stay with the play, and be a little more active.
Struggles to work off jams and re-routes in zone coverage (by hook defender, for example), though can win off line vs press with quick feet and stem. Goes down a little easier than expected, won't break or drag defenders like some top-end players at the position.
Route Concepts Observed: Variety of route concepts. Slot fade in high red zone, a pair of 19 yard TDs over a span of three weeks, money call in the high red zone. Nearly had a 3rd, 30 yard TD on same concept. Increase in four vertical concepts, Green down the seam, in late-game, obvious passing situations. Divide and level concepts, post/go, sail routes. Y Cross is one of most popular, frequent concepts. Chargers use Hank a ton, similar to Pittsburgh (curl/flat with TE sitting down in the short middle).
Alignment: Often lined up standing up in a tight split between he and OT. Occasionally isolated in 3×1 but not often. Other times, worked as #2 in trips side. Usually lined up between inside the numbers and the tackle, not often on the perimeter.
Ladarius Green As A Blocker
Ah, this is the million (or 20) dollar question. We know he's a good athlete who can catch. None of that is a surprise and your local Madden ratings will tell you all that. So let's break him down as a blocker.
For those who don't want to read a wall of text, an overall verdict. Schematically, he was used in ways that translate to Pittsburgh. He gives effort and uses size to his advantage. But he is only an average blocker, far from the level of Miller, Matt Spaeth. More on par with what rookie Jesse James did last year.
One stat to give you. Of those 36.7% snaps were he lined up in a three point stance, he blocked on 72.7% of those. 56 of 77. Again, not a lot, but a little bit more than I would have guessed at.
A look at the good. He shows explosion out of his stance, allowing him to reach block on the backside of zone schemes. Gets his hips in position to make the block, though he will false step and be late in crossing the end's face, which can present some problems. He shows that snap and athleticism as a blocker on bubble/tunnel screens, something Pittsburgh uses several times a game. And with that body in motion, it can produce some violent collisions.
This turned into a Stevie Johnson touchdown.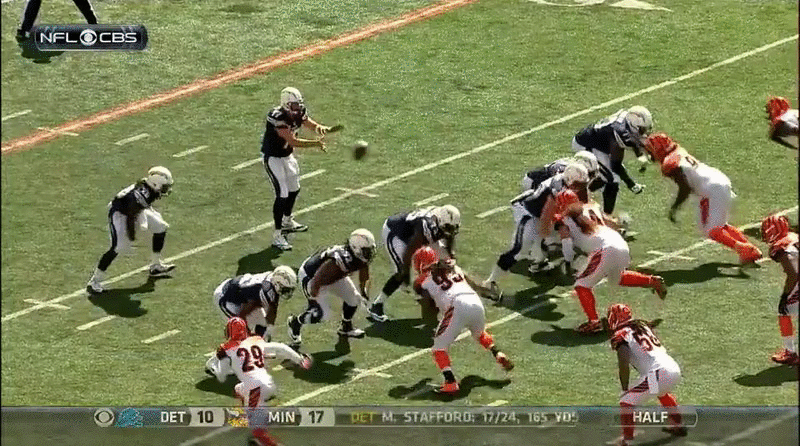 I also saw it in Week 16 against the Oakland Raiders so we're seeing this from the beginning to the end of the season.
But there are problems. He is not overwhelmingly powerful. Not even close. Needs tighter hands, does not grip well, and struggles to stick to blocks. The example below is a man scheme. Green, like he would be asked in Pittsburgh, has to solo block the strong side defensive end. It isn't pretty.
Doesn't bring his feet, punching just with his upper half, and doesn't try to square up the LDE or  wash him down the line. The end is able to penetrate and force the back to bounce the run, and even though he's able to turn the corner, it is a negative on Green (and yes, some obvious issues by the RG/RT on the combo block, but that doesn't absolve him).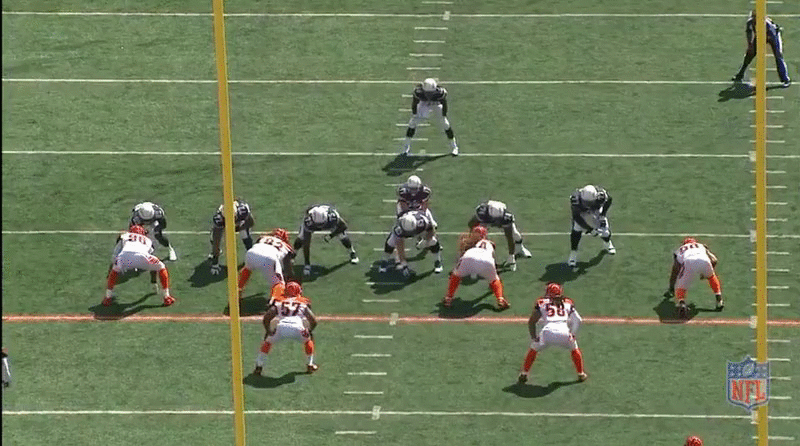 What about pass protection? He didn't do it often, and sometimes edge guys wouldn't rush because they assume he was releasing into coverage, but he actually was occasionally asked to block defensive ends, just like in Pittsburgh. Honestly surprised me. Unfortunately, the results weren't great. Again, against the Bengals. This is a tough matchup against the LDE (#96), I fully understand that, but one any TE would be asked to do in Pittsburgh. And Green struggles.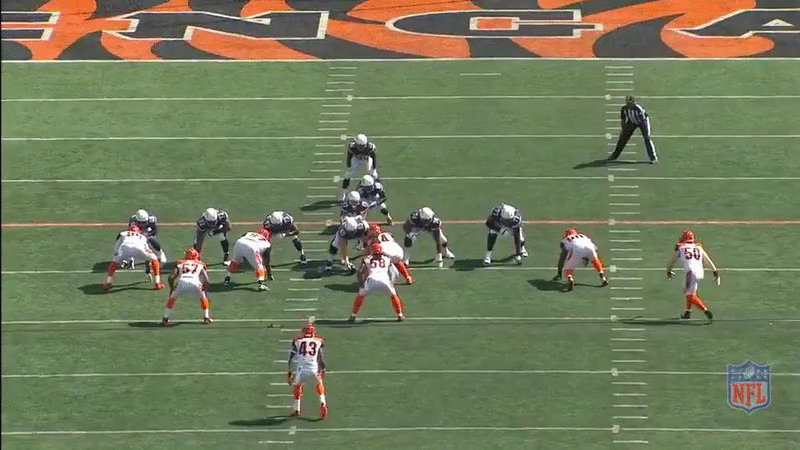 Or look at this run block against Pittsburgh. Doesn't stick to James Harrison, who avoids being stuck. sheds with ease, and makes the tackle. This run is designed to go inside, watch Green attack inside, but he lacks the physicality to deliver a blow and knock his man off balance.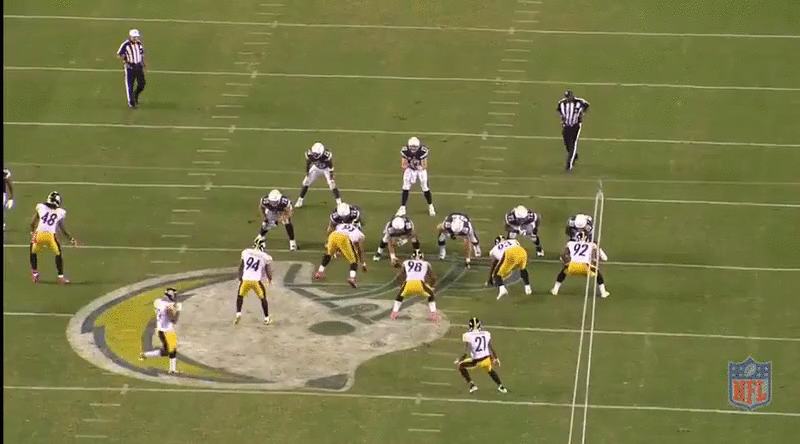 Onto my scouting report of Green as a blocker.
The Good: Obvious size advantage. Uses it to his benefit and can buffer defenders at 2nd level because of it. Shows snap out of his stance, especially for someone so tall/long, and able to set his hips and position his body on reach blocks, be in position to cut off the backside. Snap and athleticism allows him to get to perimeter on screens and size allows him to get in the way of defenders. Blocking scheme in San Diego shows similarity to Pittsburgh, not a brand new projection of how he'll succeed in Steelers' schemes/protections.
The Bad: Leg drive is inconsistent, feet will stop and he's prone to falling off blocks. Isn't nasty and doesn't finish blocks like a Pittsburgh tight end. Able to get his body in position but lacks tight, strong hands to lock on and stick to his blocks, more of a buffer who uses size to get in the way than he is a dominant player. Will sometimes false step on backside of zone runs and struggle to seal/reach. Struggles to keep base in pass protection. Not often run at, schemed usually away from him, likely in large part due to blocking issues.
Blocking Scheme Observed: Majority appeared to be zone runs. Usually on the backside, reaching the backside end. Some man concepts, often released into the 2nd or 3rd level but occasionally matched up against the defensive lineman. Appeared to pull a little more often later in the year, but split zone was much more rare in San Diego than Pittsburgh, where it's practically a staple. Some blocking out of a two point stance, aligned tight to the line. Rare, but did pass protect against defensive ends, was most likely to chip and release into flat.
Final Thoughts
Like I wrote at the top, I'm excited about this move, if for nothing else, to see how a move tight end fits in this offense. I didn't think I'd see it so soon and had basically given up, figuring it wouldn't happen under Mike Tomlin.
He's a plus athlete for his size who opens up the playbook even more. And he's reliable, unlike say, a Jared Cook type. His hands are an underrated part of his game – overall, they're excellent. He's an average blocker who may get a little better under the coaching of James Daniel but certainly not significantly so. And it's not like you can always hide it.
The Chargers ran a lot more 12 personnel sets and with good reason. Their wide receiver depth was shaky and only got worse after Keenan Allen's season-ending injury. They had Gates, Green, and some solid blockers in David Johnson and John Phillips. Their talent allowed them the ability to play to Green's strengths more. In Pittsburgh, with 11 personnel (1 RB, 1 TE) being the dominant package, he is going to be asked to do a lot more. Can't hide him the same. It'll test Haley's creativity to see how well he can mask his deficiencies.
But given the cheap-ish money and the big-play upside, it's very easy to like this signing. I do and so should you. Green is only going to make a potent offense that much more explosive. Think about that 11 personnel. And split Green out wide. Now defenses have to stop him, Antonio Brown, Martavis Bryant, and Markus Wheaton (or Sammie Coates, Darrius Heyward-Bey, pick your favorite). That's defending four top athletes in space. I don't know how you're going to defend it as a defense.
It even opens up the run game. Go 11, split Green out, 2×2 stack, spread the eligibles out. The defense has to remove another player from the box to defend the tight end and your offensive line might be even or +1 in the run game. Or the defense rolls a safety down to defend and now you're getting Cover 1 with superior weapons. Bottom line: it all results in a positive for the offense.
So be excited. Ladarius Green adds an element to this offense the team has never had. I can't wait to see it.