There's no doubt signing Ryan Harris is far less sexy than Ladarius Green. We went from five star dining to fast food. Lot less interesting to talk about.
But does that mean Harris is a bad player? Of course not. You know how we roll at Steelers Depot. We're going to give it to you straight. I watched three games, 181 snaps of his – Detroit, Green Bay, and Pittsburgh – and like Green, will produce my scouting report.
There is no specific data point I'm collecting the way I did for Green's three-point stance. So we'll just break him down into run and pass blocking with some overall clips of each and then my notes.
Ryan Harris' Run Blocking
Overall, it's above average. I don't think there was one clip that knocked me off my feet but a series of solid, well-executed blocks, like coached and expected. I dig this combo block against Detroit. Double the three tech to hold the point of attack, work off, stay square at the second level, and stick. Harris is the RT.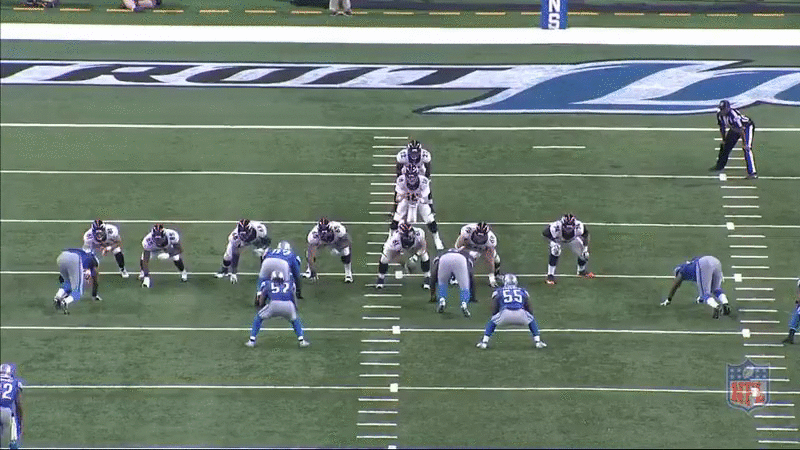 With the angle on this down block of the OLB, Harris is able to explode, stick with inside hands, uncoil, and drive the OLB down the line. Well done on this inside zone. He is the left tackle in the next two clips.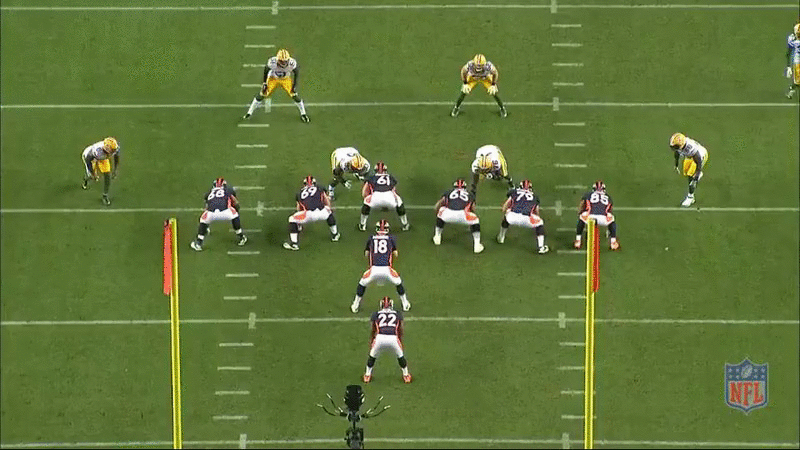 But he isn't always perfect and struggles when a defender is head up. Can't explode out and shoot. Watch the RDE get into his pads and blow him back.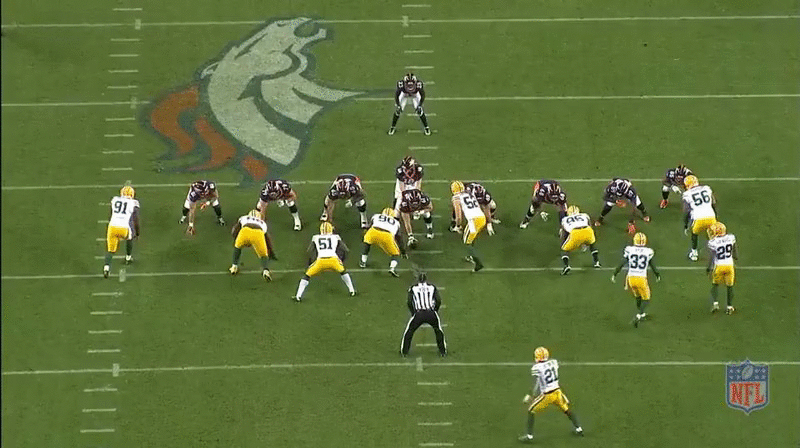 Now that you've seen some clips, here is my report.
The Good: Big, thick lower half. Large thighs that help create power, explodes off the ball and accelerates with a powerful second step. Length and hands create separation and able to grip and control. Can move in space in 2nd level or get out in front on screens. Plays with a nasty streak and seeks to finish his blocks. Uncoils his hips to establish power and leverage, keeps lower half under him and doesn't get off balanced.
The Bad: Has more trouble when defender is head up or slight shade, unable to create power and momentum and vulnerable to losing the point of attack. Will fall off some of his blocks, notably in space. Poor cut blocker who though explosive initially, struggles to be effective and get his man on the ground.
Blocking Scheme Observed: Mix of man and zone. Combo blocks in man schemes, doubling three tech and working to linebacker. Did not often have to drive block with man head up. Zone blocks, sealing/washing outside shade DE or OLB on the frontside. Would work to cut or scoop vs a 3 tech or move to 2nd level vs a one tech he couldn't reach on the backside.
RT versus Detroit. LT versus Green Bay and Pittsburgh. Rotated in and out of lineup with Tyler Polumbus versus Green Bay, did not appear to injury related though came into game listed as probable with a knee injury. Appeared more comfortable at LT than RT.
Ryan Harris' Pass Blocking
Simply, this is the weaker of his two areas. But let's look at the good. He's at his best when he can short set and be the aggressor, stepping forward and into the defender, using his strength to create a punch. Not every punch is going to knock a defender off his feet. That's an overstated expectation. But you're looking to take control, to disrupt the rusher's path and plan, and every half second you can stall it, the better odds are you'll keep your QB clean. He is the LT.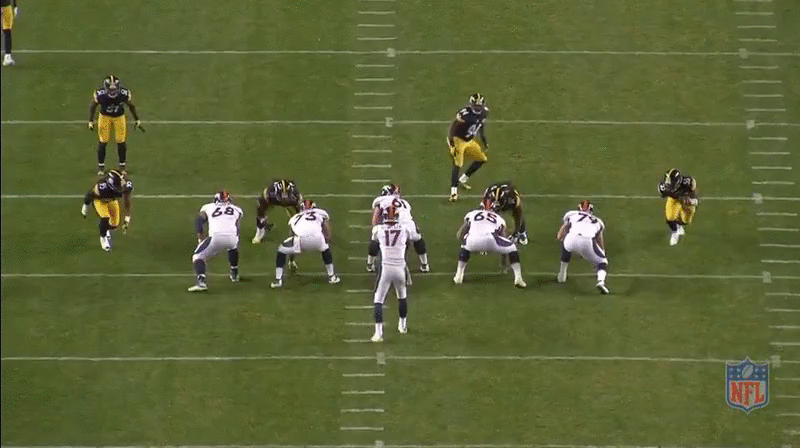 Harris, despite not being a particularly tall lineman at 6'4 1/2, has a bad tendency to shoot his hands too high and with poor placement. Many, many examples of that.
Here's a photo of Jarvis Jones leveraging him.
And you can see Harris get blown back here, as the right tackle, his arms flailing back as his chest is exposed and he's bull rushed.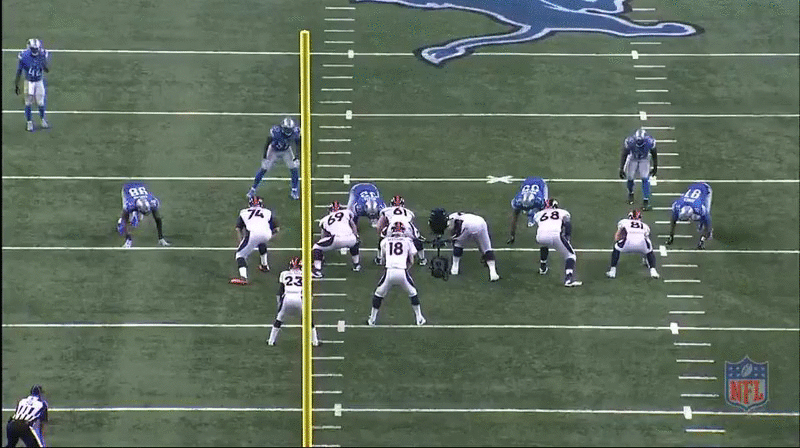 Harris is not great laterally either and has a tendency to lunge at the top. Think he's eager to shoot and engage at times and others, he loses his foundation as he tries to seal. Back to left tackle.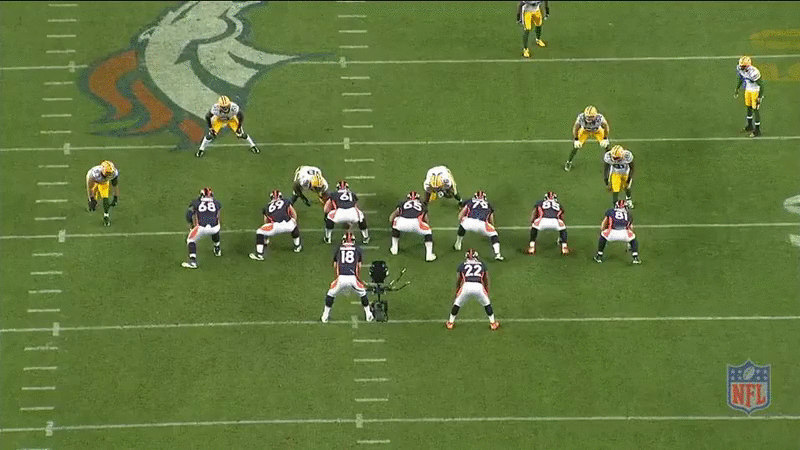 Though he gives effort, he has trouble mirroring or resetting on inside rushes. Just isn't quick enough laterally to slide and stay square. You can see it here versus James Harrison below.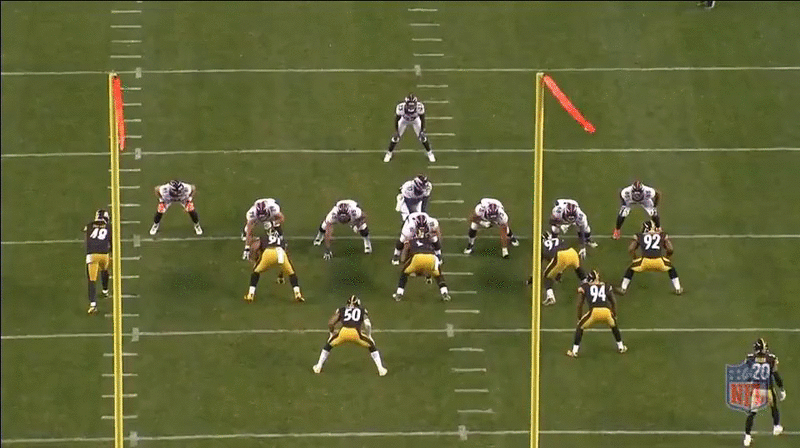 Let's get into the full report and notes.
The Good: Times the snap well and gets out of his stance quickly enough. Has power on his punch and length creates separation that can wash rushers inside or run them upfield. Punch creates disruption and knocks defender off his path. Initial set looks relatively clean. Strong, able to absorb even when he gets bull rushed back initially. At his best when he can short set and be the aggressor, attack and punch, using his strength as his best asset, rather than trying to sit and catch. Inconsistent but shows ability to pick up looper on T/E stunts. Active and finds work when uncovered.
The Bad: Average laterally who quickly sets but has trouble moving up the arc and will fall off. Lacks lateral quickness to counter or reset versus inside rushes. Eager to shoot and creates tendency to lunge and flatten, losing power and ability to mirror laterally. Needs to lower aiming point on punch, hands too high and not tight enough, placement is inconsistent and it opens up his chest, causing him to lose power and get leveraged. Will miss some stunts.
Overall Thoughts
Harris is certainly not a reason to get you Tom Cruise jumping on your couch or, in its own way, heal the wound of losing Martavis Bryant for the year. But the move was one that was required. Here's the bottom line. You get a 70 game starter, including 31 in the regular season over the last two years, who has extensive experience at both tackle spots. That is a major depth piece for a team that had zilch after losing Kelvin Beachum last season.
I would anticipate Mike Tomlin being open to having a "competition" between Harris and Alejandro Villanueva. It's good for anyone, especially a third-year tackle going into his first full-season as the potential starter. Brings the best out of everyone. But make no mistake. Villanueva should win this job, especially if he ascends the way you'd expect for someone in his position – still growing, learning, improving.
Harris actually might be a tick better run blocker and while Villanueva is not perfect in pass pro, he is a superior athlete. Harris should settle into a backup role, where he belongs, with the knowledge the team can survive if he is thrust into a starting role.
It's a heck of a lot better than Mike Adams.