Like we did for Ladarius Green and Ryan Harris, we're back dishing out some information on the Pittsburgh Steelers' latest free agency signing, inside linebacker Steven Johnson.
Now, Johnson is a tougher evaluation and we won't use the same mold as we did for the other two. Johnson was almost exclusively a special teamer in 2015 with Tennessee and will fill a similar role in Pittsburgh. So we'll just talk about his role in Tennessee, Pittsburgh, point out some good/bad plays, and a general background.
So if in-depth analysis on coverage units is your thing, today's your lucky day.
Background
Johnson committed to Kansas out of high school. He barely saw the field his first two years but earned a scholarship before his junior year, was interested into the starting lineup, and recorded 215 tackles over his final two years. 10.5 of those went for losses and he picked off one pass his senior year.
He went to the East-West Shrine Game and earned a Combine invite. Weighing in at 6'0/4 239 pounds, his numbers were impressive. He ran a 4.78, jumped 36 inches, and a 9'5″ in the broad. He would improve the latter numbers at his Pro Day to 37 and 9'10."
Generally, his numbers hit the mark of our inside linebacker study, though we lack data on arm length/hand size, and his bench fell short, putting up a best of 17 reps.
He went undrafted in 2012 and signed with the Denver Broncos as a UDFA. He worked his way onto the roster and forced one fumble his rookie year while playing 206 snaps on special teams. It was more of the same the following year but in 2014, when he started seven games, and totaled 210 snaps on defense. He recorded 39 total tackles, one fumble recovery, and half a sack.
He joined the Titans last season and saw 310 special teams snaps, tied for 22nd of all linebackers in the league. That's more than any Steelers' linebacker. He couldn't carve a home on defense, playing a grand total of 27 snaps.
Special Teams' Role
The key here, though you could surmise it by the volume of his snaps, is that Johnson is a four-phase special teamer, just in the way Terence Garvin was. Kick return, punt return, kick coverage, and punt coverage. Not every player can do that and there's underrated value to it. Danny Smith talked about Garvin having that capability after the linebacker's knee injury.
"We replaced him with four people, to be honest with you. We played Bud Dupree on a kickoff return. We played Moats on the punt team in his spot. We played Jordan Todman on a punt return in his spot. There's a lot of people it takes to replace those kind of guys. We replaced him with Chickillo on the kickoff coverage team. So four guys took his one spot." 
Johnson will help alleviate the need to have a player fill each unit. That provides stability and comfort to units that are at their best when they have it.
To look globally, stealing Mike Tomlin's word because everything he says sounds awesome, the Titans' coverage units were poor. Granted, I did watch games against top returners like Travis Benjamin and Ted Ginn Jr, but to give them a pass for struggling versus good talent is like being a "good" sailor whose boat capsizes in every storm.
That's additionally surprising since their coach is Bobby April, whose been in the league forever – including a stint with the Steelers long ago. This isn't directly Johnson's fault but man, it was tough to watch, and makes you appreciate the group Pittsburgh has (had?) that much more.
Though I know some have said he recorded ten tackles on special teams, Pro Football Reference's play index indicates he only had five. Four on punts, one on kickoffs.
But specifically to Johnson. He seems like he has enough speed to get downfield, works hard to get off blocks, and runs with effort to the ball. Here are the positions I identified him playing.
Kick Return: Front five line, the RG, the 2nd player in from the right sideline (return's point of view). This was Garvin's exact spot in Pittsburgh.
The Titans' kick return scheme was generally similar to Pittsburgh's. A front five with a player behind, essentially forming a six man initial wall. A two man wedge with a wing player swooping in to form another two man wedge, circumventing the illegal three man wedge rules. The front line was usually passive, retreating five or ten yards before setting up, but mixed things up and would occasionally ask one or two players to be on the attack off the kick.
Punt Return: I don't have a proper label for him. Usually on the line, on the right side, over the B gap. Seemed to play more later in the year. Early in it, there were games he wouldn't start but get rotated onto that unit.
Kick Coverage: L4, the second player to the left of the kicker. Again, this was Garvin's spot on kick coverage for the season.
Punt Coverage: The LT, end man on the left side of the line, ahead of the wing player. This currently is Vince Williams' spot. Garvin played next to him as the left guard. One of them could move there though Sean Spence served as the right tackle so perhaps Johnson flips sides.
Let's break down some plays, yes? In all these clips, Johnson is wearing #52.
This was probably my favorite play of the ones I viewed over 4-5 games. Johnson is the L4, the second player to the left of the kicker. Maintain your lane, shed the block, make the tackle.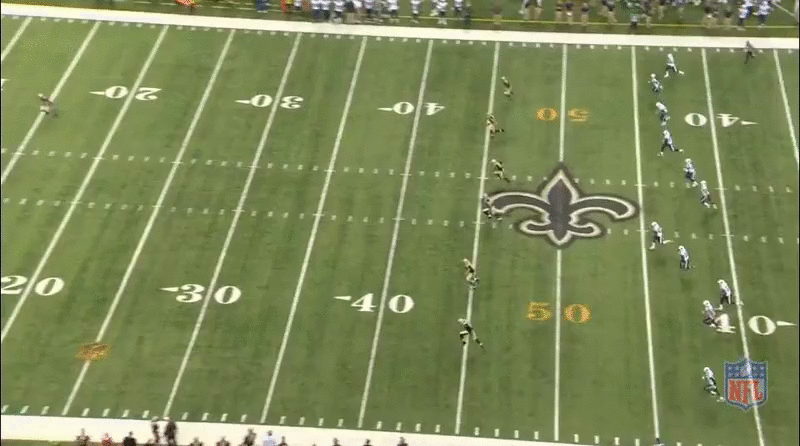 Though part of it may have been scheme, there were moments where Johnson was double-teamed, the return team intent on taking him out of the equation. With him out of the way, Keshawn Martin returns this kick 75 yards.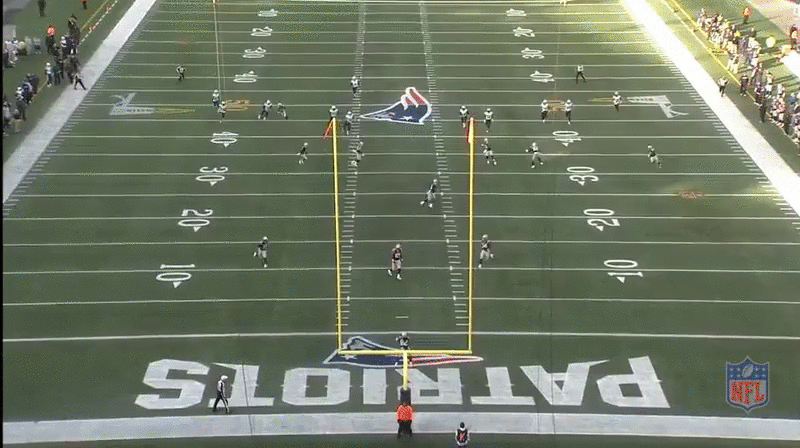 Though it's very difficult to quantify, and I'm the dude at the end of the bar probably misinformed and yelling away, I didn't see Johnson as a particularly good blocker on the kick return unit. Would've liked to see him being a little more powerful and nasty.
On the opening kickoff against Carolina, Johnson screams across the field looking to plaster Fozzy Whittaker. Johnson, despite having probably 35 pounds on the running back and a momentum, can't knock him off his feet. Whittaker is able to recover, dip past Johnson, and chips in on the tackle.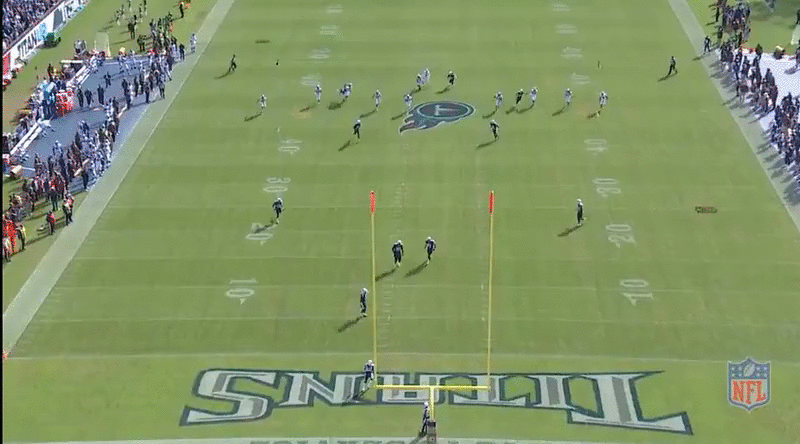 Of course, we aren't talking about a tremendous athlete and he looks a tick slower than Garvin was. This is Ted Ginn, not an easy man to catch, but Johnson just misses the tackle on this punt. Tough play, no question, but try telling that to your special teams coach in the film room.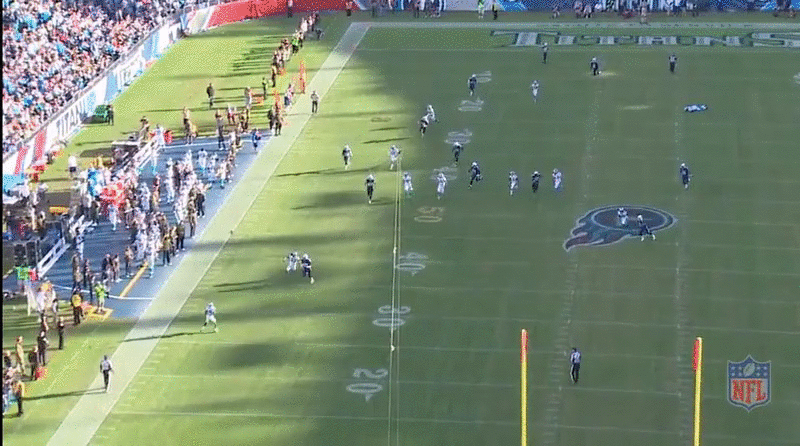 Conclusion
I dig the signing, even if the casual Yinzer shrugs their shoulders and goes back to ranting over drafting a cornerback in the first round. Inside linebacker thinned out with the losses of Garvin and Spence, and putting a rookie in that four-phase role isn't impossible, but risky.
My guess is that Johnson is a little less talented and valuable than Garvin but again, there is extreme comfort in all that he can do. And he'll need to do his job well. It's easy to take special teams, especially coverages units for granted. The Steelers' unit was excellent under Danny Smith but will be tested with all the pieces they lost. Johnson is a quality first step to build things back up.