A series we'll put out each Sunday morning to help get you – not that you needed it – into a football mindset. A basic Football 101 series that will look at a concept or scheme with the intention of making you a smarter football fan.
What I think this series is useful for is it to take concepts we mention all the time but don't always take the time to sit down and discuss on its own. And that's what we'll do here.
Today we're looking at a concept used be cornerbacks: bail technique. When we think of coverages, we think of about man-to-man, turning and running with the receiver. Or we think of zone, sitting in a backpedal – like you'll see at the NFL combine this week, check out the "W" drill – and transitioning to drive on the ball.
But there is another technique often used. Bail technique. It's a zone coverage technique but doesn't have a backpedal. Instead, on the snap, the cornerback opens up his hips to the field and runs. I actually don't have a ton of examples of it on the ready in my notes but here is one from Week 3 against the St. Louis Rams. Picture and GIF below.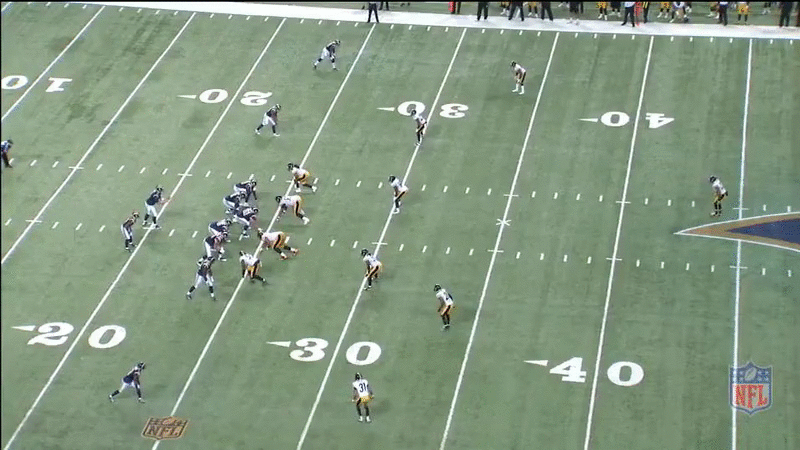 I was actually being critical of Keith Butler here, frustrated over the use of bail technique in off coverage, making it more difficult for players to drive and protect themselves on anything underneath. You can see the time and steps it takes for Antwon Blake to get his momentum downhill.
Often, you'll get a "press bail" technique with the corners rolled up on the line of scrimmage, giving the illusion of press-man or Cover 2. Right before the snap, they bail and drop into their deep third zone, giving the quarterback a new look on the snap and forcing him to process information quickly. The Pittsburgh Steelers have done it too, though I don't have an example in my notes.
For another look at it by someone who teaches you how to play corner, check out the smart people over at Great Cornerback. Here's a short, 20 second video on bail technique.
Previous 101 Articles
Reach Block
Counter Trey
Receiver Identification
Special Teams Nomenclature
Basic Defensive Coverages
Packaged Plays
Gap Identification
NFL Route Tree
2 Trap
Dart 101
Scrape Exchange 
End Arounds vs Reverses
Defensive Line Techniques