Our final sack breakdown (though we'll have a year in review) for the season.
1. 2nd and 6, 11:15 2nd. 11 personnel. Five blocking against a four man rush. Playcall is a designed bubble screen to the field. But Ben Roethlisberger has other ideas, looking to throw hot to Sammie Coates on the backside. Quick slant. But Aqib Talib sees it and jumps the route, taking it away.
Because it's a screen, Alejandro Villanueva is cutting the ROLB and Ramon Foster is peeling out into the flat.
There's no time for Roethlisberger to do anything else and he quickly goes down.
This is just Roethlisberger taking a risk. Thinking he has a hot that doesn't turn out to be there. The bubble to the field didn't work at all Sunday but this is actually the one time they should've thrown it. They do a better job of getting their blockers out in space pre-snap, motioning Heath Miller across the formation so he can provide a block on the bubble. Ben just decides against it.
Especially costly because this turned a 2nd and 6, and with a completion to Bryant, at worst a third and short, that turns into a 3rd and 13, forcing the Steelers to kick a field goal.
Roethlisberger took the risk and it burned him. Only the blame can go on him.
Blame: Ben Roethlisberger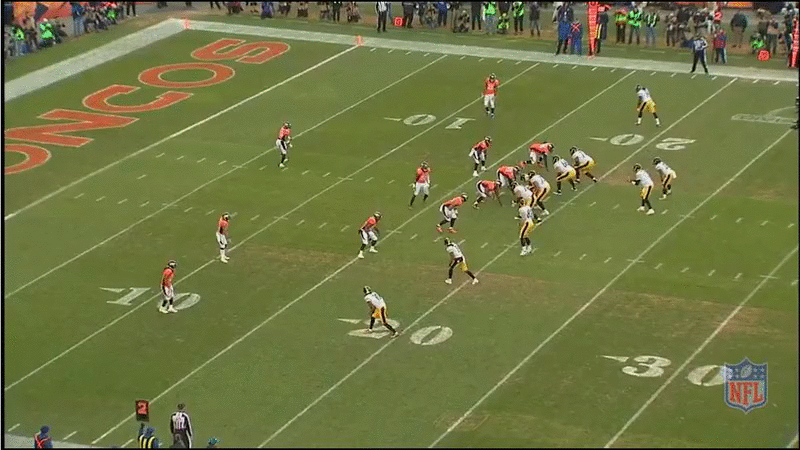 2. 3rd and 8, 7:29 2nd. 11 personnel. Six blocking + a RB check/release against a four man rush. Snap to sack is a hair under three seconds. Push game for Denver, their DTs running a stunt. Malik Jackson (#97) slants/crashes with Derek Wolfe (#95) looping over. Foster passes the slant off to Cody Wallace and gets his eyes on the looping Wolfe.
Just a poor job of execution, Foster doubling over on contact. Wolfe swims over him. Really has to squeeze the gap, and can't depend on Wallace to help because as far as Foster knows, he still has the slant/crasher, and force Wallace to cross his face and beat him wide. Don't let him win up the A gap. And Foster does.
It's too bad because Roethlisberger was about to pull the trigger and hit Darrius Heyward-Bey on a dig. Instead, it's a sack and a punt.
Blame: Ramon Foster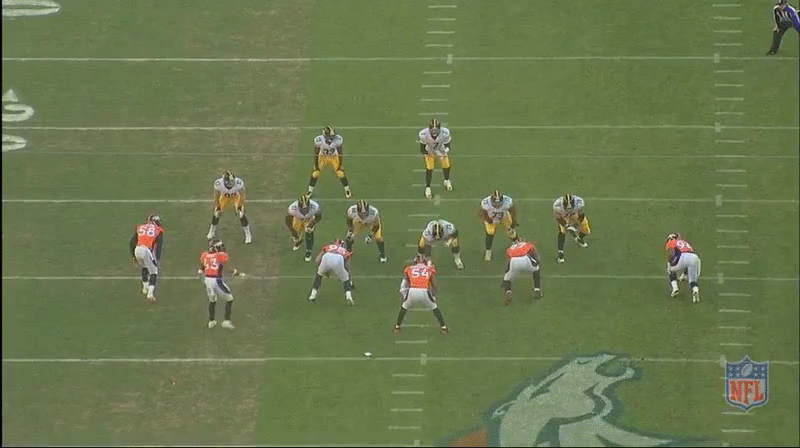 3. 4th and 5, 1:56 4th. 11 personnel. Six block against a five man rush. Ah, the backbreaker. There wasn't anyone open and Roethlisberger couldn't take a sack. We get that. Have to give Bradley Roby special credit for peeling off #1 and carrying Markus Wheaton – #2 – on the corner. That's where Ben wanted to go with the ball and it was taken away.
Along the line, Von Miller hits Marcus Gilbert on a nasty inside spin move. Gilbert seems to open the gate a little too much trying to seal Miller, anticipating him rushing upfield.
Roethlisberger actually escapes Miller but Cody Wallace, handling DeMarcus Ware on a stunt, loses him and Ware cleans it up.
But Gilbert allowed the initial pressure and forced Roethlisberger to the ground. So it falls on him.
Blame: Marcus Gilbert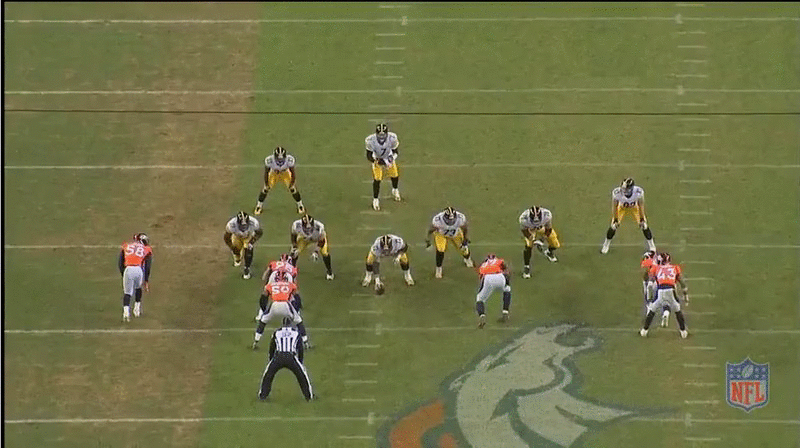 Sack Counter (Game):
Ramon Foster: 1
Marcus Gilbert: 1
Ben Roethlisberger: 1
Sack Counter (Season):
Defensive Scheme/Coverage: 6.5
Cody Wallace: 6
Alejandro Villanueva: 5.5
Ramon Foster: 3.5
Ben Roethlisberger: 3.5
Mike Vick: 3.5
David DeCastro: 3
Marcus Gilbert: 3
Kelvin Beachum: 2
Todd Haley: 1
Wide Receivers: .5
Penalty Counter (Game):
Marcus Gilbert: 1
Alejandro Villanueva: 1
Penalty Counter (Season):
Cody Wallace: 12
Marcus Gilbert: 7
Kelvin Beachum: 5
Ramon Foster: 5
David DeCastro: 3
Alejandro Villanueva: 2