Like I wrote for the offense, because this team is relatively unchanged, we'll have a cliff notes version of the Cleveland Browns' scouting report. Check out our first report on the defense at the link here.
Here is your Browns' defensive scouting report.
Browns' Front Seven
The Browns' defense is bad. There's no getting around it. Based on their current roster, I'd argue it is the worst in the league. They have the league's worst run defense, allowing 135 yards per game. They've given up the 29th most points and 26th most total yards, 379 per game. Their 31 touchdown passes allowed is tied for the 4th-most. They have allowed the third most 10+ yard runs (54) and the fourth most 20+ runs (14). Bad all around.
As a team, they have 29 sacks. But realize Armonty Bryant is responsible for 5.5 of them and he will sat out Sunday after getting arrested two weeks ago. It leaves only Desmond Bryant – their leader with six – as the only player with at least four sacks active on Sunday afternoon.
Eleven of these sacks have come from the defensive line. Bryant is the only DL to play at least half his team's snaps on the season though a whopping six of them in that 3-4 front have played at least one-third.
Danny Shelton hasn't been the first round pick they hoped. He's played a little more left end than nose tackle as of late but simply isn't seeing the field much. 19 snaps last week against the Kansas City Chiefs. Compare that to relative unknown Jamie Meder (a player I like, by the way) who saw 16.
Karlos Dansby is the anchor in the middle and one of the few guys who could start on most teams. 101 tackles, 3 INTs, and a forced fumble on the year. He's just one of two players to participate in at least 80% of the Browns' defensive snaps for the season. Very little consistency from this group, lots of injuries and poor play leading to turnover in its personnel.
Paul Kruger is playing just 2/3 of the time at outside linebacker and his sack total has plummeted from 11 to 2.5.
Not sure when the Browns started doing this but they're trying out a personnel grouping many Steelers' fans want to see: a 3-3-5.
See it most often on early downs with it giving away to a 2-4-5 in obvious passing situations. They're taking an OLB off the field, removing either Kruger or Nate Orchard, who has buzzed by Barkevious Mingo in the starting lineup.
Defensive line generally plays in gaps, not head up. Have seen them run a Bear front too, though, putting the nose tackle head up and two three techs. Trying to clog up that middle.
Browns' Secondary
Tramon Williams was the player joining Karlos Dansby as the two to play 80% of the time but could miss Sunday due to a concussion. It would be a big blow to that defense, losing their most experienced corner. Rookie Charles Gaines is certain to start, he has moved into the starting lineup at RCB already, and would likely thrust Pierre Desir into the lineup. Desir has only played 11 snaps the last three weeks but the team is running out of options. Justin Gilbert was a healthy scratch the last two weeks and Jonathan Bademosi's first three letter's suit him – B.A.D. He was the guy Antonio Brown torched at the end of the first meeting. I like K'Waun Williams but he is more of a nickel/slot corner.
They have given up 14 passes of 40+ yards, second most in the NFL, despite routinely falling behind in games and having teams run on them.
When facing 11 personnel and in nickel, Williams is the slot corner. The Browns have tried to mix things up, running that 3-3-5 nickel I mentioned earlier. They will even do that against 12 personnel – for reasons that don't make a lot of sense to me – but plug in Jordan Poyer when they do as their box defender.
Didn't see enough to make a well-educated guess but they're not a blitz heavy team. Only instance of them getting aggressive is in third and long. Drop both OLBs and bring two DBs off each edge here.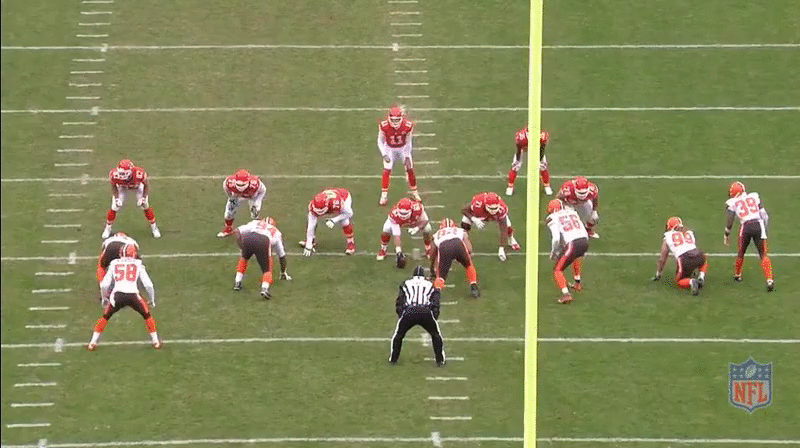 3.5 sacks on the season have come from their defensive backs. Donte Whitner has 1.5.
Generally a Cover 1 team that likes that eighth guy in the box to support the run and try to help a front seven that's been getting gashed. But they don't have the personnel in the secondary to man-up like that, putting them in a lose-lose.
Browns' Special Teams
Bademosi and Don Jones are the team's gunners. Poyer is the upback on punts. For some strange reason – some of the moves the Browns' make just baffle me – starting tight end Gary Barnidge is the only offensive player on punt coverage, playing along the line. Not even a wing. So little offensive threats for fakes and their best receiver is covering punts. Weird.
They did run a fake last week against the Chiefs. 3rd quarter down seven on a 4th and 8 on their own 22. Direct snap to Poyer who muscled his way past the sticks. Looks like the Browns decided to run it because the Chiefs were double-vicing each gunner, leaving six line defenders with the Browns able to block seven.
Doubt the Browns run another fake – though in the last game, who knows – but if I'm Danny Smith, I'm making sure seven are in the box each time to discourage the fake. Or play six and have a "safe" rush, keying the fake.