We're back breaking down the four sacks given up by the Pittsburgh Steelers in the Wild Card matchup against the Cincinnati Bengals.
1. 3rd and 6, 13:38 2nd. 01 personnel, no running back in the game. Five blocking against a five man rush. Nice pressure package from the Bengals. Overload to the field and drop the end in the boundary, taking away the #2 receiver. Looks open on the snap with him dropping and Ben Roethlisberger looks that way but it isn't available.
Steelers are sliding to the boundary, away from the overload, an always dubious combination. Reggie Nelson and Vincent Rey come in free off Ramon Foster's outside hip.
No one there to pick either up. No running back to stay in and at least get in the way. Roethlisberger tries to get out of the way, pivoting away, but understandably can't. Down he goes.
It's especially unfortunate with Antonio Brown sitting open at the sticks but there's no time for Ben to be able to find him.
Great blitz package from Cincinnati. Have to tip your hat to them.
Blame: Defensive scheme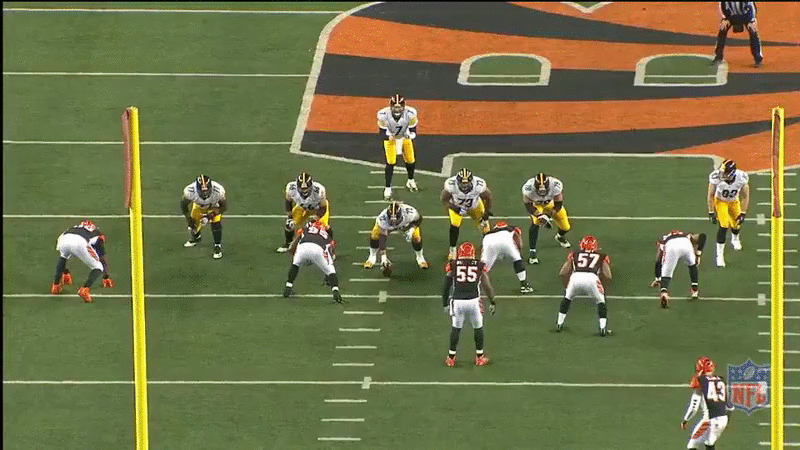 2. 2nd and 10, 6:43 2nd. 11 personnel. Five block + running back on a check/release against the Bengals' four man rush. 2 Man in coverage from the Bengals; two high shell with man coverage underneath. No one open. Common coverage teams have played against Pittsburgh.
4.1 seconds from snap to sack. Geno Atkins rips under David DeCastro but Cody Wallace is able to push, though not completely seal, him upfield. It at least buys more time.
The problem is that Roethlisberger never changes the launch spot. Very uncharacteristic for him. Never climbs or slides in the pocket. And eventually, Atkins is able to basically circle back and bring him down.
Sure, you could argue someone has to get open for Ben, but when it's that kind of coverage, it's hard to get visibly open. Ben needed to start the scramble drill. Move the pocket and create an opening. WRs changing direction, working back to the ball, shorts running long, making the defensive back react. Someone won't be able to and it'll get a receiver open. So I gotta put the blame on him for being a sitting duck in the pocket.
Blame: Ben Roethlisberger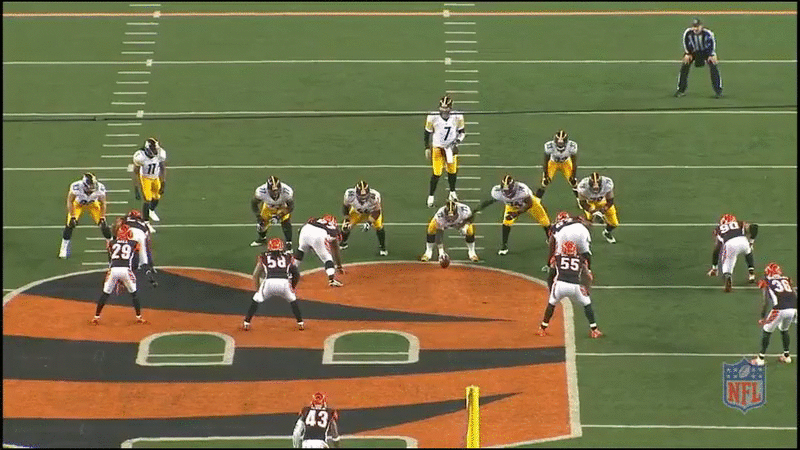 3. 3rd and 18, :38 3rd. 11 personnel. Six block vs a four man rush. Quarters coverage from the Bengals in this "and long" situation. Again, no one open.
Bengals blitz Vontaze Burfict off the left – the offense's right – edge. Many have gotten on Roethlisberger's case but I totally get what he was thinking here. Burfict is spiking inside and it looks like Marcus Gilbert is going to be able to seal him. As soon as Ben starts to move to his right, Burfict spins off Gilbert, getting free and being able to bring him down and of course, injuring him.
Just some bad luck here. Can't blame Roethlisberger for wanting to escape the pocket, especially with all that we talked about in the sack above, and can't blame Gilbert. Nothing he can do about it. 3rd and 18 is hard to win as a receiver, too, and there wasn't anyone open across the board for Ben to throw to.
Blame: Defensive Scheme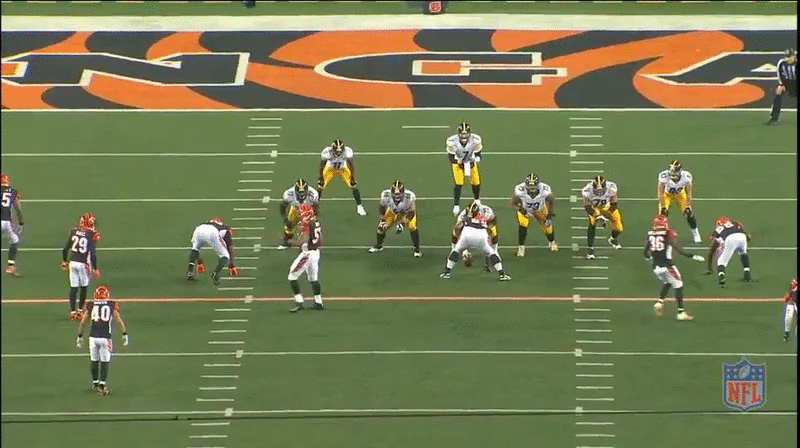 4. 2nd and 7, 12:36 4th. 11 personnel. Six block versus a four man rush. Bengals stunt to each side. Carlos Dunlap spins inside and splits Gilbert and David DeCastro. Creates interior pressure and flushes Landry Jones.
Pat Sims scrapes over on his part of the stunt, trying to act as the contain rush. Tough assignment for Wallace to try and move with that laterally and Sims engulfs Jones, bringing him down.
Issue all begins with the Dunlap getting penetration. If that doesn't happen, Jones can continue to sit in the pocket. It's not easy, Gilbert having to mirror the spin, and DeCastro working over to seal it. But that's what you have to do, especially to help out your backup quarterback.
Blame: Half on Gilbert, half on DeCastro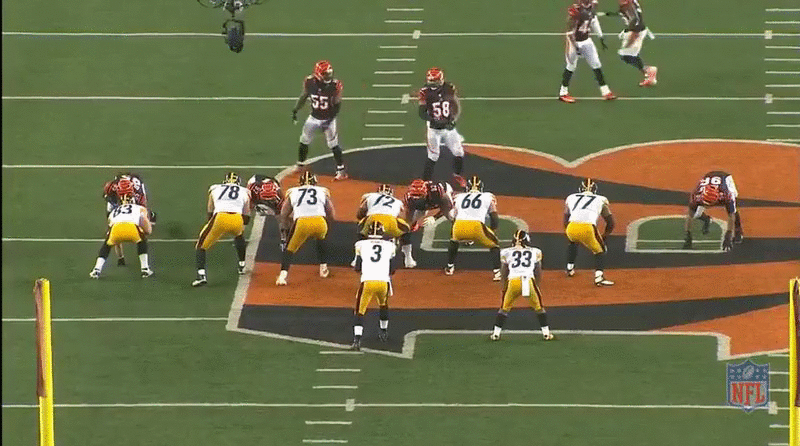 Sack Counter (Game):
Defensive Scheme: 2
Ben Roethlisberger: 1
David DeCastro: .5
Marcus Gilbert: .5
Sack Counter (Season):

Defensive Scheme/Coverage: 6.5
Cody Wallace: 6
Alejandro Villanueva: 5.5
Mike Vick: 3.5
David DeCastro: 3
Ramon Foster: 2.5
Ben Roethlisberger: 2.5
Kelvin Beachum: 2
Marcus Gilbert: 2
Todd Haley: 1
Wide Receivers: .5
Penalty Counter (Game):
Ramon Foster: 2
Cody Wallace: 1
Penalty Counter (Season):
Cody Wallace: 12
Marcus Gilbert: 6
Kelvin Beachum: 5
Ramon Foster: 5
David DeCastro: 3
Alejandro Villanueva: 1