I love X's and O's. Breaking down a game. The nuance. The beauty.
Beauty would be about the last word to describe Saturday's win.
But it sure was eventful. In GIF form, let's describe this ridiculous game.
It started quietly enough, a defensive slugfest where no team gained a clear advantage.
The first of numerous bizarre penalties came when Reggie Nelson and offensive line coach Mike Munchak got into a shoving match. Munchak was called for a personal foul.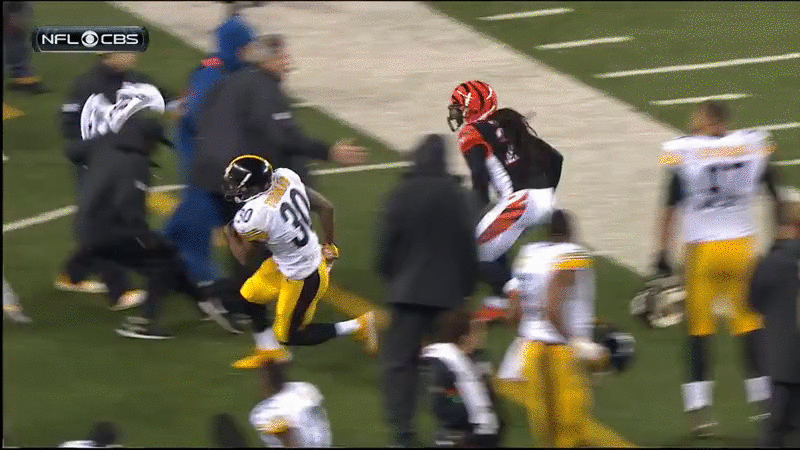 Your second crazy penalty. Defensive tackle Domata Peko, not even bothering to take off his black rain jacket, ran out onto the field to shove Fitzgerald Toussaint. Peko was rightfully flagged for unsportsmanlike conduct.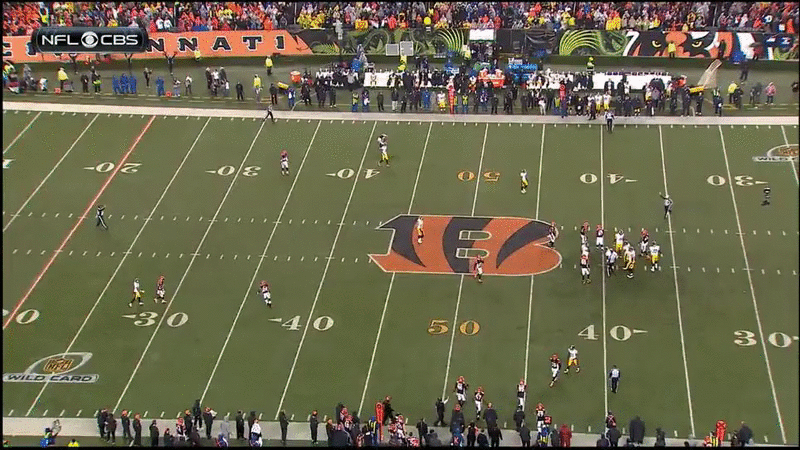 This all took place in just the first half.
And the second half wouldn't miss a beat. On the Bengals' first drive, Jarvis Jones strip sacked A.J. McCarron. Cam Thomas would pick up his first career NFL fumble, rumble several yards, only to fumble. That one would be picked up by William Gay, who ran into the end zone. Followed by this dance.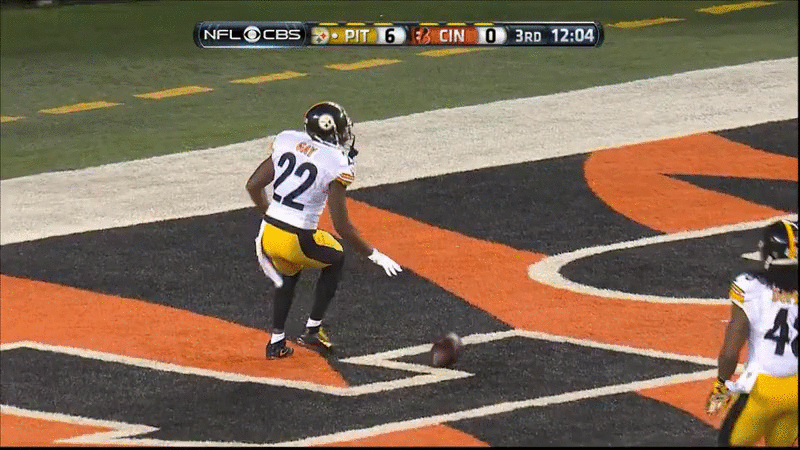 The Steelers were penalized on this play for reasons that are still, frankly, unclear to me.
Replay would reveal Thomas was down by contact, negated the touchdown, and still penalizing the celebration. Still a positive play but a touchdown, and field position, taken off the board.
Pittsburgh would get their first, and only, touchdown today on Martavis Bryant's all-time great catch. Catches it on his butt, pins it to his leg, and brings it into his body as he does a flip.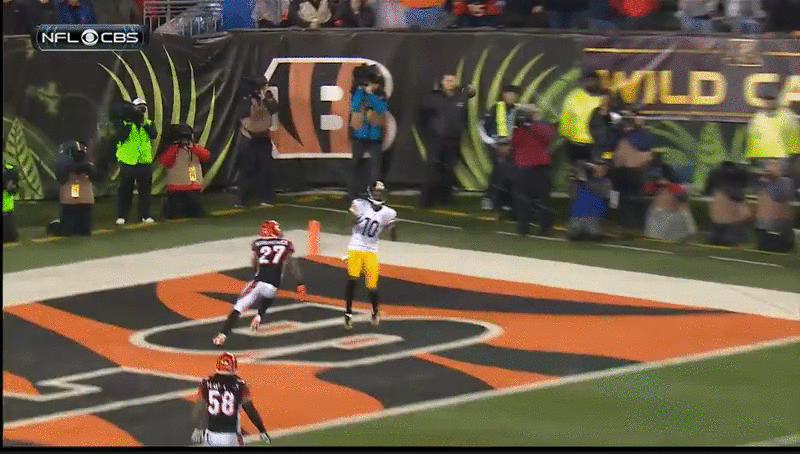 Yeah, I dunno how he did it either.
Jeremy Hill attempted to fight seemingly the entire group of Steelers' after Ryan Shazier's brutal hit on running back Giovanni Bernard. Remember, Hill wasn't even already on the field. He ran out from the sidelines. Several players had to restrain him.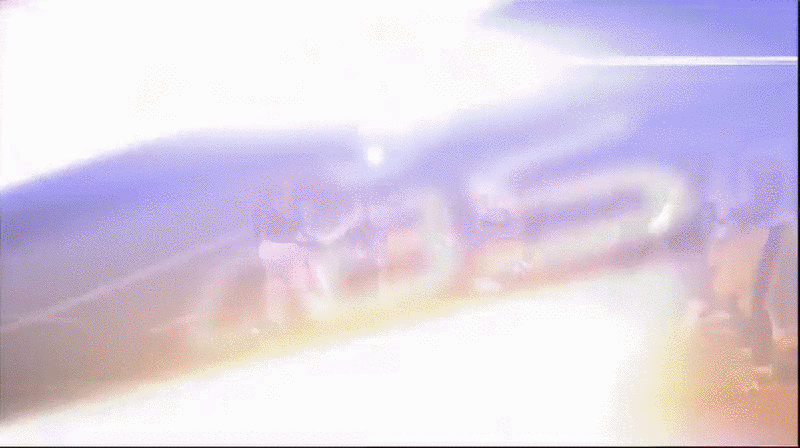 After the Steelers would get the ball back on another fumble, only ruled as such on replay, Ben Roethlisberger was crushed – legally, we should add – by Vontaze Burfict. It felt like Big Ben's season was done right there.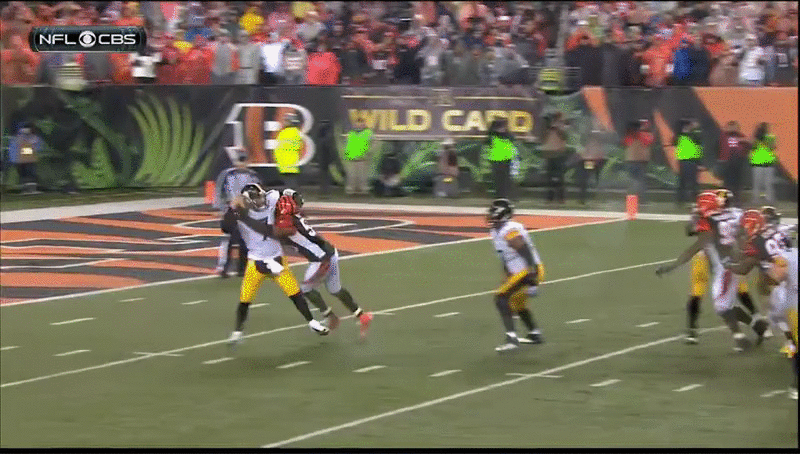 The Bengals' crowd went nuts, supporting Burfict, and giving the Bengals their first glimmer of hope to get back into this game. Roethlisberger's cart would be hit by a beer bottle as he was taken back to the locker room, Bengals' fans cheering the injury.
They would eventually take the lead, pick off a Landry Jones pass, (picked off by Burfict, who would run out of the stadium with the ball) and seemingly had the game in hand. Until Hill, at the lowest moment of his career, fumbled the ball away with 1:23 remaining.
Roethlisberger hoped those pain killers would work, stepping onto the field for a final drive, Paul Pierce style. He could barely throw the ball, dinking and dunking down the field. He would later tell reporters that Mike Tomlin looked at him after the Steelers' recovery, a silent cue to get into the game.
Roethlisberger would force one throw downfield, at least, relative to the state of Ben's arm.. Burfict viciously, illegally, went after Antonio Brown's helmet, knocking him out, and earning the most obvious personal foul in the history of personal fouls.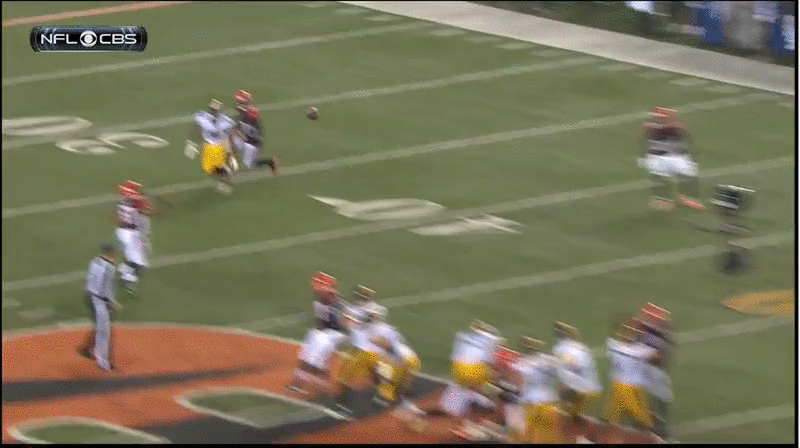 As the trainers worked on Brown, Joey Porter – for reasons unknown – entered the ref's huddle and to be shoved out by Adam Jones. It drew another 15 yard penalty.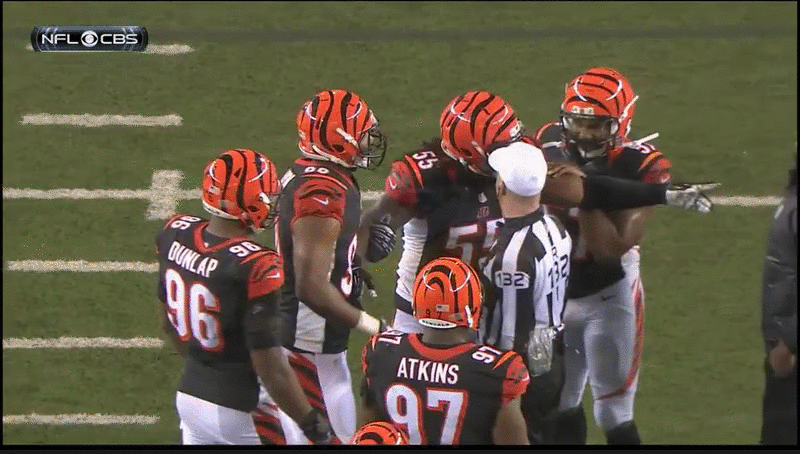 The Steelers went from the Bengals' 47 to their 17 without completing a pass. Chris Boswell, a first year player and the team's fourth kicker this season, would nail a 35 yard field goal to give the Steelers such an improbable victory.
So there you have it. Enjoy that one. You'll never see a game quite like it again.