Your final game notes of the 2015 season. Abridged version because quite frankly, I don't think you're too terribly interested in relieving it.
First Half
– Kick return. Front five: Arthur Moats–Sean Spence–Vince Williams–Terence Garvin–Shamarko Thomas. Robert Golden behind them. Jesse James/Matt Spaeth/Anthony Chickillo on the wedge. Fitzgerald Toussaint served as Markus Wheaton's upback.
– Great contain by Stephon Tuitt and Bud Dupree. Too bad Jarvis Jones loses backside contain, allowing the back to cross his face and cut back.
– Fold block by Marcus Gilbert and David DeCastro.
– Another look at Ben Roethlisberger having Heath Miller open on the 4th and 1 vertical shot to Wheaton.
– PR team. Shamarko Thomas and Darrius Heyward-Bey as the gunners though on the first punt return, Danny Smith put in a wrinkle, he had them blitz with Antwon Blake and Ross Ventrone bailing to act as the gunners.
On the line. Chickillo, Garvin, Dupree, Golden, Williams, L.J. Fort.
– Punt coverage. Shark and Ventrone started at gunner but Ventrone – for reasons that aren't clear – was pulled for DHB after the first one. Will Allen and Spaeth the wings. Golden the upback. On the line: Williams, Garvin, Greg Warren, Chickillo, Spence. Moats started but Chickillo replaced him when Moats injured his pectoral.
– Great flow and ability to shed the tackle by Stephon Tuitt.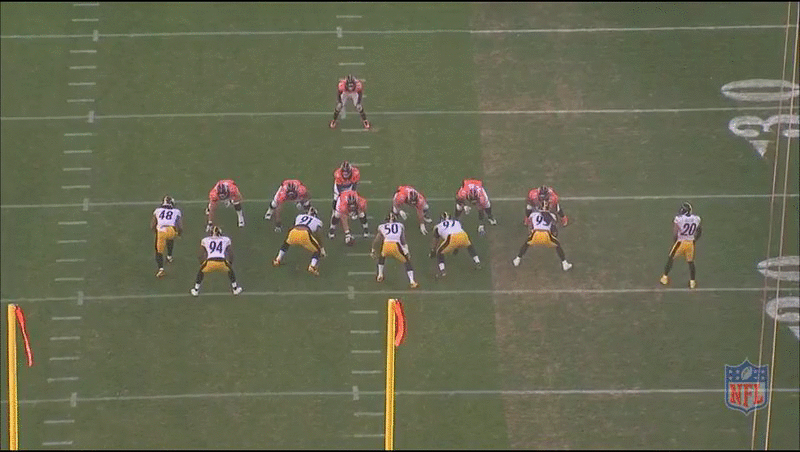 – Steelers got creative with their blocking schemes against a Broncos' team that is tough to run on straight up. Arc block by Heath Miller on Martavis Bryant's end around and here, they use motion to get DHB as a lead blocker through the hole for a 15 yard gain.
– Doug Legursky came in on Toussaint's TD. The old Bronco package returns.
– Kick coverage unit from left to right. Shark-Golden-Ventrone-Garvin-Williams-Chris Boswell-Spence-Chickillo-Fort-Brandon Boykin-DHB
– Here's a shot of DeCastro shoving the very talented Derek Wolfe down the line. Not many can do it.
– Alejandro Villanueva walked back into Roethlisberger.
– Steelers used a lot of four man pressure, blitzes and standard rushes with a stunt, to create pressure. Nice gameplan by Keith Butler.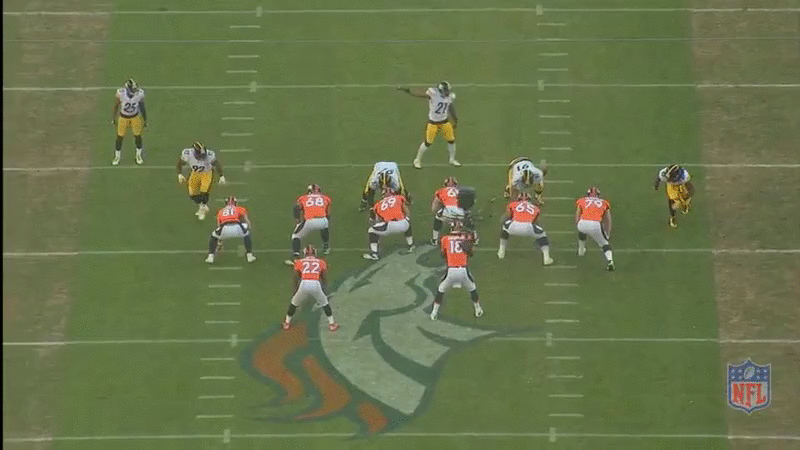 – Martavis Bryant definitely could've gotten the first down if he cut inside on this end around.
Second Half
– Stephon Tuitt and James Harrison defeat their blocks, stuff the run at the line.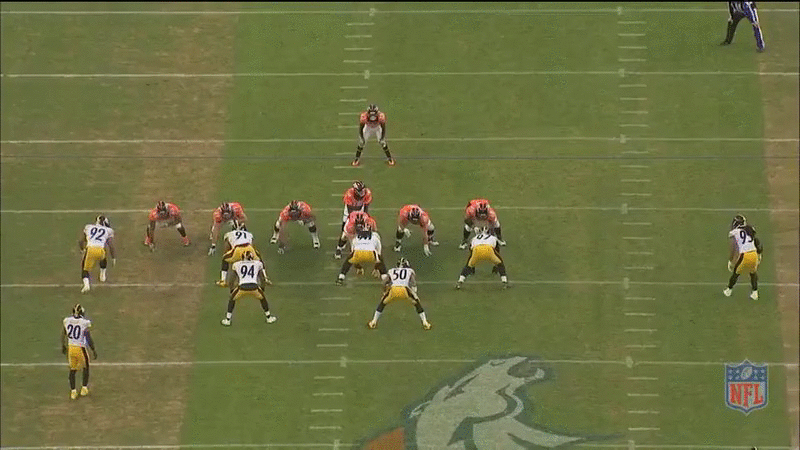 – Lawrence Timmons didn't have a great game against the run. Sealed here and there's no run fill.
– Harrison versus a running back? Yeah, Deebo is going to win that one every time. Sacks Peyton Manning.
– Ventrone did replace Moats along the front line on kick return units. Not that the Steelers ever actually were able to return one.
– Good pass pro from Fitzgerald Toussaint to pick up this blitz.
– Chickillo not square to the line on this punt and in a bad mismatch with Derek Wolfe, who blows right past and nearly blocks the Jordan Berry punt.
– Todd Haley finally worked off the bubble screen, faking it and throwing vertical to Jesse James for 22. Too little, too late.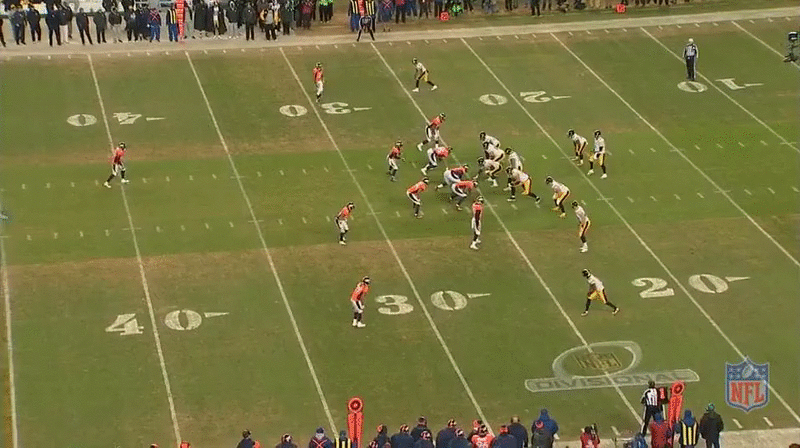 – Defensive line has to stay on their feet on these zone runs.
– Nice job by Bud Dupree to keep his outside arm free, get off the block, and make the block.