Game notes from the Pittsburgh Steelers 18-16 win over the Cincinnati Bengals Saturday night.
First Half
– Kick return team. Front five: Arthur Moats–Sean Spence–Vince Williams–Terence Garvin–Shamarko Thomas. Robert Golden behind. Jesse James/Will Johnson/Matt Spaeth the "wedge" with Fitzgerald Toussaint – sort of surprising considering he was the starting RB – the upback for Markus Wheaton.
– Couple of 4 WR sets the Steelers used, including the first play of the game. Haven't seen that in a non-late game situation all season.
– Punt coverage: Ross Ventrone and Shamarko Thomas the gunners. Golden the upback. Spaeth/Will Allen the wings. On the line: Vince Williams-Terence Garvin-Greg Warren-Will Johnson-Sean Spence.
– Punt return team: Ventrone and Antwon Blake as jammers. On the line: DHB, Golden, Shark, Vince, Garvin, Chickillo, Bud Dupree, Will Johnson.
– Steelers started off with several RPOs, those packaged plays I was hoping Todd Haley would bring back for the playoffs. Was excited to see that and overall, they were effective.
– Don't know why Ben Roethlisberger checked to a quick screen to Martavis Bryant. 2 high look despite Steelers' 12 personnel. CB isn't soft. Just run it. Bad decision. Pass high and incomplete.
– Steelers showing a different way to run their bubble screen. Antonio Brown in the slot, quick out with the TEs blocking. I dig it.
– Going to give Greg Warren a lot of love here today, really for the first time all season. He and the punt protection unit do a nice job to pick up this twist.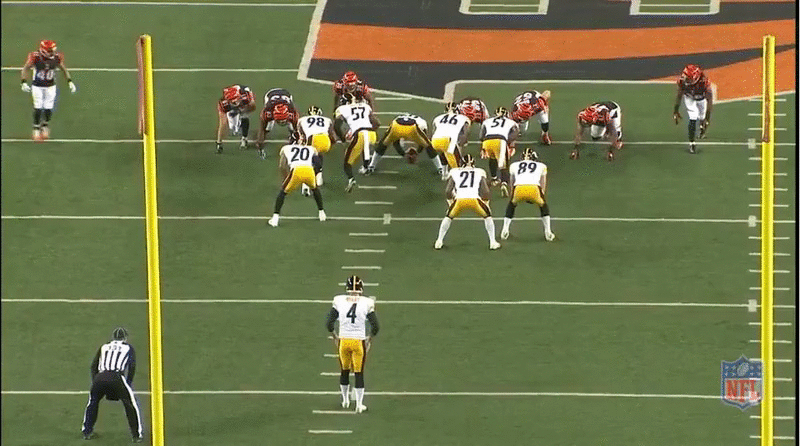 – Sound blitz concept. Lawrence Timmons gets free with Stephon Tuitt drawing the eyes of the right guard. Moats on contain rush. Just couldn't finish, unfortunately.
– Excellent run defense from Allen and Ryan Shazier. Allen sets the edge to spill the run and good reaction by Shazier to flow down the line and basically fill the alley, making the tackle.
– Will Johnson was injured on the Bengals last punt of the first quarter. Engaged in a block and pulled up lame.
– Tremendous blocking by the left side of the line. Strong double teams that basically push the first level defender into the linebackers, making it easy to combo block it. Nine yard gain by Toussaint.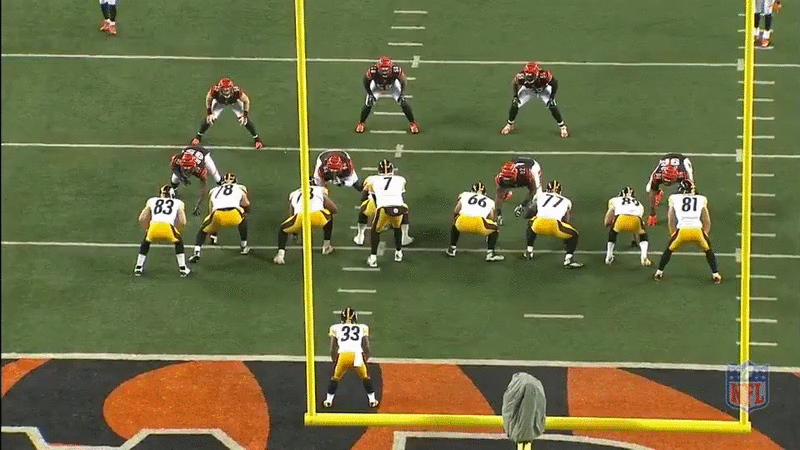 – Kudos to Cody Wallace. Base block, washes Domata Peko down the line.
– Moats replaced Will Johnson on punt coverage. James replaced him on punt returns.
– Dupree with the tackle but this is all design. Scrape/exchanges with Dupree free to crash and Tuitt scraping over to play the edge.
– It feels like Martavis Bryant screwed up his blocking rules. Goes after the two high safety instead of the corner. Maybe that was the design but usually you stalk the corner when two high. Only go after the safety if he's in the box. Then you crack him.
– Cam Heyward beasted and feasted yet again. In A.J. McCarron's grill all game. Stabs the center into the pocket, sheds, and brings the quarterback down here.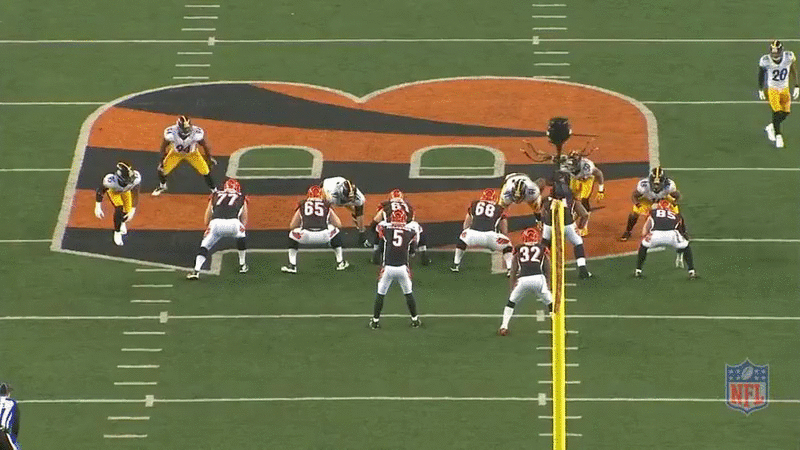 – Divide route to keep the safety guessing, can't cheat a route. Corner to Brown for 27. Nice concept.
– Kick coverage from left to right. Shark-Golden-Ventrone-Garvin-Williams-Chris Boswell-Spence-Chickillo-Todman-DHB-Brandon Boykin.
– Drag + screen to Brown for a gain of 11. Haley go-to play.
– Excellent stunt pickup by Marcus Gilbert and David DeCastro. Gilbert had to fight through a lot of trash to find this one.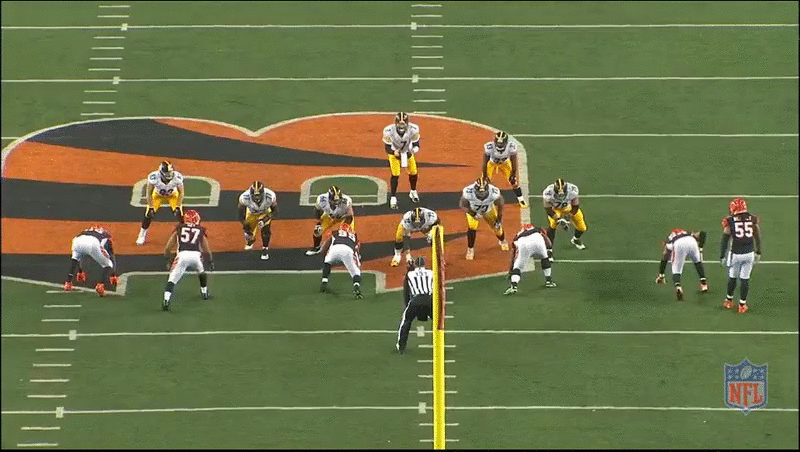 – Little hard to tell in the still shot but nice dual read/scan by Toussaint to pick up the blitzer on the long completion to Wheaton. Read inside out, react quickly, protect the edge.
– Though it's gotten better, still seeing some miscommunication on zone rules between Alejandro Villanueva and Ramon Foster. Both engage but quickly both leave the three tech, thinking the other is responsible for him. Leaves him free. Blah.
– Cody Wallace heavy waist bender when trying to mirror in pass pro. Lunges, prone to falling off, despite the high effort he gives.
Second Half
– Kudos to Vince Williams for fighting through this double-team on the opening kickoff. Makes the tackle. Good spill by Garvin, too. Love those two.
– Keith Butler really mixing up his stunts, even for the run game. NT/RDE trade here. Bringing a little extra for the playoffs. Good stuff.
– Poor job by Will Allen to fill the alley. Can't let Jeremy Hill make you miss. 38 yard run. Almost all on 20's shoulders
– Good riff by Haley to run the end around out of their Counter Trey look. But now you get Toussaint as the lead blocker, have an extra guy. And of course, great run after by Bryant.
– Ben missed AB underneath on 3rd and short. Fired a pass into the end zone, incomplete to Heyward-Bey.
– Subtle but awesome IQ by Brown to drift on his route on this drag/screen. DE was dropping into coverage so Brown drifted to avoid him. Usually that route is flat.
– Really liking the steps Villanueva has taken to get better in stunt pickup. Gets Vontaze Burfict here without issue.
– People mover block by Villanueva here. How a 340 pounder should do it.
– Villy is playing so much better but struggling on cut blocks. Big frame having trouble getting low. Doesn't take out the defender's legs and lets them chase after screens. DE here slows up Bryant. I'd probably pass set and try to punch him upfield as an adjustment rather than cut him. Keep Villanueva on his feet.
–  Shazier used his IQ and athleticism to play clean most of the game, leading to his success. Here, you can basically see the light come on when he has to get dirty. Doesn't use his hands as the blocker engages him, they're down by his sides. Trying to duck the block. Then he brings them up to swim over and win, chipping in on the tackle. Loop this play all week to him. What we gotta see so he can hit that very high ceiling he has.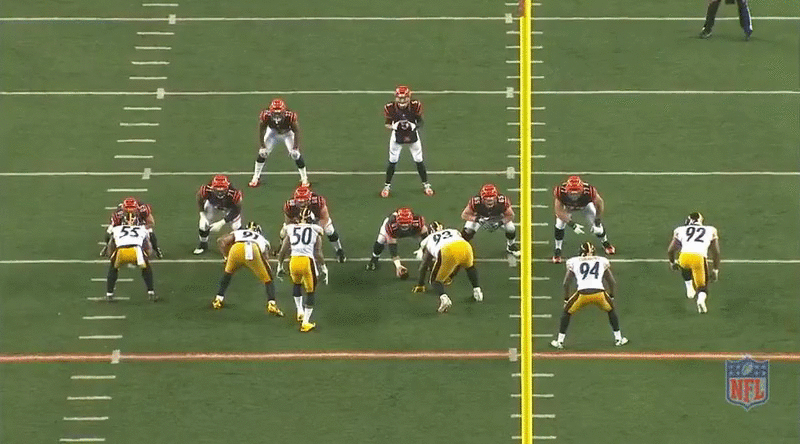 – Good click/close and change of direction driving downhill by Blake. Better than I've seen it recently.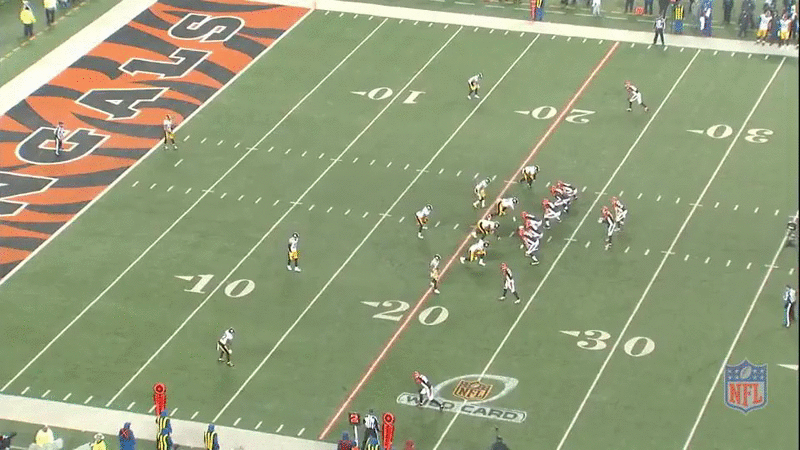 – Eight man pressure look on this punt. Greg Warren has to snap and slide over a gap to get a piece of Will Clarke. Not an easy task for a 34 year old. Does it as well as you can hope for.
– Third and three. Three man route, max protect, vertical concepts. Not the best playcall for Landry Jones. At least build in an intermediate route to draw eyes, give options. Max protect doesn't work. Bengals only bring four, drop seven. Seven over three. No surprise there was nothing there for Landry and he forced one to AB.
– Spaeth gets locked up on Adam Jones' long punt return late in the game. You can bet your bottom dollar Roosevelt Nix defeats this block. Spaeth not an asset on the coverage team, outside of the fact he has the strength to make the initial block against the rush.
– Chickillo replaced Johnson as part of the wedge on kick returns. Testing depth for sure. James was already in relief of Nix.
– Jones got caught starting Wheaton down on the INT. Burfict read him all the way.
– Jordan Todman was so upset after Toussaint got tripped up on the final drive. Hopping up and down with his rain coat still on.
– And hey, don't you take that last kick coverage after The Boz field goal for granted. Ross Cockrell, Blake, and Jarvis were all out there for the first time that day. Had to replace Vince Williams, Golden, and Todman. And they stuffed the return pretty good.