Like a father to a son, Ben Roethlisberger gave Martavis Bryant a little tough love over the airwaves today.
Talking to 93.7 The Fan's Cook and Poni, Big Ben was honest about what the team needs from Bryant during their postseason run.
"Nothing I"m going to say on here is anything I'm going to shy away from telling him. He needs to understand, and this is coming from love from me and other guys,  that this time of year, you gotta toughen up. You gotta get tough, you gotta make tough plays, you gotta make tough catches."
Roethlisberger was confident in Bryant's ability to get back on track after two abysmal performances, but issued a challenge to the second year wide receiver.
"I love to challenge him. We all do. Because I've said it many times, the sky is the limit for him. I want to challenge him to be the best in the world. It's really up to him what he wants to do with that challenge. Does he want to crumble and wilt and put and let it bother him? Or does he want to rise up, step up, take that challenge, and say I'm going to be the best in the world?"
Roethlisberger also talked about the mistake Bryant made on the first interception of the day Sunday against the Cleveland Browns.
"He didn't push his depth and when he got in there, he saw the safety, and he kinda peeked at him. Instead of coming right back to me, and in a worst case scenario the ball gets batted down because they're contested, he tried to go around the guy."
Big Ben attributed the mental mistake to a lack of reps because of an illness Bryant suffered through during the week, but pushed hard again on needing to play a clean game in order to be successful.
Here's the play from the All-22 film.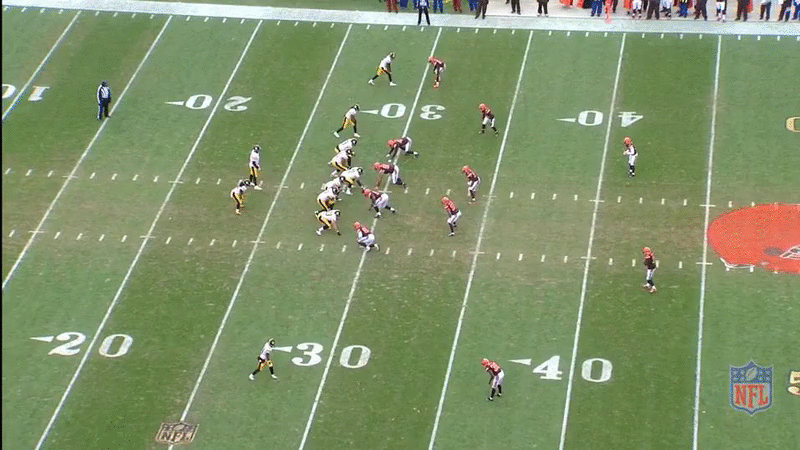 Bryant has caught just two passes for six yards over the last two weeks, and hasn't caught a touchdown in one month. The road was never going to be a smooth one for him, a second-year player and a raw one coming out of college. But this is a critical moment early in his career. And how he responds will give the Steelers an idea of exactly how mentally tough Bryant is.
"We need Steelers tough from him."