We're back breaking down the two sacks given up by the Pittsburgh Steelers in their 39-30 loss to the Seattle Seahawks on Sunday.
1. 1st and 10, 12:49 3rd. Five block against a four man rush. This is a packaged play, one of the many run/pass options Todd Haley has installed. Seven man box makes Ben Roethlisberger want to throw and with Richard Sherman bailing pre-snap, it looks like a good idea to hit Antonio Brown on the smoke screen.
But nickel defender Jeremy Lane does a nice job getting width to discourage the throw to AB while still squeezing Markus Wheaton down the seam. There's nowhere for Roethlisberger to comfortably go with the ball so he eats it and just takes the sack.
A nice design by the Seattle defense. It's particularity disappointing for a packaged play to bust, those plays are designed to be no-lose, but such is life.
Blame: Defensive scheme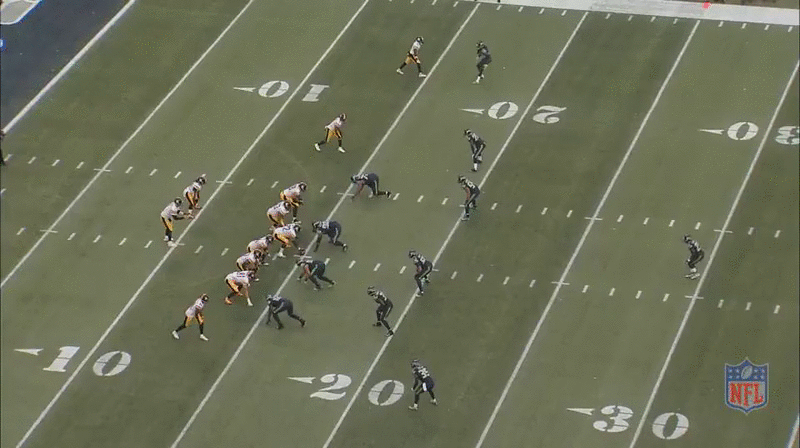 2. 2nd and 5, 10:46 3rd. Six block against a four man rush. Later on the same drive as the first sack. The first issue is with the snap. It's late, Cody Wallace doesn't hear Ben's cadence, and he doesn't hike the ball until there's one second left on the playclock. Combine that with Roethlisberger's frantic motion to get Wallace to snap the ball and right defensive end Frank Clark is able to get a great jump on the ball.
Clark winds up beating Alejandro Villanueva around the edge and dropping Ben for a sack. Sack happens so fast there isn't even time for any of the routes to develop.
At first glance, it looks like this is a no-brainer on Villy, who yes, we've been pretty tough on during the year. But it's an oversimplification to put the blame on him. Villanueva has a lot of ground to cover. The end is shaded wide to the outside shoulder of the tight end. With Jesse James releasing right away, Villanueva isn't able to get a lot of width initially and is restricting a bit because he has to make sure he doesn't kickset into him. Roethlisberger is also taking a five step drop out of the gun, putting him ten yards back from the line of scrimmage. Combine all that with the late snap, allowing Clark to get a great jump, and you're asking a lot out of any left tackle, much less a relatively green one like Villanueva.
I know you want to get James releasing into the route but I would have really liked to see him chip Clark here. Just enough to bump and reroute him, giving Villanueva more time to get square and in front of Clark.
Blame is tough to assign here and I really don't want to give any to Villanueva. Maybe James screwed up and was supposed to chip, but there's no evidence to support that, so I'll put some on Haley for a less than ideal design that did his young left tackle no favors. Frankly, the crowd noise created the late snap that let Clark get the jump that he did, so you have to give their 12th man tangible credit here. We'll just chalk it up to defensive scheme instead of creating a whole new category.
Blame: Half on Haley, half on defensive scheme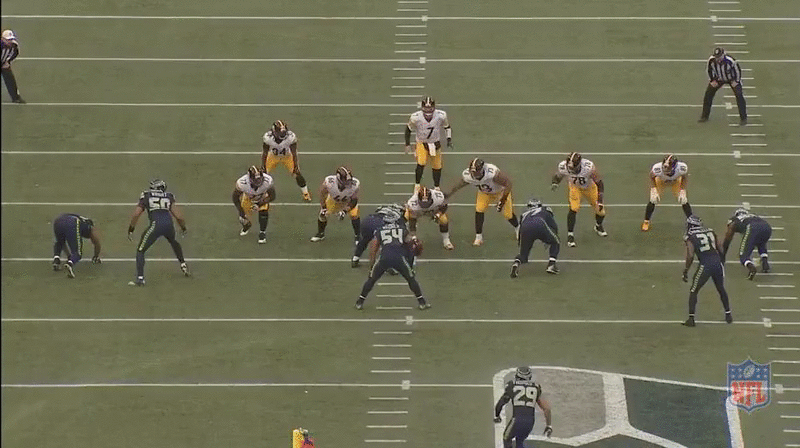 Sack Counter (Game): 
Defensive Scheme: 1.5
Todd Haley: .5
Sack Counter (Season): 
Cody Wallace: 4.5
Mike Vick: 3.5
Alejandro Villanueva: 3.5
Defensive Scheme/Coverage: 3
David DeCastro: 2.5
Kelvin Beachum: 2
Ramon Foster: 2
Marcus Gilbert: 1
Todd Haley: 1
Penalty Breakdown (Game): 
Marcus Gilbert: 1
Penalty Breakdown (Season):
Cody Wallace: 7
Kelvin Beachum: 5
Marcus Gilbert: 5
Ramon Foster: 3
David DeCastro: 2
Alejandro Villanueva: 1