Your weekly roundup of the sacks allowed by the Pittsburgh Steelers from Sunday's loss to the Baltimore Ravens. Three in all to talk about.
1. 2nd and 5, :54 2nd. 11 personnel. Five blocking against a four man rush. Ravens in 2 Man, nothing open downfield in the 2.6 seconds from snap to sack.
Simple issue here of Timmy Jernigan just owning Cody Wallace. Talked about it in the scouting report and if you follow me on Twitter, the Vines I showed of Jernigan being a nasty, physical player. And how shows it off again here. Punch and swims over Wallace, knocking the center onto the ground in one swoop.
Edge rushes don't lose contain so there's nowhere for Ben Roethlisberger to slide or escape to. Tough to do with that kind of interior pressure. Jernigan takes Ben down with ease.
The GIF really shows how bad Wallace got destroyed.
Blame: Cody Wallace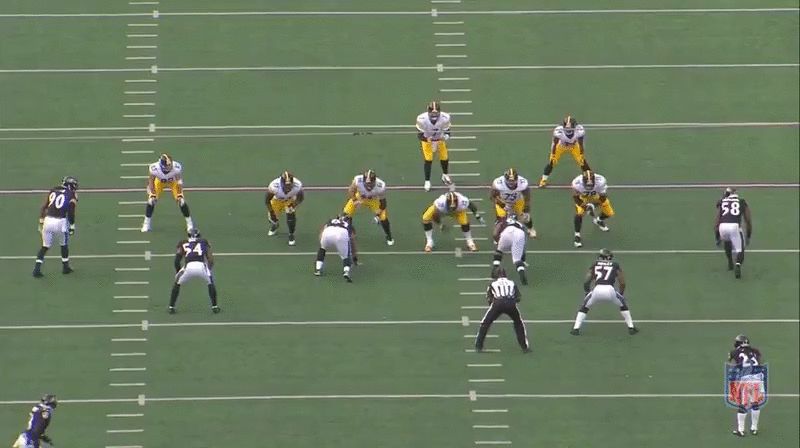 2. 3rd and 4, 7:55 3rd. 11 personnel. Five blocking versus a four man rush. Za'Darius Smith, #90, on a delayed blitz. Alejandro Villanueva sees it and tries to catch his bull rush but Smith does a great job converting speed to power and getting under Villy's pads. Villanueva is too tall here, doing a poor job of sinking his hips in an effort to gain leverage. Makes it easier on Smith.
Power, leverage, shedding, and making the play. That Smith kid, the other rookie out of Kentucky, has the makings of a stud.
And if you're curious, there wasn't anyone open for Ben either. Almost four seconds from snap to sack and on 3rd and 4, someone has to work open for him. This isn't 3rd and 15. So some blame goes here, too. A delay blitz like that on third and short shouldn't get home so cleanly.
Blame: Half on Alejandro Villanueva, half on receivers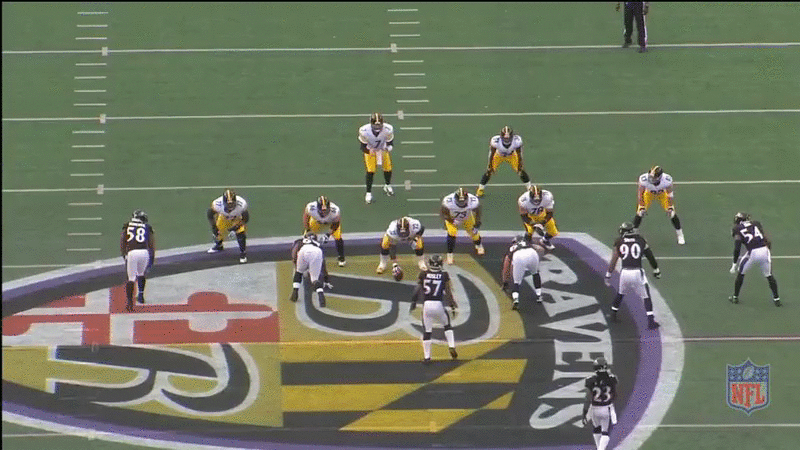 3. 1st and 10, 2:42 4th. 11 personnel. Six blocking against a four man rush. Ravens bluff the A gaps and then drop out on the snap. Steelers react quickly though and ultimately, the bluff doesn't affect the play.
Had Ben not been sacked, he's got Jesse James wide open on the corner route – Steelers are running a smash – to the field. That's going for a big gain on the Steelers' most important drive.
To the sack itself. Comes against Villanueva but it's hard to really blame him here. Courtney Upshaw does do a nice job of knocking away his hands and walking him into the pocket.
And then Upshaw sort of just dives and ends up hitting Roethlisberger low. I guess the NFL saw this as Upshaw being "blocked into," but this hit is definitely worthy of drawing a flag. Goes into Ben's ankles and takes him down.
Hard for me to say Villanueva could've or should've done better to defend Upshaw just basically falling into Roethlisberger. Don't even really know how to chalk this one up. I guess I'll just hand it to the defense for a (good?) play.
Blame: Defensive Scheme/Coverage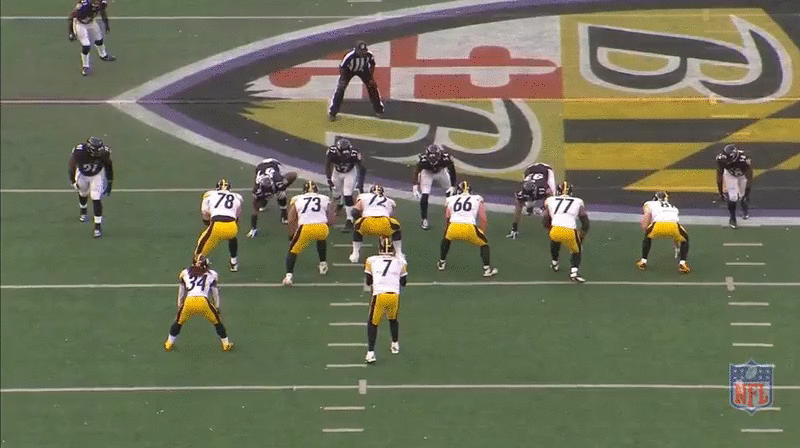 Sack Counter (Game):
Defensive Scheme/Coverage: 1
Alejandro Villanueva:1
Cody Wallace: 1
Sack Counter (Season):

Cody Wallace: 6
Alejandro Villanueva: 5.5
Defensive Scheme/Coverage: 4.5
Mike Vick: 3.5
David DeCastro: 2.5
Ramon Foster: 2.5
Kelvin Beachum: 2
Marcus Gilbert: 1.5
Ben Roethlisberger: 1.5
Todd Haley: 1
Wide Receivers: .5
Penalty Counter (Game):
None
Penalty Counter (Season):
Cody Wallace: 10
Marcus Gilbert: 6
Kelvin Beachum: 5
Ramon Foster: 3
David DeCastro: 2
Alejandro Villanueva: 1