Zach Grasinger and I will be collaborating our scouting reports. We'll play to our strengths – he'll be focusing on the individuals while I'll be looking at overall scheme. These reports will be broken down into two articles, one for offense and one for defense.
Our reports for the Denver Broncos' offense.
ALEX'S SCHEME REPORT: 
Denver Running Game
It's been a timeshare between Ronnie Hillman and C.J. Anderson, and it feels like a different running back has the hot hand each week. On the year, Anderson has outproduced Hillman, averaging 4.3 yards per carry to Hillman's 3.9. He also has three rushes of 20+ yards on 124 carries, compared to Hillman's two with significantly more carries, 169.
For the season, the snaps have been nearly identical. Hillman at 46.2% and Anderson at 44.8%. In the last week they were both healthy, Week 12, it was Anderson who out-snapped him. The bottom line and point you need to take away is that the Broncos are committed to a timeshare. Last week with Anderson out, Juwan Thompson saw a lot of burn and finished the game with five carries and four receptions.
On the year, the Broncos' rushing attack has been slightly below average in explosive runs. They have 34 plays of 10+ yards, tied for 19th in the NFL.
We'll talk about the offensive line here. They are better run blockers than pass protectors, as is their nature, but they've dealt with a string of injuries just as the Steelers have. That includes working on their third left tackle, now stuck with Ryan Harris. Only one offensive lineman for them has played every snap, a guy you probably haven't heard of, center Matt Paradis.
The starting five last week included: Harris-Evan Mathis-Paradis-Louis Vasquez–Michael Schofield. Rookie Max Garcia wound up playing heavy snaps at both guard spots. Seven offensive lineman have played at least 10% of the time this year for Denver and that doesn't even include Ryan Clady, who tore his ACL in May.
Conceptually, it's a Gary Kubiak coached team so you know you're getting a heavy dose of zone. They'll run as much outside zone as any team in the NFL. Also some split zone action with the tight end pulling away from the flow of the offensive line.
But it isn't exclusively a zone team. They will throw in some power, some ISO runs with Thompson leading the way, a running/fullback hybrid at 225 pounds. Also will get the ball on the perimeter with their crack toss game. Not exclusive to short-yardage situations but I saw it twice. 3rd and 1 against the San Diego Chargers with wide receiver Andre Caldwell and the following week on 4th down with a QB "power" to Brock Osweiler.
GIF of the latter.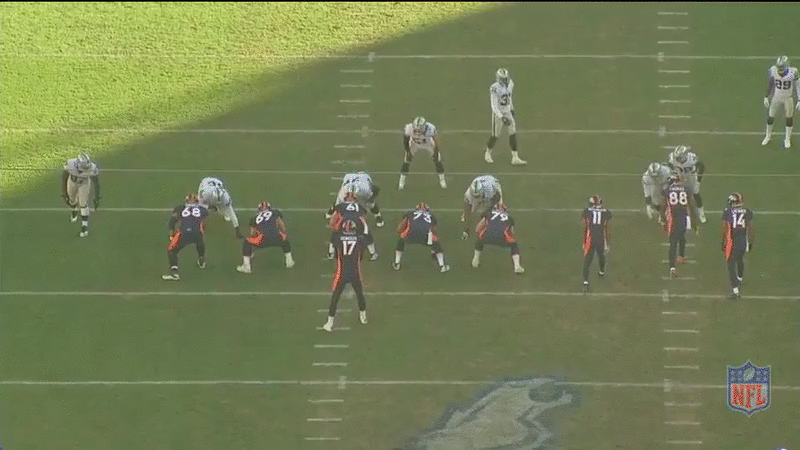 Against the Oakland Raiders, the Broncos brought in center James Ferentz – at 285 pounds – as an extra lineman in goal line situations.
Denver's Passing Game
Osweiler will be the starting QB, of course, on Sunday. With Peyton Manning now officially out, rookie Trevor Siemian will serve as the #2.
The biggest difference between Osweiler and Manning is the sack disparity. Osweiler has been sacked 17 times in 170 attempts while Manning was brought down just 15 times in 322 attempts. Zach will have more on the individual breakdown but I thought of Osweiler as very mechanical, an inexperienced QB with rare size/height and still trying to figure things out.
More on Brock. Just one game of more than 300+ yards. Only one with at least 2 TDs.
As you might expect, Demaryius Thomas and Emmanuel Sanders dominate the passing game. They make up 55.9% of the Broncos' passing yards, 48.1% of the receptions, 50% of the touchdowns, and 61.8% of the 20+ yard receptions.
Speaking of that, the Broncos have 34 receptions of 20+ yards, a pitiful 28th in the NFL.
In fact, Vernon Davis – acquired at the deadline – has the third most receiving yards on the year, not including his time in San Francisco either. They are using two tight end sets about 36% of the time. Andre Caldwell is the #3 while Corey Latimer is sprinkled in as well. Funny enough, this will be the second time the Steelers will be facing Davis. He's been able to flash his vertical threat more often in Denver and is much more apart of the Broncos' passing attack than he's been in San Francisco for about the last two years.
The Broncos freaking love playaction. It doesn't matter they're only an average running team. It's all about a defense's desire and philosophy to stop the run first. That's what creates successful playaction. Four of their first five passes in Week 13 were playaction, mostly successful without the need to set up a running game. Their first two plays of the game last week were also off playaction.
Like Mike Tomlin talked about in his press conference, and he's of course spot on, the benefit zone dominant teams like the Broncos have is the ability to make their run and playaction plays look the same. Line and back will all move the same way. There is no high/low hat to read. Makes it difficult to discern. And in that sense, it's a good thing Manning isn't playing – he sells playaction better and puts more time into his craft than anyone else.
Most often playaction concept is a boot to the right. Often, the alert is #1 with a reduced split from the backside. He'll be running a crossing route. Often to the frontside is #1 running a pivot route, starting inside before breaking outside, or we'll get a sail concept with #1 backside on a crosser, #1 to the field vertically, and a checkdown to the flat.
#1 backside isn't reduced in the first GIF because he's to the boundary and doesn't need his split reduced. But if he's the field receiver, they will bring him in tighter to cut down the room/time needed for him to come across the field.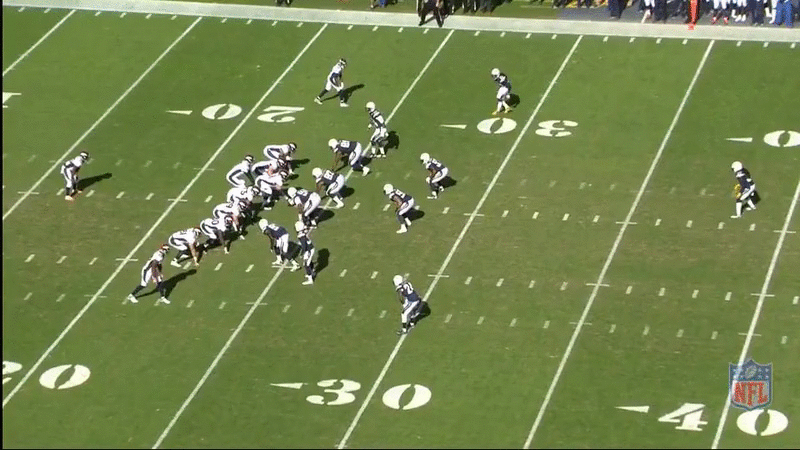 And the sail concept off playaction.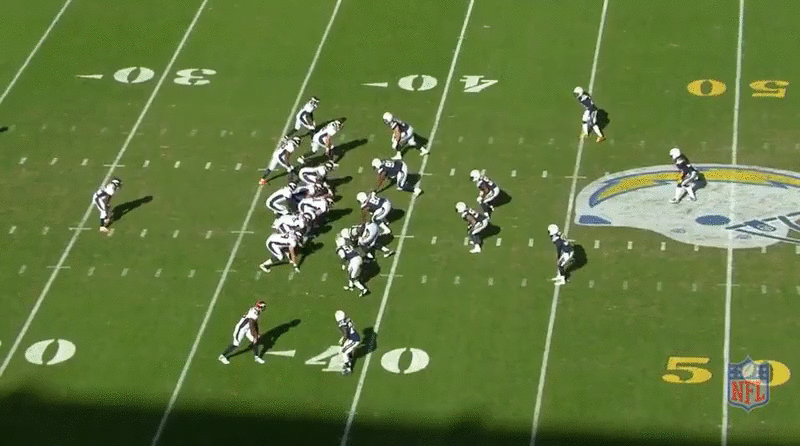 Will also fake their split zone and leak the tight end/running back into the flat for a quick gain.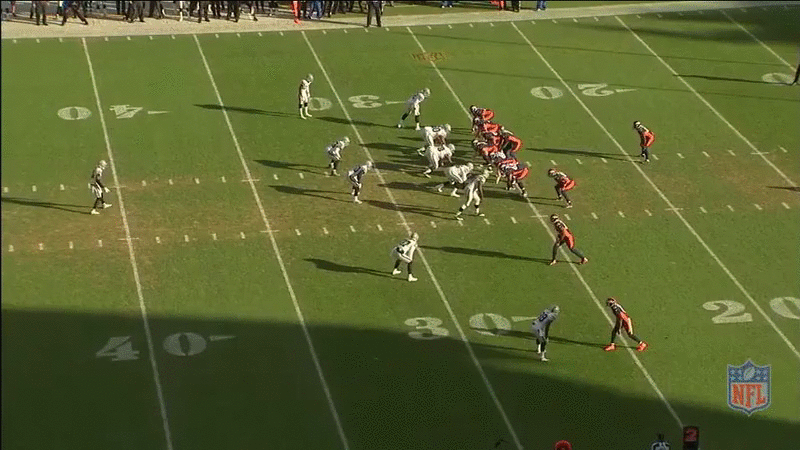 Generally, the Broncos like to play with tight splits. And again, using a broad brush, on playaction, they like to take vertical shots. On normal dropbacks, they like to work short to intermediate routes with spacing concepts. Array of dig and out routes with some seam routes to stretch the defense vertically.
One last note. On the goal line, watch for slant/flat combination. CBs need to play with inside leverage, take it away and force the fade.
Denver Special Teams
For the season, kicker Brandon McManus is 26/30 on field goals and 27/27 on extra points. He has a fantastic leg going 5-7 from 50+.
Britton Colquitt is the team's holder on field goals, also serving as the punter. He has only thrown one pass in his career, way back in 2011. Minimal fake threat.
Latimer replaced Omar Bolden last week as the kick returner and with Bolden out again, probably will do the same. Emmanuel Sanders is the punt returner. He has a long of 14 and generally seems to play it safe with the football. 18 fair catches with only 17 actual returns.
The kick return formation is a 5-2-3-1 without a formal, designated upback. They have not had a kick return touchdown since September of 2013.
Against Oakland, cornerbacks Bradley Roby, Kayvon Webster, and Lorenzo Doss received work as jammers on the punt return unit.
ZACH'S INDIVIDUAL REPORT:
The Denver Broncos come into week 15 off of a very tough loss to division rival Oakland Raiders. In this game the Broncos only scored 12 points all of which were in the first half. Brock Osweiler threw the ball 51 times and was sacked 5 times all by Khalil Mack. The stats however show a different game than the score line. Denver had twenty first downs to Oakland's eight. Denver also dominated the time of possession holding the ball for almost 36 minutes. Denver also outgained the Raiders 310 yards to a miniscule 126. The three biggest factors that contributed to the loss to the Raiders where only averaging 1.6 yards per carry, going zero for three in the red zone, and two lost fumbles.
Just as in most games the battle up front between the linemen will have a gigantic impact in the outcome of this week 15 battle. However not many times is it the focus going into the game. Coming off of an atrocious pass protection game, which Osweiler got hit 11 times will shove the offensive line into the spotlight. So what better place to start then the men paid to protect the quarterback? As a team the Broncos have given up thirty-five sacks and have more than eighty hits on the QB. That number has skyrocketed since Osweiler took over at QB. Left tackle Ryan Harris is a veteran in his ninth season. Harris started the season at right tackle but switch to the left side after the injury to Ty Sambrailo. Harris is an average at best athlete for the tackle position and will have his hands full with James Harrison.
At the left guard position the Broncos will start former All-Pro Evan Mathis. Mathis has been fighting an ankle injury for a few weeks now. From the tape that I have watched in recent weeks it is clear that he is playing at less than 100%. This is very concerning for Bronco fans and coaches alike as he will be matchup vs largely Cam Heyward this week. Mathis oftentimes gives away the outside and cannot set strong on his left leg. This forces Mathis to overcompensate and become off balance. Mathis is most susceptible in the pass game from what I've seen.
Center Matt Paradis has been the Broncos most consistent offensive lineman. Paradis is very efficient in his steps and thrives with good hand placement and quick feet. Paradis vs Steve McLendon is probably my favorite match up in the entire game. Paradis does well against Athletic defensive lineman but tends to struggle verse the giant defensive lineman. It would not surprise me to see more a big Daniel McCullers in running situations to combat Paradis' quickness.
Over at the right guard spot is another veteran Louis Vasquez. Vazquez got injured vs New England but return to duty and played well vs Oakland. Vazquez is a no frills type of player he is large at 330 + pounds and can be a force at the point of attack. He seems to struggle in the pass game against quick and agile defenders. Vazquez can too often lunge and miss time his punch resulting in an easy pressure on the quarterback. There is a whole lot alike with the Tuitt matchup against Vasquez.
Now we get to Michael Schofield. The second-year player out of Michigan has been very up and down as of late. He played a decent game against the Packers however since he has been trending down. From my inside the trenches series the last grade I gave him was against the Pats and a team low 65%. Last week he got ran over and around by Mack for four sacks. He has more than just issues in the pass game though.
Also helping in the protection of the running back and quarterbacks will be the Titans. The Broncos are a rare team that actually uses all three tight ends fairly consistently. They have Owen Daniels who is their primary receiving tight end and by all accounts a subpar blocker. They have recently acquired Vernon Davis coming off his best week as a receiver. Davis had 74 yards on seven catches; however, all people remember is that drop on fourth down. Then comes the unsung hero Virgil Green. Green is a very good blocker, but rarely used in the pass game. If you see big number #85 on the field chances are it's a run. If not, he's probably pass protecting.
There is a whole lot to like with the Denver skill positions Demaryius Thomas, Emmanuel Sanders and Cody Latimer are a formidable 3 wide receiver set add in Jordan Norwood Andre Caldwell and Bennie Fowler and the Broncos have depth to go along with the top end talent. Thomas has put together another very solid season and is over 1000 yards with three TDs. Sanders despite battling injuries should finish with another 1000 yard season as well. The Broncos certainly have the weapons on the perimeter.
The Broncos have been running back by committee as of late and I don't see it being any different once again. C.J. Anderson has been injured as of late and has forced Ronnie Hillman to get much more touches. Hillman has more carries than Anderson but doesn't have as good of YPC. Anderson is the Broncos true bell cow back when healthy.  Anderson is the more physical of the two and should see more carries as the weather starts to turn.
The quarterback position was saved for last for a reason. Making his fifth career start is Brock Osweiler. 3-1 in his career Osweiler has been solid and at times impressive. Even in his only loss Osweiler was one of the bright spots. Osweiler has thrown for just over 200 yards a game and has a competition percentage over 63%. Last week he threw the ball 51 times for 308 yards and an 84.4 rating. There is no way that Gary Kubiak, a run first coach, wanted to throw the ball that much. Osweiler is at his best working off of the play action and on roll outs. The Broncos offense will need to be much more balanced if they expect to stay with the Steelers offense. The offensive line has proven that they cannot protect when the defense pins their ears back and attacks. Look for that to be a point of focus for Keith Butler's defense.