Zach Grasinger and I will be collaborating our scouting reports. We'll play to our strengths – he'll be focusing on the individuals while I'll be looking at overall scheme. These reports will be broken down into two articles, one for offense and one for defense.
Our reports for the Denver Broncos' defense.
ALEX'S SCHEME REPORT: 
The Broncos' defense, for my money, is the best in the league. You'd be hard-pressed to find someone who disagrees. Their 44 sacks rank first in the league, four pick-sixes tie them for first, and their 21 forced fumbles are also first. All while allowing the fewest total yards and points. So yeah, the best in the league.
They have three players with at least five sacks. Von Miller, DeMarcus Ware, and Shaq Barrett. 38 of their 44 sacks come from their DL or OLBs. Like I wrote, they've forced 21 fumbles collectively. Miller has four and Barrett three.
As you'd expect from a defense allowing the fewest yards, they aren't allowing many big plays. Tied for the second fewest passes of 20+ yards (36) and the fifth least runs of 10+ (28).
Don't want to overlook the fact they have two blocks this season, too. One from Aqib Talib and one from NT Sylvester Williams.
From a snap count perspective, DE Malik Jackson is playing a ton. 75.2% on the season and 84% last week. Underrated player on that defense, simply overshadowed by the big names that surround him. Derek Wolfe missed the first four weeks due to a suspension but has played a ton of snaps sine, including 91% in Week 14. In all, five defensive lineman have played at least 33% of the time in the Broncos' 3-4.
Miller leads the OLBs with 77.6%. Ware's injury has limited his snap count to about 1/3 of the total but he still has 6.5 sacks. That's crazy. Rookie Shane Ray is coming in at a 28% clip, seeing more action in Ware's absence. Ware came back last week to play 15 snaps and will probably be a full go Sunday.
Bradley Roby is on the field 56.3% of the time, working as the nickel corner.
Let's start with the defensive line. 3-4 front. Like to line up in gaps, not head up or even with a slight shade. Will have an aggressive shift with the NT against any twin TE sets. Set him squarely between the center and guard. Most teams will play shade on the inside shoulder of the center but Denver takes it to the extreme.
The defensive line is pretty active in adjusting to any pre-snap motion. Will move down their gaps and adjust accordingly to any shifts or trades the offense will bring.
Derek Wolfe is mainly the left end, Malik Jackson the right end, with Williams and Vance Walker playing the nose. Darius Kilgo also sees time at the nose. Antonio Smith plays a lot of right end for them. Great talent they've either home grown (Wolfe, Jackson, Williams) or brought in (Smith, Walker). I really dig the Walker pickup. Have been a fan of his as a run stuffer for awhile. It's a stout Broncos' DL.
Have four outside linebackers that can get after it: Ware, Miller, Barrett and Ray. There's a nice roation going on here, though I've obviously been watching film with Ware out or limited, but even with his return, expect cycling throughout the game. Everyone plays everywhere. They're all capable of playing either side, even the young guys like Barrett and Ray. It appears they ask Barrett to drop into coverage the most often.
Danny Trevathan should return this week after missing a week due to a concussion. He's paired with Brandon Marshall at inside linebacker. Marshall is the strong side 'backer with Trevathan weak. You can watch them even switch spots after this shift vs San Diego.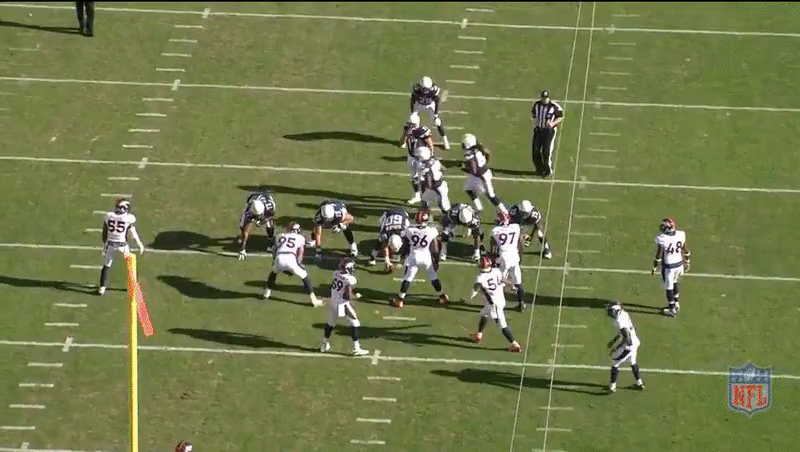 Chris Harris, as you know, will shadow receivers. All over Amari Cooper last week. Experience playing anywhere on the field. Was in the slot against the San Diego Chargers, right corner versus the Raiders last week. When Harris is outside, Roby is most likely to move in the slot.
The Broncos love playing dime in sub-package football. 6 DBs on the field and bringing a safety down into the box, replacing an inside linebacker. Have seen a variety of players there from Omar Bolden to David Bruton. The tricky part is the Broncos lack of health at the position this week with T.J. Ward and Bolden ruled out.
Bruton and Darian Stewart will likely be starting at safety this week. Josh Bush may become the dime defender. We'll have to see how the team proceeds.
With the talent they have at corner, you'd expect the Broncos to be a man-coverage heavy team. And you'd be right. Lot of Cover 1 and 2 Man on obvious passing downs.
Ward does have two sacks on the season but over the recent games I watched, they didn't bring much in the form of pressure from the secondary. Try to win with four man rushes. Sometimes they'll bring five with an OLB dropping and inside linebacker rushing. You'll also get a fair share of stunts up front, as you'll see from any team.
Broncos' Special Teams
Kayvon Webster and Corey Latimer will probably be the gunners this week. Bolden was in Week 13 but as said, has been ruled out and Webster/Latimer was the pairing last week. Virgil Green and Juwan Thompson are the wings. As we wrote about in the offensive section, punter Britton Colquitt has only thrown one career pass way back in 2011, but it's always notable when you have to skill players in those spots.
Bruton and linebacker Corey Nelson lead the Broncos in special teams' snaps with 253 and 250 respectively.
Couple interesting tidbits on kickoffs that will hopefully make Danny Smith proud. Brandon McManus likes to start the game out with the ball in the middle of the field and send it into the right corner (left corner from return team's perspective). After one or two kicks, they'll mix it up by kicking either down the middle or to the left side. Ball usually gets moved closer to the right hash on these kicks.
And a note on their punter Colquitt. When the ball is on the right hash, the ball typically lands to the right (return left) just under the numbers. The field side gunner is a tell, stemming inside on the snap to eliminate the ground he has to cover to go make a player. If the ball is on the left hash on a punt, you can expect it to travel straight and lane on – or near – the left hash for the return man.
ZACH'S INDIVIDUAL REPORT: 
Heading into the week 15 match up against the Steelers, the Broncos defense is in the top three in almost every major defensive category. The Broncos are first in points per game and yards per game where they are the only team under 300 yards at per game at 272. They are first in pass yards allowed per game at 188 yards. The next closest team average is 215 yards against. They are also tied for 2nd in 3rd down percentage at 32% which equates to them getting off the field when it matters most. Their biggest weakness if that's what you want to call it is against the run, where they rank third.
Without any doubt this is an elite unit. Enough about the team stats so let's take a look at the individuals that make up this premier unit. The Broncos run a 3-4 defense headed by blitz happy defensive coordinator Wade Phillips. If you're a fan of offense, this is an evil alliance. As far as defenses go, it's a perfect match.
The Broncos front 3 consist of five technique Derek Wolfe, the former first round pick nose tackle Sylvester Williams and five technique Malik Jackson. Wolfe leads the team in tackles for down lineman and has really come into his own this season. Williams is starting to mold into the player the Broncos envisioned him as when he was drafted. Jackson could be the unsung hero of the front seven. He has provided a solid presense in the run game and has added 3.5 sacks to go along with seven batted passes.
At outside linebacker the Broncos boast one of the most formidable duos in the NFL. Young superstar and premier pass rusher Von Miller mans the left side and has 10 sacks on the season. On the opposite side is a future Hall of Famer in DeMarcus Ware. Ware has battled injuries off and on this season but looks to be healthy in this matchup against the Steelers. While Ware was out the Broncos got to see their first round pick this season Shane Ray. In spot duty Ray has three sacks and has flashed that first round burst and flexibility. On the inside are the Broncos two leading tacklers. Brandon Marshall leads the team with 88 total tackles, 1.5 sacks and two force fumbles a solid stat line for the former Nevada product.
Danny Trevathan is second on the team in tackles but also adds in solid coverage ability. Trevathan has six passes defended and two interceptions on the season one returned for touchdown. This group makes up the best front seven in the NFL this season. Just when you thought it couldn't be any more difficult to play against we arrive to the true strength of the Broncos.
The Bronco cornerbacks are renowned as one of the best units in the league. Cornerback Aqib Talib has 11 passes defended to go with his three interceptions and have has taken two too the barn. On the other side is Chris Harris Jr. Harris who has 47 total tackles on the season and two interceptions along with two forced fumbles. He's the more supportive of the two in the run game and despite his small stature, plays large. I would be remiss if I didn't at least mention the former first round pick Bradley Roby. He comes in and nickel situations something I'm sure we will see a lot of in Pittsburgh. Roby has 7 passes defended and has played very well in his call to duty. He has proven to be well worth the first round pick.
Normally a strength of the Broncos their safeties are very beat up. TJ Ward and Omar Bolden will not suit up for the Broncos and Darian Stewart has been listed as Questionable. That will force David Bruton and potentially Shiloh Keo into the lineup. Bruton is coming off of a knee injury. Bruton has been solid as a situational play, he has two interceptions on the season six passes defended and two forced fumbles. Keo has had very little playing time he could be a wild card. His only regular season appearance was last week against the Raiders, but has played in forty-two career games.
These highlighted players make up a superb defense and under the tutelage of Phillips they have risen to truly elite status. That said, the Steelers may be the antidote to the dominating defense of Denver. This kind of immovable object against the unstoppable force is what the NFL is all about and I for one am ready to get the popcorn and an Iron City for this battle.