Just a quick film study that highlights some of the issues we still see in the Pittsburgh Steelers defense. Their Cover 3, primarily spot dropping defense leaves them vulnerable to multiple vertical concepts. We saw this the most glaringly in the loss to the Seattle Seahawks. The night after that game, we did a film room post that broke it down.
To a lesser extent, the Cincinnati Bengals did similar last Sunday. It wasn't as noticeable with the Steelers winning comfortably, and A.J. McCarron didn't always find the open target, but it's a recurring problem. Let's take another look with two fourth quarter examples.
As you probably know, the Steelers are a Cover 3, single-high defense on early downs. Bengals come out in 11 personnel with two receivers to the field. Cover 3 with the outside corner, William Gay, and deep safety playing their third of the field. Slot corner Brandon Boykin is playing curl/flat. Gay carries #1 vertical while Boykin walls #2 but doesn't carry him.
It creates a window for #2 vertical. Boykin can't get back on top of the route in time and McCarron hits Mohammad Sanu for a 23 yard gain.
Boykin needs to carry #2 vertical. There is no help over the top – the deep safety isn't going to be able to squeeze the throw. It's the issue with spot dropping with pattern matching. When players sit down in spots, offenses are going to find your vulnerabilities.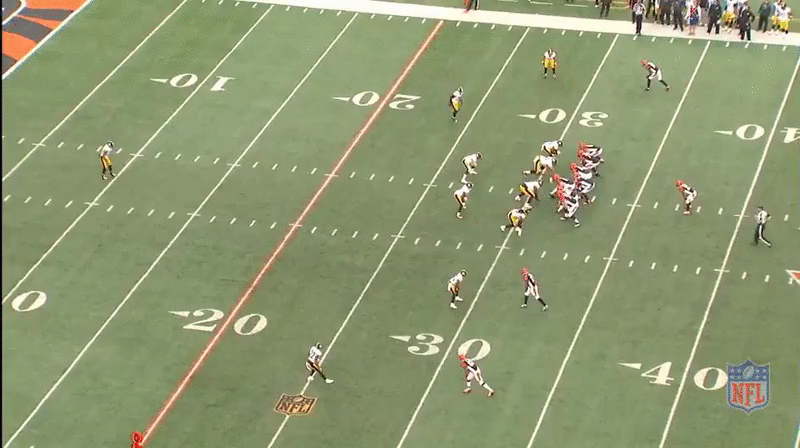 The other example comes on the Bengals last touchdown to Rex Burkhead. This actually isn't Cover 3. It's a two high shell, albeit condensed in the red zone. Two verts to the top of the screen. Antwon Blake has all of #1 to the top, outside the numbers. Sean Spence is over #2 initially but drops into his hook zone, curl/flat. #2 is running vertically here as well. Robert Golden freezes on the snap and can't squeeze the throw. Really an execution error here on Golden's part but it's a big play all the same.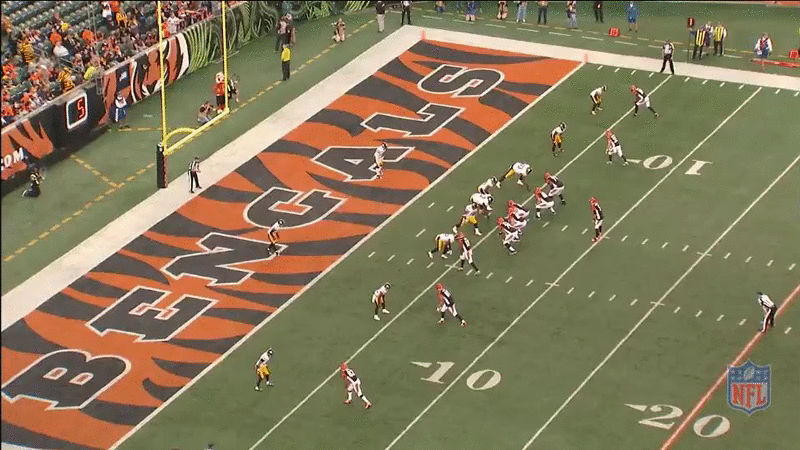 The Steelers have had issues all season long handling multiple vertical concepts. In some sense, this is still a complicated defense but in others, like its coverages, it's relatively simple and easy to figure out, even for an outsider like me. That isn't inherently an awful philosophy and pulls from a Pete Carroll philosophy of playing simple and fast. But Carroll has some built-in coverage adjustments for his weaknesses, which we've also written about before. I admire the job Keith Butler has done but if there is one weakness of his, it's an inability to combat these problems that frustrate – and concern – the heck out of me the rest of the season.