Examining the three sacks allowed by the Pittsburgh Steelers in Sundays 34-27 win over the Denver Broncos.
1. 3rd and 5, 3:43 1st. 11 personnel. Four rush vs five blocking plus the back check/releasing. Less than 2.5 seconds from snap to sack. Protection call is a half slide to the left. Center Cody Wallace is the first uncovered so he starts the slide.
The right defensive end, Malik Jackson, slants into the slide-side A gap. Ramon Foster anticipates passing him off to Wallace. Wallace uses his backside hand to feel for anyone entering the backside A gap, causing him to be a little late to slide and fill the gap Jackson is shooting.
Chatted up our offensive line guru Zach Grasinger because I was debating how much Foster was at fault here. He believes, and you can see if in the GIF at the end, that Foster doesn't do enough to help. There's no one in his gap and he should be looking for help. So he convinced me Foster deserves some of the blame for the lack of help.
It's particularly disappointing because Darrius Heyward-Bey got wide open on a shallow cross that would've gone for a first down.
We'll blame both parties: Foster and Wallace.Wallace lacks the athleticism to fill his gap and make those short-space movements while Foster doesn't do a good job with his eyes to provide aid to his fellow lineman.
Blame: Half on Cody Wallace, half on Ramon Foster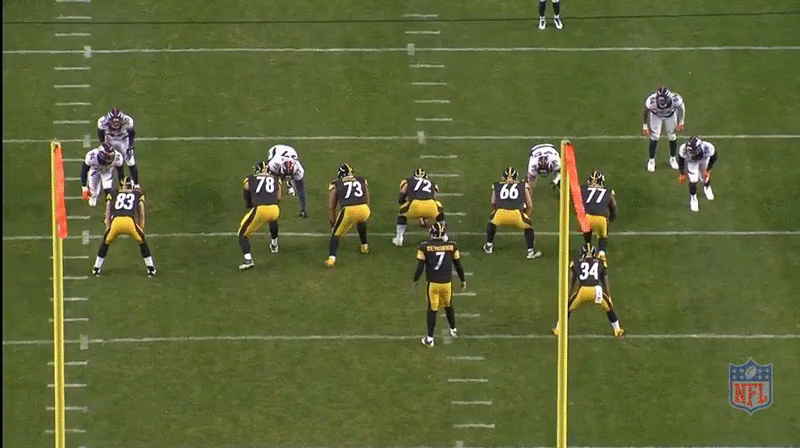 2. 1st and 10, 10:33 2nd. 21 personnel, a rare time a sack hasn't come out of 11. Seven block against a five man rush. Playaction with a sail concept to the top. Vertical, corner, flat combo. Play that needs time to develop. Another half slide, this time started by Foster. Alejandro Villanueva is covered so he doesn't anticipate sliding with the RDE, Jackson again, shaded outside. Starts to fire off the ball to his outside, his left, but Jackson slants hard inside.
Villanueva is unable to recover, showing some poor technique. Pushes off with his outside foot but doesn't gain ground with his inside, narrowing his base and being unable to mirror Jackson.
DeAngelo Williams does his best to help, and credit to him for hanging in there, but a running back on a defensive end is no matchup.
Offensive line play starts with your lower half and Villanueva struggles here.
Blame: Alejandro Villanueva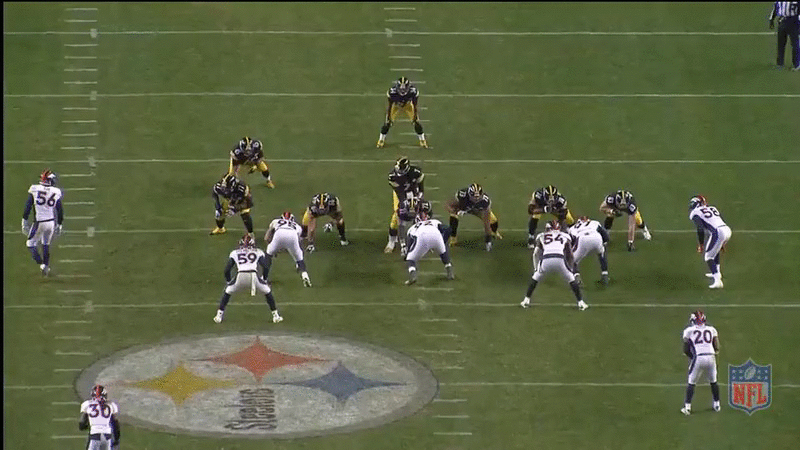 3. 2nd and 5, :48 2nd. 11 personnel. Five to block a four man rush. Good coverage from Denver. 2 Man, man coverage underneath. No one open.
On the line, rookie Shane Ray beats Villy on an outside spin move. Villanueva struggles to move laterally and can't seal the edge. Tough to defend from an athlete like Ray but still part of the blame falls on him. No one said playing left tackle was easy.
Should point out that the excellent coverage probably would have never allowed a throw. Props to Denver's defense for doing their job here.
Blame: Half on Villanueva, half on scheme/coverage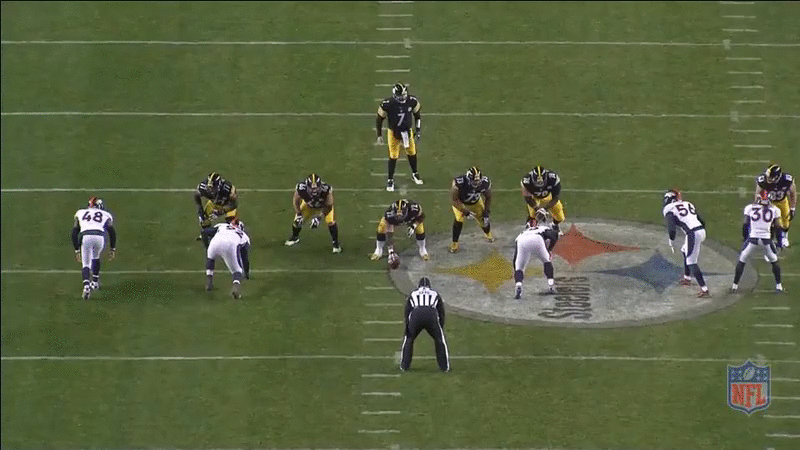 Sack Counter (Game):
Alejandro Villanueva: 1.5
Ramon Foster: .5
Cody Wallace: .5
Defensive Scheme/Coverage: .5
Sack Counter (Season):
Alejandro Villanueva: 5
Cody Wallace: 5
Mike Vick: 3.5
Defensive Scheme/Coverage: 3.5
David DeCastro: 2.5
Ramon Foster: 2.5
Kelvin Beachum: 2
Marcus Gilbert: 1.5
Ben Roethlisberger: 1.5
Todd Haley: 1
Penalty Counter (Game):
Cody Wallace: 3
Marcus Gilbert: 1
Penalty Counter (Season):
Cody Wallace: 10
Marcus Gilbert: 6
Kelvin Beachum: 5
Ramon Foster: 3
David DeCastro: 2
Alejandro Villanueva: 1