As easy as it might seem to overlook the Baltimore Ravens, their defense is still potent to me. When it's Ravens/Steelers, you know they're going to bring it. I've always admired their defense and 2015, as tattered as they are across the board, is no exception.
Here's our scouting report.
Ravens' Front Seven
The defense as a unit has 31 sacks. Not a staggering number, not terrible either, but it's come from a lot of different places. Six different players have at least three sacks. The run defense is still quality. They've allowed the second fewest runs of 10+ yards, just 27 on the season. Only the Seattle Seahawks have a better mark and you can recall the difficulty the Steelers had that day. DeAngelo Williams led the team with 29 yards.
C.J. Mosley and Daryl Smith still anchor this group. They're always around the ball, combining for 205 tackles, six sacks, eight pass deflections, and a touchdown. A strong ILB duo that's right near the top of my league for my money. Mosley plays on the strong side, Smith weakside. It actually seems like that, for whatever reason, Smith has been losing some playing time to Zach Orr, coming off the field on passing downs.
Let's go back to their defensive line. Timmy Jernigan and Brandon Williams are a fantastic pair and don't get talked about enough in the league. Jernigan has seemed to have slimmed down from his rookie year and is playing quicker and lighter on his feet. But still carries a nasty edge to him. Steelers' interior line has their hands full. They don't come off the field that often either. Last week against the Kansas City Chiefs, Williams saw 77% of the defense's snaps while Jernigan was close at 71%.
Chris Canty was placed on IR 11 days ago. Brent Urban has picked up a lot of his snaps and played well. Those are their main three with Lawrence Guy and a tiny bit of Carl Davis rotating in.
Their line does not seem to react to TE trades. The linebackers and safeties do. They do a nice job of mixing up where they line up. Sometimes they're head up, sometimes they're shaded in gaps.
Elvis Dumervil and Courtney Upshaw start at outside linebacker. They'll flip and are capable of playing either side. So is Za'Darius Smith, their rookie who as Mike Tomlin mentioned, had two sacks in the first matchup. Dumveril leads the team with six sacks and his anticipation off the line is exceptional. Smith is up to 36.8% of snaps in 2015 though that number has risen over the past few weeks. He saw 57% of the action last week.
Ravens' Secondary
The secondary hasn't been hit too hard with injuries but haven't played well either. Jimmy Smith is their best corner, surviving only ten snaps against the Chiefs until a thigh injury took him out, but should play this Sunday. In base packages, Smith will be the right corner and Lardarius Webb on the left. Kendrick Lewis and Will Hill are the safeties.
What I like the most about the Ravens' defense are all the different personnel groupings and looks within them. The Ravens will run an amoeba defense, just one defensive lineman, with six DBs – Terrence Brooks is the likely dime candidate. As you'd expect, there's a lot of pre-snap shifting and almost everyone standing up. Difficult to identify where pressure is coming, who's bluffing and who's dropping, causing confusion and havoc up front. Just the way they like it. Especially when you're playing on their turf, as the Steelers will be Sunday.
They'll run a 3-3-5 nickel and a 2-5-4 "small base." Don't see five linebackers on the field very often but here's an example of it against the Seattle Seahawks in Week 14.
They have been putting Webb at safety in some subpackages, either in dime, or in nickel by removing Hill from the field. Kyle Arrington works in the slot in these situations.
Here's a 4-4-3 front on 3rd and short vs the Chiefs.
And here is their amoeba, 1-5-5 on 3rd and 18. Will also go 1-4-6 for their dime package.
Don't be surprised if the Steelers have to employ a similar gameplan as they did last Sunday against the Denver Broncos. Todd Haley said one reason he couldn't run the ball as much was due to Denver staying in base versus the Steelers' 11 personnel, three receivers on the field. The Ravens have done similar.
One thing I did notice is their CBs tend to play on the same level. With the man coverage they play, it makes them susceptible to getting picked on slant/flat combinations.
They aren't a heavy blitz team. Didn't see it often in the tape I watched. Occasional fire zone but nothing too heavy in terms of sending DBs or the house. They want to have safe pressure. Confuse but still rush four or five, max.
Lot of single high defense. Like to get Will Hill as that extra defender in the box.
Ravens' Special Teams
Justin Tucker has a great leg and rarely allows a kick return. Ball either in the middle or slightly towards the right hash with the ball usually landing in the middle.
Their gunners appear to be wide receiver Daniel Brown and cornerback Jumal Rolle. Anthony Levine is the team's upback and a core special teamer. Always liked that guy. Not sure why.
Sam Koch is an exceptional punter who can hit a quarter from 50 yards out if you asked him to. Most of his punts move to the left corner but I'm confident he can hit it anywhere. Pins teams as well as anyone in the league. Don't expect Antonio Brown to do much Sunday.
The Ravens have run three fakes since 2012, but there isn't much of a tendency to pick up on. This includes a fake on Sunday, a Koch run on 4th and 9. It only gained seven. The fakes have come on that 4th and9, 4th and 4, and 4th and 1. The only common thread I can find is that all three have come in their own territory – their 43, 32, and 17.
Last, but most importantly, the Ravens have five blocked kicks this season. Two have come from Asa Jackson, one on a punt and one on a field goal. The punt was a stunt up the A gap, getting Jackson in free. Here's a look.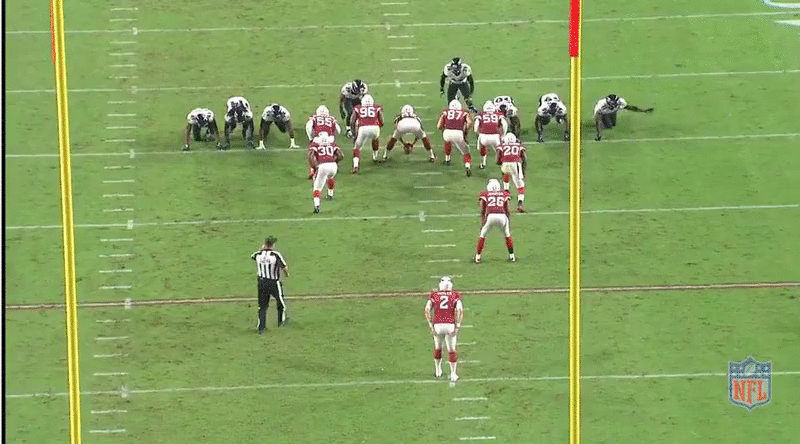 They also have field goal blocks from Brent Urban and Lawrence Guy. Za'Darius Smith "unofficially" has one, a tip that was not officially recorded.