Game notes from the Pittsburgh Steelers Week 12 loss to the Seattle Seahawks.
First Half
– Kick return unit. Front five: Arthur Moats, Sean Spence, Vince Williams, Terence Garvin, and Shamarko Thomas. Robert Golden right behind them. Matt Spaeth returned to be apart of the three man "wedge" with Roosevelt Nix and Will Johnson. Jordan Todman the upback for Jacoby Jones.
– Steelers started in a spread 13 personnel. New one for Todd Haley to open things up.
– Punt coverage: Shamarko Thomas and Darrius Heyward-Bey at gunner. Robert Golden the upback. Roosevelt Nix and Will Allen at wings, Nix replacing Spaeth like I thought might happen and am happy to see. On the line: Williams-Garvin-Greg Warren-Johnson-Spence
– Jarvis Jones has to stay in control on this punch. Loses his balance here and essentially taken out of the play.
– Ryan Shazier with a poor run fill here. Stack with Stephon Tuitt, becomes useless. 17 yard gain for Thomas Rawls.
– Punt return unit: Antwon Blake and Brandon Boykin the jammers. The others: Golden, Johnson, Shark, DHB, Williams, Nix, Spence, and Garvin.
– Watch David DeCastro just ride Ahtya Rubin down the line. Beautiful.
– Kick return unit from left to right: Golden-Shark-Nix-Garvin-VW-Chris Boswell-Spence-Jarvis-Blake-Blake-DHB
– Nice shed by Steve McLendon.
– Bud Dupree with a pancake on the punt return unit. Saw him get pulled aside by Danny Smith before he walked onto the field, ostensibly responding to whatever Smith told him.
– After getting beat early in the game, Seahawks had corner DeShawn Shead bail on the snap to give a cushion and protect vertical. Times later in the game where he'd play tight and the Steelers would take their vertical shots with Martavis Bryant.
– Alejandro Villanueva was not open on the fake field goal. Good coverage all around from Seattle.
– Solid angle and open field tackle by Mike Mitchell.
– Quality blocking on Jacoby Jones' 36 yard return. Kudos to Jones for shaking Earl Thomas, too. Here's the lane the blocking gave him.
– NFL route by Bryant. Quick cut, doesn't drift on his route, and makes a solid hands catch.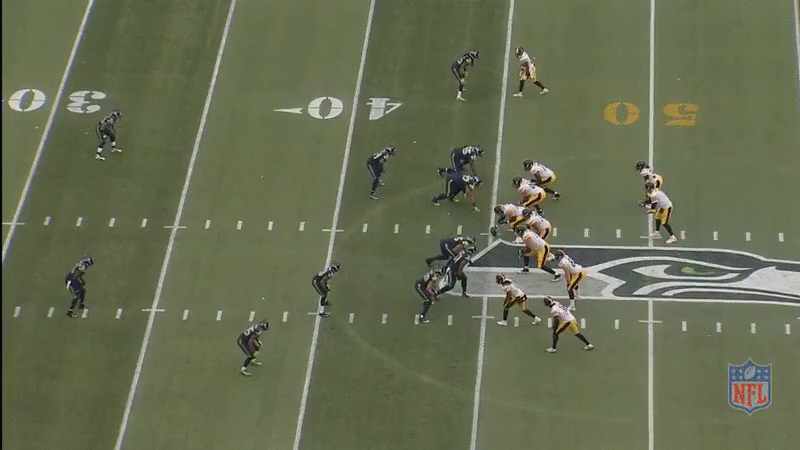 – Another Todd Haley Hank concept.
– Even with Bruce Irvin being called offsides, Villanueva's athleticism allows him to seal him upfield.
– Big Ben with a money throw over Bobby Wagner.
– Here's Markus Wheaton sealing the corner on Bryant's touchdown. Does the little things as well as the big things.
– Spaeth returned to play the right wing spot on the field goal unit.
– Jarvis Jones swimming over the first wave of defenders on kick coverage. Makes the tackle. Beautiful.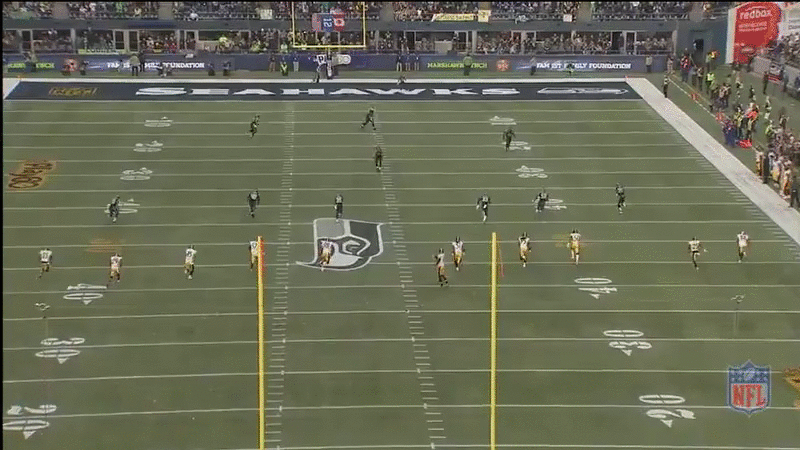 – Vince Williams was the first man in after Shazier's injury but that may have naturally been apart of the rotation. Spence had come in already to spell Shazier prior to the injury. VW ultimately wound out slightly out-snapping Spence.
– No idea why the scheme would ask Lawrence Timmons to not open up to the field and #3 on third and long here. Already have Williams as the overhang/hook defender to the boundary. No reason for Timmons to cheat that way, too, and he can't squeeze #3 down the seam. First down Seattle. Just weird.
– Looking like Steelers are adjusting and playing more man concepts to defend stunts to Alejandro Villanueva and Ramon Foster's side. Had issues communicating and passing off before. So they intentionally get on different levels and play their man straight up. Man to that side while David DeCastro and Marcus Gilbert zone off the stunt like normal.
– Foster and Wallace with key blocks on DeAngelo Williams' touchdown.
Second Half
– Jordan Todman replaced Antwon Blake at R3 to start the second half.
– Nice hustle by Foster to seal Kam Chancellor to open up this Williams' screen.
– Marcus Gilbert dominating Cliff Avril. Pushes him way up the arc.
– Look how quickly Wheaton gets upfield after the catch here. Good feel for the closing defender and he makes him miss, gaining a couple extra yards. That was the big charge and area he needed to improve upon in 2014.
– Rubin INT was a packaged play. Run/pass option.
– Steelers again not defending #3, leaving them from down the seams. Issue all game long and just too many open receivers. Barely made Seattle earn it.
– Jacoby Jones is just following his upback here, it's important to know that, but there is a Saturn-sized hole up the middle here. Doesn't hit it.
– Williams and James were not open on third and two play where Ben wound up firing deep to Bryant. May have looked open on the broadcast view but here's Chancellor patrolling. Top of the screen.
– Steelers' DBs continue to struggle playing simple route combinations along the goal line. Slant/flat here and the slant is wide open with both Steelers' basically playing the flat. No one to take the slant, though the ball is thrown to the opposite side.
– Here's the base Roethlisberger threw from on his TD to Wheaton. Incredible. All arm, ball delivered on a rope.
– Wheaton also made the tough catches across the middle. Extends away from his body knowing he could take a big hit.
– Wonder if Ben's affected peripheral vision was what caused him to miss D-Will on this third down play before the controversial Boswell field goal.