Game notes from the Pittsburgh Steelers' 20-17 loss to the Baltimore Ravens on Sunday.
First Half
– Kick return unit. Front five: Arthur Moats–Sean Spence–Vince Williams–Terence Garvin–Shamarko Thomas. Robert Golden behind. Will Johnson, Roosevelt Nix, Matt Spaeth making up the wedge. Fitzgerald Toussaint the upback for Markus Wheaton.
– Blocking from the o-line doesn't get much better than this on DeAngelo Williams' 30 yard run.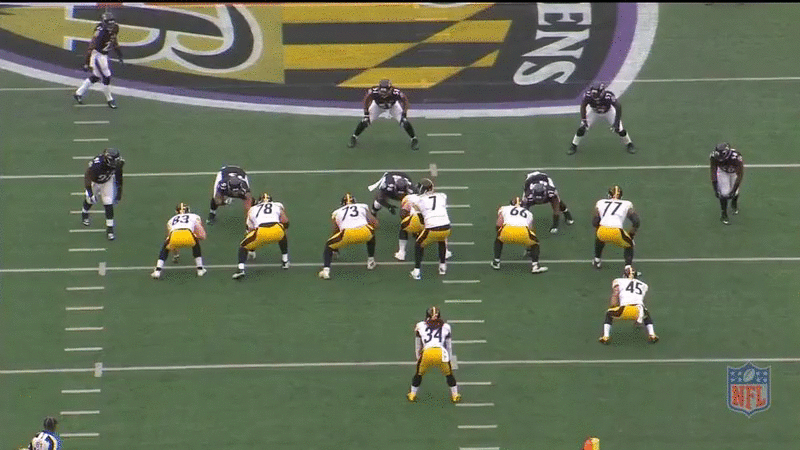 – Chipping Brandon Williams an important factor in diminishing his impact in the run game. Chip by Cody Wallace to help Ramon Foster secure and then Wallace gets in the way of the linebacker shooting through, creating an alley for D-Will.
– Heath Miller missed key block on Jesse James third down catch. Put team in 4th down, which they obviously failed to convert.
– Ramon Foster tripped over Wallace's foot on that 4th down. If he stays on his feet and is able to pull, good chance Williams' makes it.
– Ryan Shazier has to get off this block. Swallowed up and the running back gets into the third level for a ten yard gain.
– Another example of spot dropping being an issue. Three verts, #2 free up the seam. Hook defender doesn't carry. Creates window and completion.
– Again, Shazier doesn't stay square. Picks a side before RB makes decision, and predictably gets sealed as the running back rips off a big gain. 15 yard pickup.
– Don't mean to pile onto Shazier but a poor first half from him. Good coverage but would like to see him play the pocket, knock the ball out of the tight end's hands. Get your defense off the field.
– Overlooked aspect of the Ravens' first touchdown. Cam Heyward knocked over by help from the guard. Can't get his hand into the throwing lane to knock it down or disrupt Ryan Mallett's vision. Clean pocket and vision for Mallett to make a tight throw.
– Hard to be too critical of Williams but should've followed his fullback here. I get he sees the NT slanting that way but he can get through that hole. Bounces laterally to the left instead.
– Nice play design here. Motion by Bryant on the snap draws the corner away from the side of the run, helps create a monster alley.
– Steelers' offensive line was dominant early against a rock solid Ravens' front. Easy to see why they ran it so much.
– Big credit to Steve McLendon for getting back on his feet after being cut by the left guard. Something most nose tackles can't do but McLendon is a fantastic athlete.
– Poor throwing base from Roethlisberger but Will Johnson also just stops on his route on the near pick by Jimmy Smith. Route runner Johnson is not.
– Kick coverage from left to right: Shamarko Thomas-Robert Golden-Roosevelt Nix-Terence Garvin-Vince Williams-Chris Boswell-Chris Boswell-Sean Spence-Jarvis Jones-Fitzgerald Toussaint-Brandon Boykin–Darrius Heyward-Bey
– Punt coverage: Shark and DHB gunners. Golden upback. Nix and Allen the wings. On the line: Williams-Garvin-Greg Warren-Johnson-Spence
– Watch the difference between DHB and Shark on this punt. Fair catch by the returner. Thomas runs past, DHB settles underneath and next to him. Puts a little extra pressure on the PR and DHB is ready to fall on any muff. Shark is out of the play. Just another mental issue.
– Ball isn't out of Ryan Mallett's hand. Watch #1 open to the field. Wide open. Not convinced Will Allen is going to be able to speed turn to make a play on this ball. Luckily, Mallett goes elsewhere with the football. But consistently see the Steelers struggle to stop four vertical concepts.
– Punt return team: Blake, DHB, Boykin jammers. On the line: Shark-Spence-Golden-Nix-Bud Dupree-Johnson-Williams.
– Poor jam on the line by Boykin. Lets #2 win down the seam and Mallett finds him for a 17 yard gain on 2nd and 19.
– Watch Stephon Tuitt work over All-Pro guard Marshal Yanda and get down the line to make the tackle. Impressive.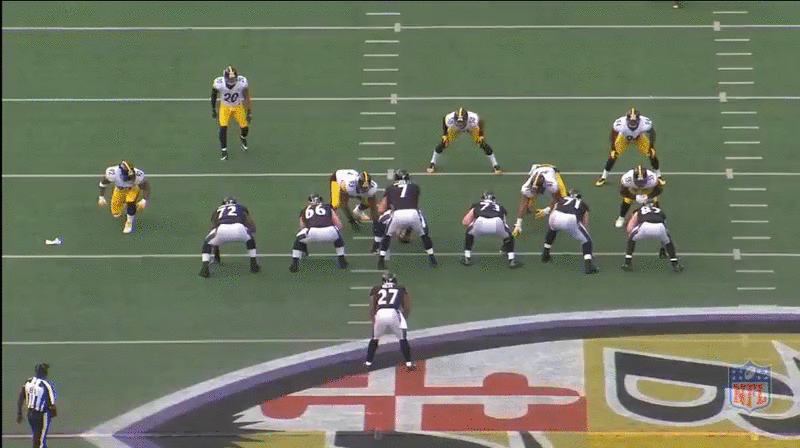 – Tip of the hat to the punt unit for giving Jordan Berry a clean "pocket" to punt from with the Ravens rushing eight. One rusher winds up being unblocked but doesn't have an influence on the block. Kudos to Golden for getting assignments communicated and to each individual for their execution.
Second Half
– Fitzgerald Toussaint replaced Nix on the punt return unit. Matt Spaeth took 45's spot on punt coverage, serving as the right wing.
– Little bit of lunge, waist bend from Villy here.
– Annoyed that Martavis Bryant tried to cut this screen back instead of getting upfield and as close to the sticks as possible. Guy with limited touches trying to do too much.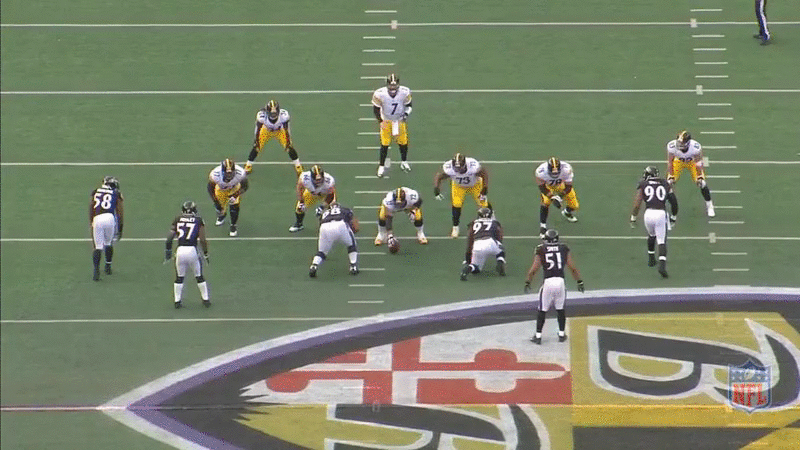 – In what looks like Cover 1, William Gay gives up separation and allows Kamar Aiken to make the catch and pick up the first down. Maybe Gay's worst collective day of the year.
– Ross Cockrell not wrapping up, seeing what he hits. Misses the tackle, gives the Ravens' third and short.
– Gay beat deep on Chris Givens' 39 yard catch. Has to carry him vertically here. Not sure what he was thinking.
– Poor run fill, no backside contain on Allen's TD. Tuitt upfield to play the boot and Dupree was split away, covering #2. Don't know if just a poor scheme or individual issue. Sure feels like Lawrence Timmons, Shazier, and Mike Mitchell are all attacking the same gap. Maybe Shazier screwed up.
– Steelers busting out one of their favorite packaged plays for a 20 yard gain by Heath Miller. Inside zone paired with a swing/seam route.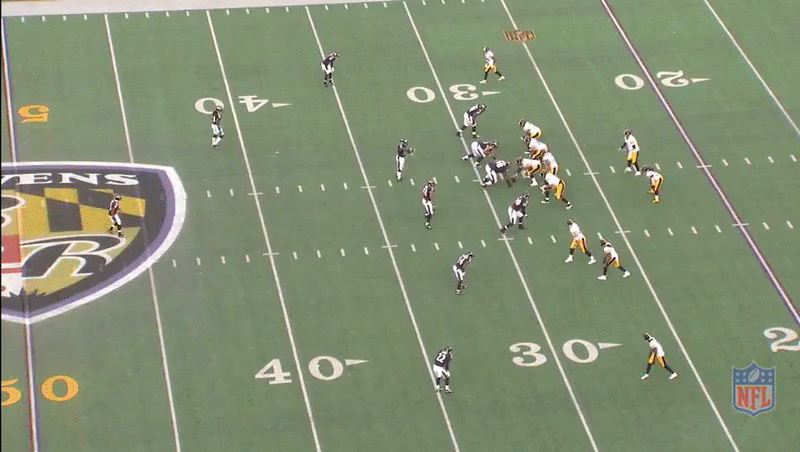 – Jesse James was the only dude to sprint the entire time on Jimmy Smith's near 100 yard INT. Kudos to him.
– Will Johnson is a pretty sub-par lead blocker but he provided a key block on the perimeter on Williams' second TD.
– Doran Grant wound up replacing Nix on kickoffs.
– Shazier, again, can't get off the block. Swallowed up too easily.  Not going to get to play as clean in a 2-4-5, and you better be able to get your gap-side arm free and fill.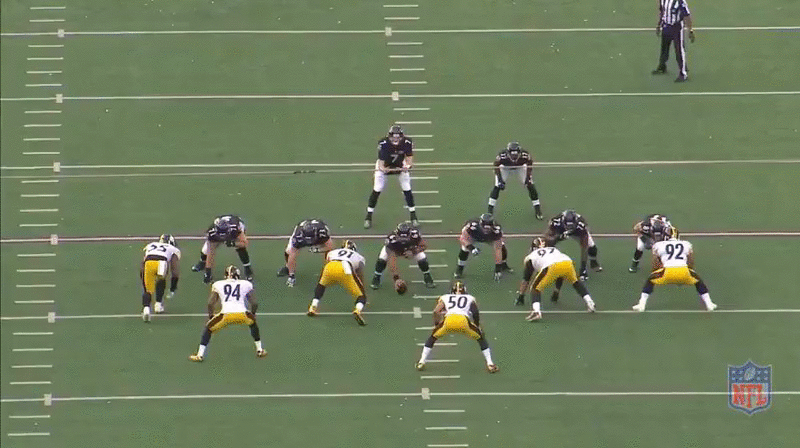 – Steelers doing some different stuff in their run fill. Scrape Tuitt to the backside and have everyone else crash down.
– More from Tuitt. Watch him just school Yanda, one of the top guards in the league, late in the game.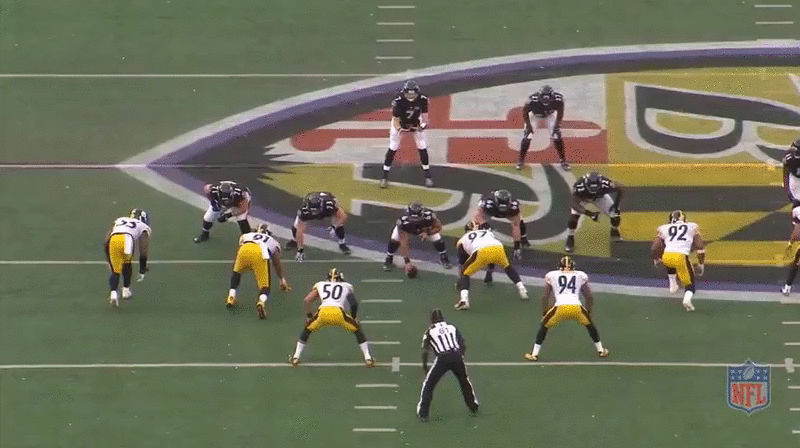 – Todd Haley going back to the AB TD vs Denver several times Sunday. Indy Z Post, but hitting Markus Wheaton open underneath.
– Deep shot to Bryant on 3rd and 15. Right decision. Ravens' rotate to single high and Bryant left one-on-one down the sideline. Don't fault Roethlisberger for the decision.
– Honestly, don't think there were a lot of instances of Wheaton/Bryant getting open. Ravens did a great job playing two high, trailing underneath, and taking everyone away. Ben made his fair share of mistakes but wow, credit to Baltimore. Only allowed a handful of easy throws all day. Kudos to them.