Game notes from the Pittsburgh Steelers 45-10 beatdown over the Indianapolis Colts.
First Half
– New formation on the kick return unit. Maybe because of planning for surprise onside kick and just trying to do something different. Six man front. Arthur Moats-Anthony Chickillo-Shamarko Thomas-Terence Garvin-Robert Golden–Vince Williams with Roosevelt Nix not far behind. Matt Spaeth and Will Johnson the two farther back with Fitzgerald Toussaint the upback for Jacoby Jones.
Much more aggressive style with the front line attacking instead of being passive, hitting the Colts early instead of getting depth and "catching." Didn't really work well, though. We'll see if that was a one-time, opponent specific thing,
– Jarvis Jones with a nice play on his INT but kudos to Cam Heyward for getting pressure that forced the throw. A gap pressure off a three man rush is an ultimately goal.
– Good blocks by Cody Wallace and Roosevelt Nix but love Ramon Foster turning and washing the defense end.
– Will Allen blitz allows Bud Dupree to not have to worry about setting the edge, letting him one-gap and get into the backfield.
– Nice hands catch by Jesse James. Keeps his balance to get YAC and turns it into a 20 yard gain.
– YAC from Antonio Brown. Best in the league.
– Fold block from David DeCastro and Cody Wallace. DeCastro down blocks the one tech with Wallace on a short pull working to the Mack.
– Love the depth Marcus Gilbert gets off his kickset. Seals the edge very well, as seen here.
– Kick coverage from left to right: Shamarko Thomas-Robert Golden-Roosevelt Nix-Terence Garvin-Vince Williams-Chris Boswell-Anthony Chickillo-Jarvis Jones-Antwon Blake–Darrius Heyward-Bey–Brandon Boykin.
– Another Gilbert combo block.
– Solid pass protection by DeAngelo Williams. A gap pressure can cause problems for a lot of teams. Much less an issue when you have 34 on your side.
– Same play. Gilbert using his length to create separation from the defender.
– Vince Williams staying clean, working down the line, over the center, makes the tackle. Love it.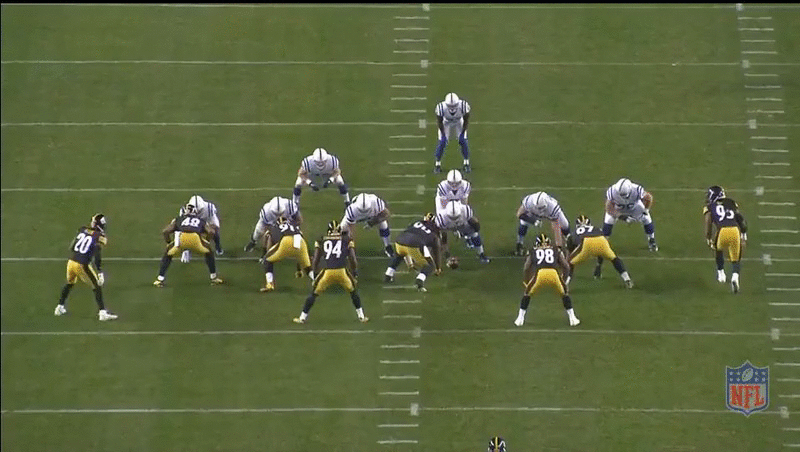 – Cam Heyward probably gets off this block and makes the tackle. Cam Thomas…doesn't.
– Lawrence Timmons and Allen in the same gap. Timmons probably needs to slide down away from the safety blitz. Allows a big run.
– Maybe this is one of the scheme things that killed the Steelers early in the year, but they appeared to take that out and there's no blitz here. So maybe this is a false step, not reading run keys, and takes himself out of position.
– Punt coverage unit: Blake and DHB gunners. Golden upback. Nix and Allen the wings. On the line: Williams-Garvin-Greg Warren-Johnson-Moats.
– William Gay beat on the sluggo route by Andre Johnson. First team he's allowed a catch over his head all year?
– Jesse James plowed over after not latching to a defender, standing around. Rookie moment. Don't loiter. You'll pay.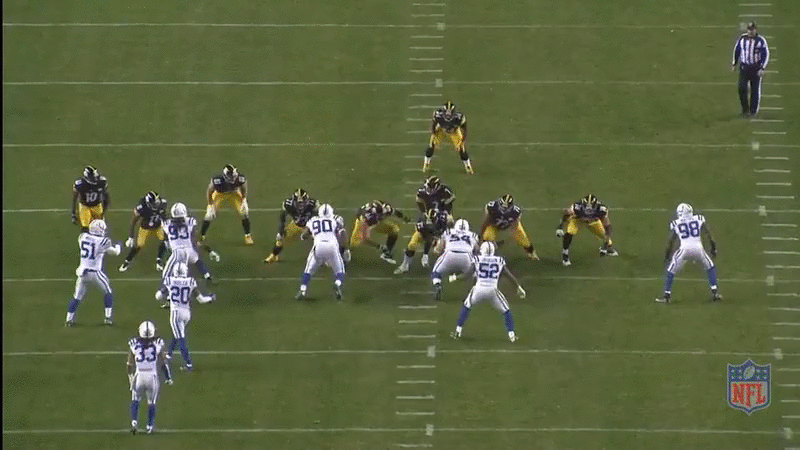 – Wallace doesn't bring his feet often enough when DL cross his face in pass protection.
– Watch Martavis Bryant go high point this football. That's what we want to see. Beautiful.
– Alejandro Villaneuva's athleticism and length lets him seal with the best of them. Robert Mathis way upfield.
– Money throw from Ben Roethlisberger to AB. Played on another level Sunday night.
– Nice job by Ben to find Will Johnson on the two point conversion. Play was designed to go to Brown, and without fail, when they would practice this in camp, would have Brown open. Forced to go to 2nd read. Made a play in the moment.
– Bud Dupree is doing a great job on the punt return unit. Working hard, playing with an edge, going after the ball as a rusher, and knocking guys over as a blocker. First rounder buying into Danny Smith's message and taking pride in his work.
– Quarters defense from the Colts. Middle of the field open, Markus Wheaton is as well and takes advantage.
– Stunt to each side. Again, the experience duo of Gilbert and David DeCastro zone it while the less experienced side of Alejandro Villanueva and Ramon Foster man block it. Villanueva is still a little lost looking at times when he's forced to think.
– You know your tackles seal the edge well when both edge rushers get sealed so hard they run into each other.
– Wallace continues to be on the ground too often.
Second Half
– Brandon Boykin playing the pocket well. Gets his defense off the field.
– Roethlisberger trusting himself and Bryant on the 68 yard TD hookup. Third and three, can hit AB for the first down. Takes the vertical shot, and Bryant wins.
– Speaking of AB, I've ridden him pretty hard about his lackluster blocking but I thought Sunday might have been his best game as a blocker. Better effort. So kudos.
– Good block by Jesse James. Nice rebound after that earlier whiff. Wasn't even really expected to block D'Qwell Jackson. Matt Spaeth whiffed on his block.
– Cody Wallace opens his inside hip when trying to move laterally. Drop step, has trouble mirroring and staying square to the defender.
– Antwon Blake not taken off kick return duties like usual.
– Speaking of which, Steelers missed at least two tackles on kick coverage. One by Nix and one by Chickillo. Doesn't even count the possible Blake miss. Needs cleaned up.
– Love D-Will turning a negative play into a net positive one.
– Ramon Foster is such a great teammate. Fourth quarter, game is over, he still sprints over to help Williams up. Team guy and one I'd hate to see playing elsewhere in 2016.
– Gay's injury came on a classic Gay play. Taking out a pulling lineman on a trap block. Sacrificed his body.
– Robert Golden had a key block on AB's punt return touchdown.
– Markus Wheaton, not Timmons, served as the deep back in the Steelers' victory formation.