Your usual game notes from the Pittsburgh Steelers' 34-27 win Sunday over the Denver Broncos.
First Half
– Kick return unit: Front five – Arthur Moats, Sean Spence, Vince Williams, Terence Garvin, Shamarko Thomas. Robert Golden behind, pretty much no changes with this group. Will Johnson, Roosevelt Nix, and Matt Spaeth the next three though Johnson and Nix made up the real wedge and were constantly double-teaming LB Corey Webster. Apparently someone Danny Smith wanted to take out.
Fitzgerald Toussaint the upback for Markus Wheaton.
– Punt coverage: Shamarko Thomas and Darrius Heyward-Bey the gunners. Robert Golden the upback. Nix and Will Allen the wings. On the line: Williams-Garvin-Greg Warren-Will Johnson-Spence.
– Ryan Shazier fooled by split zone action, the tight end pulling across. Poor run fill, isn't involved in the play.
– Martavis Bryant has to get his head around and keep eyes on the DB on this block. Don't worry about where the RB is going. Doesn't really matter here. Loses his man and loses the block.
– Nice double-team initially from Marcus Gilbert, and I think Derek Wolfe is partially collapsing to avoid getting blown out but still, kudos to Spaeth for moving him out of the way. Lane to let DeAngelo Williams. That's a DE. Not a LB.
– Kick coverage from left to right: Shark-Golden-Garvin-Williams-Nix-Chris Boswell-Spence-Jarvis Jones-Toussaint-DHB-Brandon Boykin.
Nix went back to his regular spot but they added a wrinkle of looping him around to the right side for a 4×6 look. Trying to get him freed up – teams might be keying in on him.
Also worth noting that Antwon Blake isn't a starter on kick coverage. Bumped by Toussaint. Thank goodness he's getting all that rest…
– James Harrison and Lawrence Timmons in the same spot post-snap. Looks to be on James. Ran the same coverage later and Harrison was to the right in proper coverage.
– Antwon Blake definitely shouldn't be blitzing on Emmanuel Sanders' 61 yard TD. Jarvis Jones dropped to that side. Steelers don't blitz a corner and drop to the same side. Shazier did give them some sort of signal so the source of the problem might have been on him. Very hard to say.
EDIT: Wrote this and say Tomlin's mic'd up comments about how the "corners" were late to the quarterback. If both are supposed to blitz, it's the first time they've done it all year long.
– Ramon Foster did a bang up job mirroring and adjusting to Broncos' stunt game. Here we see him push off with his inside foot and get square to the looper. Harder than it looks.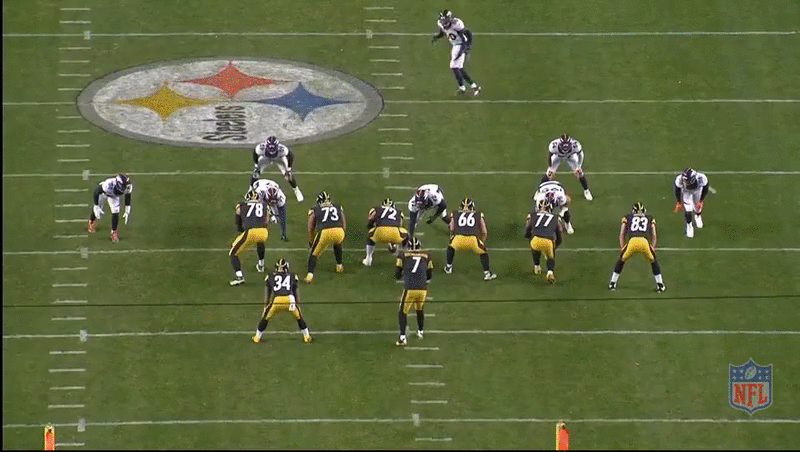 – Awful numbers game here on 3rd and five. Steelers 4 over 2 to the bottom but 2 over 3 – or if you want to be generous with the safety, 3 over 3 – to the top. Owen Daniels wide open for a seven yard gain and moves the sticks. Steelers' defense looked like a preseason game. No idea why.
– Daniel McCullers doesn't move his feet and even try to get down the line on this zone run. No A gap run fit and a big run for Denver.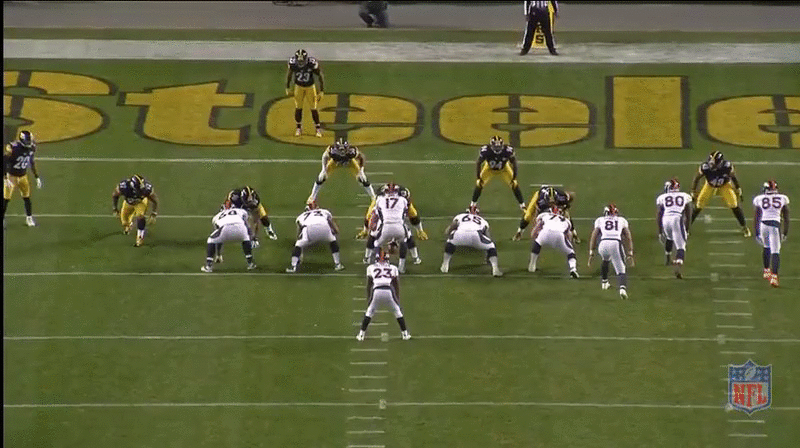 – Very next play. Now check out Steve McLendon work down the line and get penetration. What a difference. McLendon is definitely coming back next season.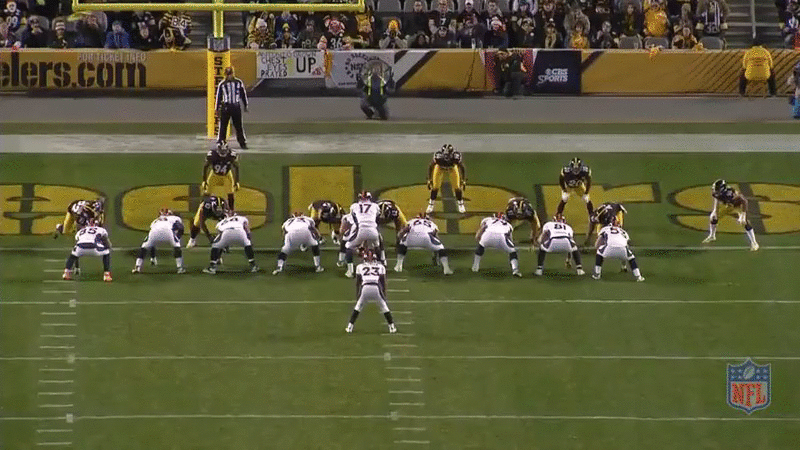 – Speed rush by Bud Dupree and the inside spin by Stephon Tuitt creates a big escape lane for Brock Osweiler. Who does just that and scores.
– DHB ran sluggo on 3rd and 20 where Aqib Talib bit and was called for DPI.
– Oh Antwon Blake. Poor guy. On the ground…again.
– Same play. Love Cam Heyward's rip. Just couldn't bring Osweiler down. Only negative.
– Tuitt struggling against zone runs. Matt Paradis did an excellent job of reaching him and sealing him off. Here's one of several examples.
– 91 did much better against base blocks. Swims over the right guard and makes the tackle.
– So very much to love on this play. The overload blitz pickup. D-Will chipping the ROLB to help Villanueva. Ben Roethlisberger climbing the pocket. The spectacular catch by Wheaton.
Second Half
– Antwon Blake started over Fitzgerald Toussaint in the second half on kick coverage. And then was switched off for Fitz later.
– Shazier did a much better job staying home versus this split zone. RB did help by cutting back and Shazier made the tackle. But I thought he was more patient on the play.
– Is DeAngelo Williams the best active running back in pass protection right now? Honest question. Turns out David Bruton Jr. here.
– Will Allen taken off punt coverage, replaced by Matt Spaeth.
– Lockdown job by the jammers Blake and DHB here. Punt block unit as a whole did a bang up job Sunday. Robert Golden does it well on a week-in, week-out basis.
– Antonio Brown tip drill catch an underrated, overlooked play. If he doesn't catch it, it's 3rd and 19 and the Steelers probably have to punt, down 27-13 mid-way through the third quarter. Instead, he catches it, they convert the following 3rd down, and score on the drive to get within seven.
– Poor technique on his punch but I like the recovery here to get back to the inside hip and in-phase. Emmanuel Sanders just made a spectacular catch.
– Big play by Mike Mitchell to play the pocket and get his defense off the field.
– Antonio Brown does Chris Harris dirty.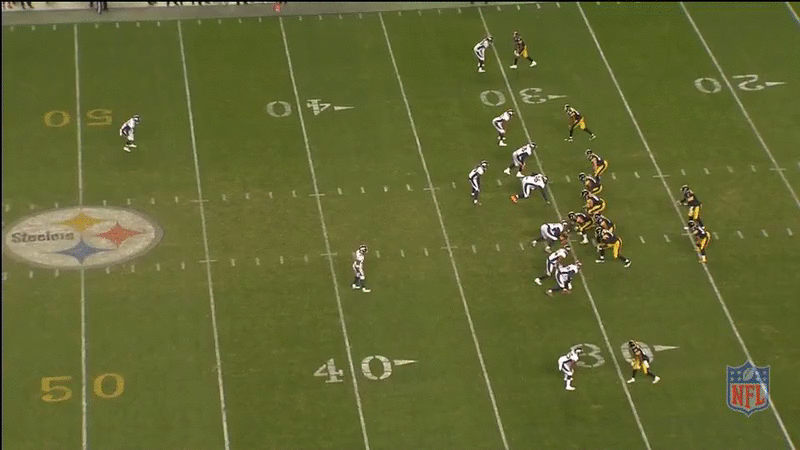 – When you're the special teams coach and you're wondering why your coverage unit didn't pick the football up…
– Cam Heyward swimming over the left guard, getting the sack. Can't stop him.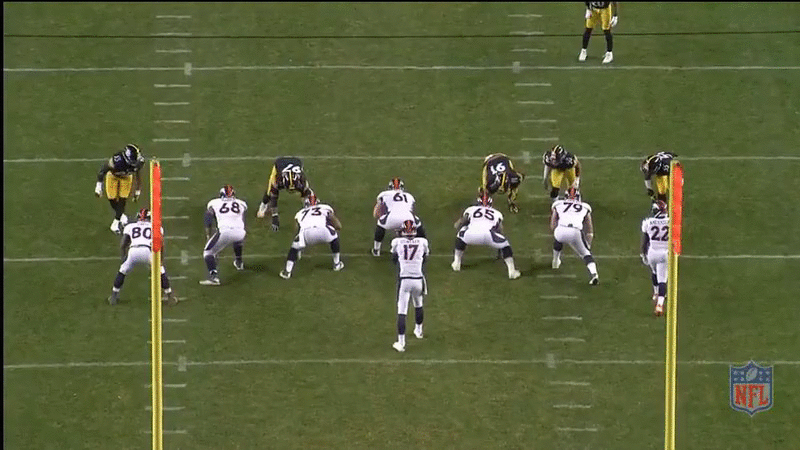 – Doran Grant again replaced Brandon Boykin on kick coverage.
– From a schematic difference standpoint, thought the Steelers ran a little more Cover 2 and a little less Cover 3 in the second half.
– Alejandro Villanueva getting better in stunt pickup. Nice job here.
– But a negative here. Little late off the snap and gets beat around the edge.
– Thank goodness Vernon Davis dropped this ball. Mike Mitchell dove – for some reason – and had no chance to make the tackle. Davis has wheels and green in front of him.
– Steelers still running too many "all vertical" concepts for my liking. Somebody break a route off.
– Watch Stephon Tuitt club the right guard and get pressure on the Shazier INT.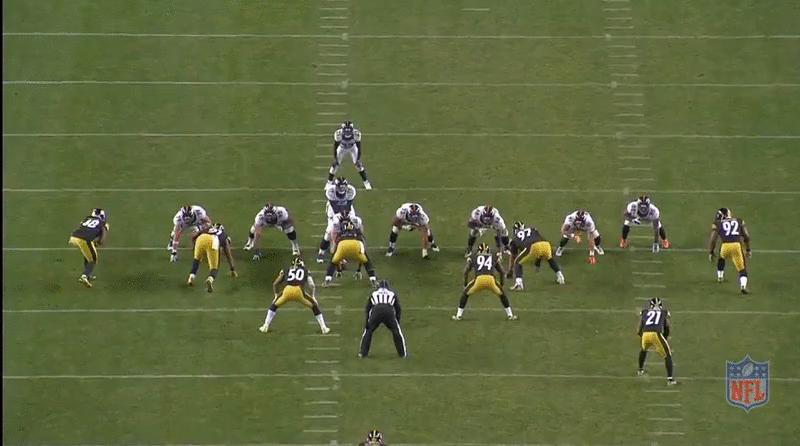 – Kudos to Shamarko Thomas and Robert Golden for not getting overzealous and crashing too hard on the final Denver kick return. In position to slow up the lateral and Shark sheds a block to make a tackle. Really nicely done.
– Think James Harrison dropped into coverage on his own accord on 4th down on the Broncos' next-to-last drive, the quick throw to the running back into the flat. Read the eyes and bailed to make the throw tougher at the last second. Maybe one reason why Osweiler was so off on it.