The front seven of a defense is one of the most cohesive units on a football team. Each position relies on their neighbor to help anchor the defense. Much like the defensive formation of the ancient Spartans if there is one crack in the line the whole unit will fall. This is something that this young Pittsburgh Steelers defense is still trying to perfect. The Steelers would have a good opportunity to impose their will on against an offense that is struggling to be in middle of the pack. This is how the trench warriors faired in last Sunday's epic matchup.
#97 Cam Heyward– 1 negative play, 9 exceptional plays, (+8) 1 QB pressure, 1 sack
#91 Stephon Tuitt– 2 negative plays, 6 exceptional plays, (+4) 1 QB Pressure
#90 Steve McLendon– 1 negative play, 2 exceptional plays (+1)
#48 Bud Dupree– 3 negative plays, 2 exceptional plays (-1)
#92 James Harrison– 3 exceptional plays (+3)
#95 Jarvis Jones– 1 negative play, 3 exceptional plays (+2)
#55 Arthur Moats– 1 negative play, 5 exceptional plays (+4) 1 batted pass
#93 Cam Thomas– 1 exceptional play (+1)
Midway through the first quarter on the Broncos second drive they are faced with a 1st & ten on their thirty-six. The Broncos come out in an empty shotgun set and only leave five to protect the quarterback. The Steelers counter with a four man front with both defensive tackles lined up in the three technique. At the snap of the ball; right defensive tackle Cam Thomas faints to his right, and then slants to the "A" gap crossing the face of left guard Max Garcia. Garcia follows Thomas, at the same time left DT Stephon Tuitt comes across the center and into Garcia.
The entire design of this play was to get Lawrence Timmons free in the "B" gap. Simply put, this is better execution than Keith Butler could have ever expected. Thomas successfully sells his inside pass rush and the rookie Garcia opens the door for Timmons. Never mind the bobbled snap by QB Brock Osweiler, because Timmons is at the quarterback in an extraordinary 1.9 seconds. I would be remiss however, if I didn't mention the excellent bend and corner by the right outside linebacker James Harrison. Had there been no blitz Harrison still may have gotten to the quarterback. A fine example of team defense and unsung heroes doing their job to make plays.
This play comes from the Broncos first drive. It is a 2nd & ten from the Broncos 10 yard line. The Broncos come out in a balanced set with 12 personnel. The play call is a Bronco staple, the 24 split zone. As Alex has previously stated, Ryan Shazier is fooled by the split zone and runs himself right out of the play. He is far from the only player at fault on this nine yard gain. One technique Stephon Tuitt is a half-step slow off the ball and falls victim to a textbook reach block by the center Matt Paradis. Left outside linebacker, Arthur Moats, is washed three to four yards outside and successfully sealed by right tackle Mark Schofield. This results in Hillman going nine yards before contact. If not for a heads up play by Will Allen to put his hand on the ball, it could have been a bigger gain yet. Just another example of how a defensive scheme can fall apart after a mistake by just 3 players.
Late in the first quarter the Broncos are driving and have the ball at the Steeler eighteen. Faced with the 2nd & ten the Broncos once again come out in a balanced 12 personnel formation. This time the Steelers counter in the base 3-4 defense. Notice Heyward not lined up in his traditional heads up five technique like Tuitt is. Instead Heyward is nearly in the "B" gap and angled towards the guard.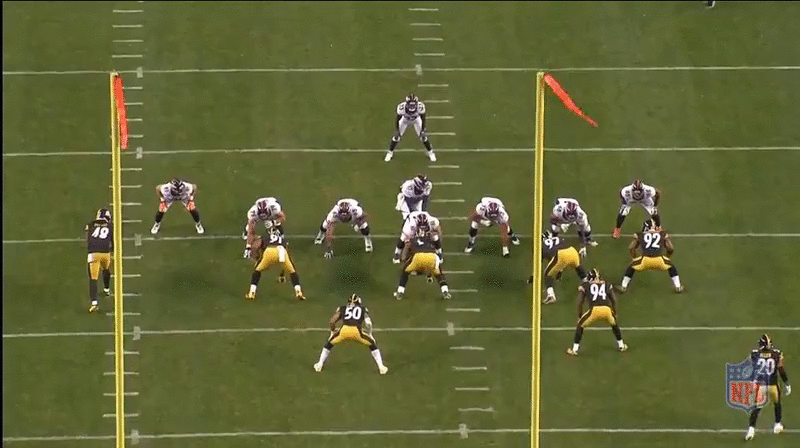 On the snap of the ball left guard Max Garcia sets to his left. This is unfortunate for him because the Steelers down lineman are slanting to their left. Garcia is now in a perilous situation vs an elite five technique. Heyward beats him off the ball and with a simple move is making a beeline for the quarterback. Garcia's overset is not only bad for him but it hinders the left tackle Ryan Harris' set on James Harrison as well. This causes just a momentary stumble by Harris that allows Harrison to burn right past him. These two Steelers force Osweiler to leave the pocket and step up into a duo of blitzing linebackers. The end result is an incomplete pass, an upcoming third down and one heck of a shot on the quarterback.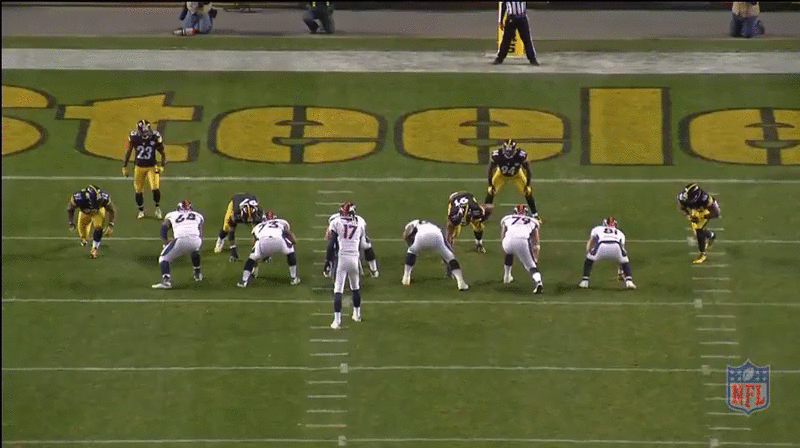 Here we will see one of the biggest situational plays of the game. It's a third & goal from the seven yard line. A stop here and the Steelers keep four points off the board. Now we see the Broncos come out in an empty set once again. The plan is to spread the Steelers out and find a gap in the coverage. The Steelers counter with a four-man rush dropping seven.
One thing about Osweiler that is under rated is his ability to move in and outside of the pocket. Knowing this the Steelers must retain good pass rush lanes to keep Osweiler honest. On this particular play the exact opposite occurs. Left outside linebacker Bud Dupree lines up in the wide nine; and takes a path conducive to pass rushing a quarterback taking a 15 step drop. Dupree runs himself entirely out of the play with just one small push by the right tackle Schofield. Tuitt is lined up in three technique and has "B" gap responsibility. After his initial rush is mirrored he tries inside spin and is once again neutralized.
This combination on the right side opens up a hole you could drive a Mack truck through. It allows Osweiler a leisurely scamper seven yards for the touchdown. The theme thus far seems to be simple; do your job! Nowhere is that more true than on the defensive line.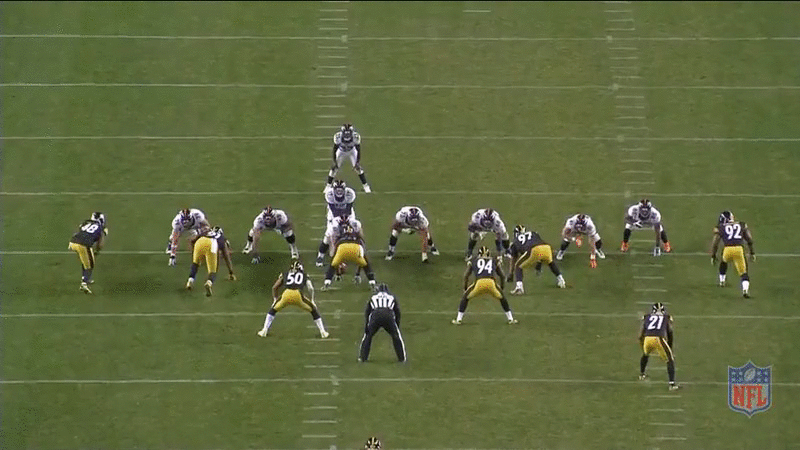 With less than five minutes to go in the 4th quarter the Broncos are facing a 2nd & seven. They decide to go for a play action pass. The end result is one of the smoothest swim moves you will see by a down lineman. The Broncos once again come out in a 12 personnel formation this time, strong left. The Steelers counter with the base 3-4 but only bring four men.
In the blink of an eye, as the ball is snapped Stephon Tuitt sets up right guard Louis Vasquez with a stutter step, then beats him with a quick right handed slap and arm over. If I had to show a young defensive lineman how to execute the swim move I would cite this clip. Tuitt beats Vazquez clean leaving the veteran to wonder what just happened.
As soon as Osweiler turns around all he sees a big number 91. Tuitt arrives at the quarterback in less than 2.2 seconds, an incredible time considering he's an accounted for down lineman. Osweiler is able to avoid Tuitt; but because of the great hustle on the back side by Dupree, he is forced to throw the ball into traffic resulting in an interception. This interception led to the go ahead score and eventual game winner for the Pittsburgh Steelers.
Defensively it was a tale of two halves for the Pittsburgh Steelers. Coming into this match up the Broncos averaged less that twenty-two points a game but put up twenty-seven in the first half. A much less than stellar showing. After a reportedly epic Joey Porter speech at halftime the defense came out with their hair on fire. This translated to a second half shutout of the Broncos and a pivotal interception.
A few observations from last week's game: Cam Heyward was the best player on the field every time he stepped on it. Heyward is the unquestioned leader and his presence is felt on nearly every play. Bud Dupree is a one trick pony at this point and really needs to develop some counter moves. Seemed like Dupree was washed past the play on almost every speed rush. Arthur Moats severely outplayed both Dupree and Jarvis Jones. Moats was disruptive in the run game and was also a force as a pass rusher. Although it didn't translate to the stat sheet Moats had himself one heck of a game.
Finally Stephon Tuitt; who had an up and down first half, but you can't keep this man down. For the second straight week Tuitt is responsible for an key interception. Last week it was catching it; this week it was by smoking the RG off the snap, and forcing a bad throw. If the Steelers defense can replicate their second half performance next week, it could be a laugher in Baltimore. Now there is something everybody can enjoy.