This year, Jon Ledyard and I will be collaborating our scouting reports. We'll play to our strengths – he'll be focusing on the individuals while I'll be looking at overall scheme. These reports will be broken down into two articles, one for offense and one for defense.
Our reports for the Seattle Seahawks' offense.
ALEX'S SCHEME REPORT: 
Seattle's Rushing Offense
As Dave Bryan noted in the Wednesday podcast, Thomas Rawls is having a fantastic season. He's averaging six yards per carry on a good sample size of 101 carries. He isn't getting lucky. Jon says it best in his section, calling him Marshawn Lynch's kid brother. Rawls will dominate the snaps with Fred Jackson seeing some additional work on third down.
The Seahawks have 43 rushes of 10+ yards, good enough for second in the NFL.
Tyler Lockett has two rushes this year. So be on alert for him getting mixed into the rushing offense.
Along the offensive line, Drew Nowak has been replaced for Patrick Lewis at center. Even Pete Carroll basically admitted it was a mistake to stick with Nowak for so long.
Though some of the statistics suggest a strong rushing attack, a lot of their success stems from Lynch and Rawls being power backs who create yards after contact. Their line does an ok job of run blocking, nothing special, but what compounds the problem is the difficult assignments they're tasked to carry out.
You'll get a little of everything from Seattle's rushing attack but they're honestly at their best when they run their gap/power scheme. However , instead they are predominantly an inside zone team and have a heck of a time working in tandem. They struggle cutting off the backside and don't get a great push on the frontside. Don't see enough chips and strong double-teams at the POA.
Lots of difficult reach blocks, especially by the backside lineman. If I'm Pittsburgh, I'm cheating the end inside, and never playing head up, because the backside linemen are usually forced to fend for themselves and reach block a defender shaded inside of them. Very difficult to do, especially given the fact the talent along the line isn't special. Talent doesn't help scheme and scheme doesn't help talent.
Here's an example of what I'm talking about. Here's the tight end trying to seal off the backside defensive end. The end is head up and the tight end can't cross his face and seal him. Unable to execute the reach block. The DE crosses his face and blows the play up.
Here it is the following week versus the Arizona Cardinals. This time, the left tackle can't reach the inside shaded lineman and again, the play is blown up.
And maybe the worst offender of them all. Still no idea what the Seahawks were asking tight end Luke Willson to accomplish on this play. He's supposed to…block Deone Bucannon up the A gap? While the play is away from Willson? At the least, have him come from the other side and turn it into a wham block. Bucannon knifes in, makes the TFL, and Willson is called for the hold.
There are also some number game issues they'll find themselves in. Last week against the San Francisco 49ers, Russell Wilson lets the Seahawks run to the right. Only three blockers for four defenders. And predictably, the play is blown up.
I actually like their power game better. They don't do it a ton but mix it in enough. Have a wrinkle where they will pull the backside guard (BSG) to kick out the EMOL while the TE works to the second level to crack the linebacker.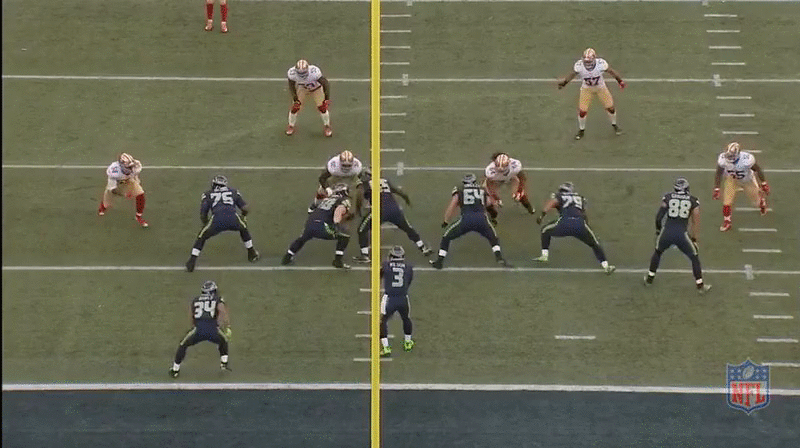 No difficult reach blocks out of their zone scheme helps eliminate some of the negative plays.
Seattle will also sprinkle in their split zone. Offensive line zone blocks one way with the tight end coming across the formation to kick out the backside EMOL.
The Seahawks use a fullback more than most teams in the league with Derrick Coleman and Will Tukuafu combining to see 30% of the snaps this year. They'll run 21 personnel but split their tight end out, giving them to run power with a reduced box.
They also use their fullback as eye candy/window dressing. Will run away from him at times.
Steelers' linebackers are going to have to be quick to react. Seattle sends a good deal of false keys to get you out of position.
Seattle's Passing Game
Wilson is having an efficient, though not spectacular, season. He's completing 67.5% of his throws but has only 13 touchdown to 7 interceptions. He's thrown 2+ touchdowns just once all year, three last week against the 49ers.
Their passing game has been subdued with a lack of a #1 target. Doug Baldwin and Jimmy Graham are the only players this season to go over 80 yards. Jermaine Kearse has been arguably their best big-play threat with eight of his 25 receptions going for 20+ yards. They do have 38 plays of 20+ yards, good for 7th in the NFL, though a lot of that has been created by Wilson's ability to extend the play.
No wide receiver has played 75% of the snaps this season. But Baldwin and Kearse are the starters with rookie Tyler Lockett getting mixed in a lot more since the bye. Prior to it in Week 9, Lockett had played 60% of the snaps just once. He's done it in each of the last two weeks, though I acknowledge injuries at WR has opened the door. He isn't just a slot receiver either – Seattle does a nice job of moving him all over the field.
Had a nice discussion with Dan Hatman of The Scouting Academy the other day and he first brought up to me the fact the Seahawks' passing attack is fairly vanilla. You can almost guarantee a pass out of a 3×1 look, something I can back up with what I saw in watching them for three games.
One playcall the Seahawks and Pittsburgh Steelers have in common is their drag/screen. RB screen with the option to hit a wide receiver running a drag away. You can see it here versus the Dallas Cowboys in Week 8.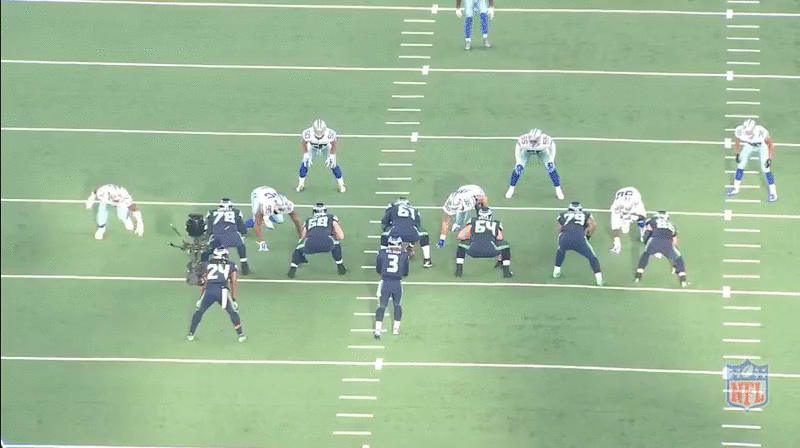 The Seahawks love to create false run keys by pulling their guard and taking shots downfield. Saw it in all three games I evaluated. This isn't a run/pass option. Pass the whole way. Like I wrote, the Steeles' linebackers are going to have to be very disciplined and read their keys while understanding the Seahawks' tendencies to avoid giving up big plays.
As Hatman pointed out and you see on tape, you'll get a lot of spread 3×1 formations out of 12 personnel with Graham and Willson. That keeps you in your base defense but forces you to defend the entire field while helping to clear out the box. They'll try and isolate Graham on the backside, just as the Cleveland Browns did with Gary Barnidge. Expect to see Will Allen matched up versus Graham on Sunday.
You'll also get their Hank/Harry concept, a curl/flat combination. The point to note here is the flat route, the running backs, will turn into wheel routes, carrying vertical up the field. Going to stress the linebackers asked to carry. They'll throw to the RB if he is outleveraging the linebacker pre-snap.
Not the most knowledgable about pass protections but in empty with a tight end attached, the Seahawks seem to tend to full slide away from the tight end. Puts the TE man to man on the end of the line rusher.
Generally speaking, they are not a creative pre-snap team. What you see is what you get. Occassionally trade the tight end, bring a receiver across the formation, but relatively calm compared to what you get out of a lot of other teams. Pete Carroll's mentality across the board is to play simple and fast.
Seattle's Special Teams
Lockett is the main cog in both phases of the return game. The averages might look below-average but he has a kick and punt return for a touchdown and is one of the most dangerous threats in the league.
Richard Sherman, Kelcie McCray, and Marcus Burley make up the jammers.
Their kick return unit is a 6-2-2-1 look. Even up front. Interior guys right next to the hash, the next two on the numbers, the outside two splitting the number and the sideline.
The fullback Tukuafu and big 'ol center Lemuel Jeanpierre (listed 301 pounds) make up the wedge.
Fake alert. And this is just for the field goal team. Punter Jon Ryan serves as the team's holder and ran two fakes from the field goal unit last year. A five yard run on 4th and inches on the Washington Redskins' 30 in the 4th quarter of a game they were down by seven in, and in the playoffs, throwing a 19 yard touchdown pass on 4th and 10 in the third quarter of a game where they trailed 17-0. So watch out for him, Steelers' nation.
JON'S INDIVIDUAL REPORT: 
It has been a tough season for Seattle's offense, largely due to their struggles in the trenches and inability to sustain drives due to 2nd/3rd and long situations. Lengthy down-and-distances are not their offense's strong suit, and offensive coordinator Darrell Bevell has struggled to get the unit into a rhythm with his play-calling.
The Seahawks rank 16th in points per game (22.8), 10th in total yards per game (367.6), and 27th in passing yards per game (219). They do have the #1 rushing attack in the NFL statistically, but those numbers are vastly slanted due to Russell Wilson's consistent ability to rip off big gains on scrambles with almost 400 rushing yards this season.
Seattle has allowed 35 sacks this season, the second-worst mark in the NFL after the Browns 36. They've also allowed Wilson to get hit a league-leading 76 times, making it a true marvel that the quarterback has somehow managed to stay on the field for 100 percent of Seattle's offensive snaps this season. Just three quarterbacks have managed to play every snap for their team this season, a number that will shrink to two when Joe Flacco isn't under center for Baltimore on Monday night (the other is Blake Bortles). There's no statistic to record how many times Wilson has escaped pressure of course, but if you've watched the Seahawks, you know it is something he has to do almost every time he drops back.
The Seahawks are also one of the worst teams in the NFL at converting red zone trips into touchdowns, finding the end zone just over 39 percent of the time (31st). The number jumps up a bit when Seattle plays at CenturyLink Field (41.7%), but remains 26th in the NFL in red zone scoring situations for home teams.
In most other categories, Seattle is around the league average. 15th in 3rd down conversion rate (38%), 12th in turnover differential (+1), and 12th in penalties (73 or 7.3 per game).
If you've watched Seattle's offense at all this season the first thing that you recognize is an offensive line playing well below average consistently as a run blocking and pass blocking unit. Here's the individual numbers in pass protection, according to the Washington Post:
LT Russell Okung: 3 sacks allowed, 5 penalties (3 false start, 2 holding)
LG Justin Britt: 2.5 sacks allowed, 6 penalties (3 false start, 3 holding)
C Drew Nowak: 1 sack allowed, 3 penalties (2 false start, 1 holding)
RG J.R. Sweezy: 3.5 sacks allowed, 5 penalties (1 false start, 2 holding)
RT Garry Gilliam: 4.5 sacks allowed, 3 penalties
OT Alvin Bailey: 2 sacks allowed, 0 penalties (1 start)
C Patrick Lewis: 1 sack allowed, 1 penalty (1 false start, 3 starts)
There has been a little change amongst the offensive line, but Okung, Britt, Sweezy, and Gilliam have all played over 90% of the team's snaps, while Nowak and Lewis have both played center. As you can see, tons of false start penalties, 12 total as a team, which is tough for an offense like Seattle's to overcome. Even more inexplicable is that 8 of the 12 have come at home, where you would think the group would be more comfortable.
It doesn't take long to find protection breakdowns on Seattle's offensive line. First snap against Arizona in Week 10, Sweezy fails to move his feet and allows immediate interior penetration. Only Wilson's pocket movement and awareness turns a sure sack into a seven-yard gain on first down.
On the very next snap Calais Campbell punches Sweezy off-balance for what would have been another free run at Wilson if Marshawn Lynch doesn't alertly pick him up in a max-protect situation. Just bad looks for Sweezy, who does have a violent punch, but doesn't communicate well and can be overly aggressive at the line of scrimmage.
Sweezy looks like a star compared to left guard Justin Britt, who I've often referred to as one of the worst starting pass protectors in the NFL. When Seattle had him at right tackle, it was one of the more painful displays in professional football each time he lined up, so thankfully they've wised up and moved him inside. Britt still isn't ideal, but he's much more suited for guard than tackle.
Still, Campbell jacked him up at the line of scrimmage on this run, forcing Britt to hold him to avoid a TFL.
Campbell is obviously a load, but Britt doesn't bring his lower half and as soon as his weight is out over his knees, the Cardinals defensive end tosses him aside. Britt is typically a better run blocker than he is a pass protector however, and can bring some nastiness in the trenches.
So much wrong on this next snap. Gilliam can't seal the edge against Dwight Freeney, and Patrick Lewis and Britt don't communicate on the stunt up front. Allows Freeney to generate edge pressure immediately, combined with Campbell blowing by Britt for an interior pressure as well.
Arizona's pass rushing attack is similar to Pittsburgh in that they'll come with a variety of blitz and rely on a plethora of players to generate pressure to compensate for their lack of a dominant edge rusher. I've shown you just part of Seattle's offensive line struggles, all simply from the first quarter of this game. Also important to note, on none of the plays I've shown you or reference has Wilson actually been sacked. So considering the fact Seattle leads the league in sacks allowed, you can only imagine how bad it gets when defenders are finishing the job.
The result has been devastating on Wilson's game. He's feeling and sensing pressure even when it isn't there, and having a hard time concentrating on making plays down the field. Because he's forced to scramble so often, he's improvising constantly, and while it is one of Wilson's strength, in the NFL that style only works so often. Can't make a living out of it, although the quarterback's mobility is one of the few positive aspects of Seattle's passing attack.
When he does have time to set his feet, progress through his reads, and deliver the ball, Wilson's mechanics are as sound as ever. He's got a great arm and the ability to fastball throws into tight windows. Wilson sees the field well, and can drop the ball in the bucket with some of the best touch throws in the game.
Doesn't get much prettier than that. Also, major props to Paul Richardson, who showed an excellent release off the LOS to win vertically down the field. His return from injury adds another dimension to the Seattle offense thanks to his home-run hitting ability. He did injury his hamstring, which forced him out last week. We'll see if he plays on Sunday.
Jermaine Kearse has long been a receiver who drives me nuts as an evaluator. There is athletic ability and some incredible peaks that exist in his game, but he's maddeningly inconsistent with very poor attention to detail and questionable hands. Prime example against Arizona with the team facing a 1st-and-20 from deep in their own territory. Great opportunity to pick up 8 or 9 yards on first down and get yourself into a more manageable down-and-distance, but Kearse runs the curl passively, then fails to come back to the ball with the cornerback closing.
Just sloppy route-running that forces his team in 2nd-and-20, where we've already stated they struggle. Kearse has his moments, contested grabs where he high points beautifully with a nice catch radius. But they are just too few and far in-between for a starting wide receiver in the NFL in my opinion.
Jimmy Graham, what to say about him? If you follow me on Twitter, you're well-aware that I'm lower on Graham than many of my colleagues, mainly because I don't think he's physical enough to excel in any situation, despite his obvious athletic ability. It isn't that Graham isn't good, he certainly is, but if you're a top-tier receiving threat I want to see a bully at catch points, and a guy who won't be denied trying to get open in key moments. I don't see that enough from Graham for me to consider him an elite player.
But I do think he and Wilson are getting comfortable together, and the quarterback is looking for him consistently in the red zone now. Here's an absolutely marvelous fastball from Wilson in-between two defenders that Graham should squeeze for a TD.
Probably only not a TD thanks to the dumb catch rules of the NFL, but still a ball Graham needs to hang on to and outmuscle the defensive back for.
Wilson isn't without fault either however. He's missed some opportunities to make plays for his team, and made a coupe more costly mistakes through ten games this season that we typically see from one of the smarter quarterbacks in the game. I saw this pass live and groaned, as Wilson had Doug Baldwin open for a big gain down the field, and just missed the throw badly.
Great route by Baldwin to get separation on the corner-post pattern, but Wilson throws outside over his head, allowing the defender to record the interception. Definitely rare for Wilson to misfire deep, but this was an important miss in a tight game against a division rival.
Baldwin is a good receiver who does a lot of damage from the slot, and wins despite his size limitations. Great route runner with strong hands, who will do the dirty work to get open.
Tyler Lockett, my favorite player in the entire draft this past spring, may already be Seattle's most dangerous threat at wide receiver. The 5'10, 182-pound receiver has some similarities to Baldwin, but he's even shiftier with exceptional route-running skills and toughness after the catch. Lockett has legit 4.4 speed too, with the ability to win vertically and threaten defenses over the top. Dynamic playmaker who the Seahawks look to get in space on slip and bubble screens as well.
On the season, Baldwin (74.3%) and Kearse (72.1%) are playing the majority of snaps, but Lockett's count has gone up considerably of late, tying Baldwin with 54 snaps last week against San Francisco. Paul Richardson is likely the fourth receiver when healthy, but his missed time has given way to Ricardo Lockette (now injured) and Chris Matthews.
Graham leads the team in targets with 65, 44 of which he has caught for 530 yards and two scores. Doug Baldwin has the same amount of catches on just 57 targets for 539 yards and three touchdowns, while Kearse has converted 25 of 38 targets into catches while accumulating just 382 yards. Lockett has also grabbed 25 passes and scored three times. No other wide receiver has more than four catches or seven targets this season.
Tight end Luke Willson, who I think is the secret weapon in Seattle's attack, has 11 catches on 17 targets for 140 yards and a touchdown. His play speed is excellent, and he can threaten the seams while showing great toughness at catch points. He's not a great route runner, but Willison has a nice little extra gear out of his breaks, and he's probably a better blocker than Graham.
With Lynch recovering from sports hernia surgery, the Seahawks have turned to rookie Rawls to shoulder the load of the ground game, and the Central Michigan stud has responded with a marvelous 10-game stretch. Rawls is averaging a ridiculous six yards per carry on 101 attempts for 604 yards. He's a fully capable receiver as well, with six catches for 54 yards on just seven targets. Rawls could be Lynch's kid brother, running with the same physicality and violence, with perhaps more acceleration at this point in his career.
First, an outstanding adjustment to snag a slightly off-target throw from Wilson, then decides to trample a defender rather than run out of bounds. I'm a sucker for physical backs with outstanding balance and play strength, and Rawls has both. Pittsburgh's tackling is going to have to be on point if they want to slow him down coming off a 209-yard rushing performance against San Francisco. Fred Jackson is gaining 4.3 yards per carry as Rawls backup too.
Steven Hauschka is a top five kicker in the NFL and is having a career year, going 21-22 and 4-4 from 50+. His only miss was blocked, and one of his two extra point misses was blocked as well.
That's actually an issue for Seattle, as Hauschka has had seven field goal attempts blocked in the five years he's played for the Seahawks, along with three extra points. By comparison, Adam Vinatieri has only had 10 field goals blocked in 20 years in the NFL. Hauschka, from his own doing or not, is on pace to dwarf that number. Something to keep an eye out for.
The Seattle kicker is 13-21 from 50+ in his career, with a long of 58 yards. He's forcing touchbacks 52.8 percent of the time, which is around league average. Hauschka has never ran or thrown a pass on fake field goal attempt before.
Lockett is already one of the best punt returners in the NFL, scoring once and posting two other returns of 20+ yards. Lockett has also scored once on a kickoff return (so dynamic in the open field) and is averaging over 24 yards per return. Steelers coverage units will need to be on point Sunday afternoon.