This year, Jon Ledyard and I will be collaborating our scouting reports. We'll play to our strengths – he'll be focusing on the individuals while I'll be looking at overall scheme. These reports will be broken down into two articles, one for offense and one for defense.
Our reports for the Oakland Raiders' offense.
ALEX'S SCHEME REPORT:
Oakland Raiders' Running Game
Latavius Murray is their bell cow with over 70% of the team's carries. Murray has 115 attempts – The next closest are Taiwan Jones and Roy Helu Jr. with 12 apiece. The Raiders have lacked splash plays in the run game, ranking 20th with only 15 runs gaining 10+ yards.
Like the Pittsburgh Steelers, the Raiders employ two fullbacks. Think of Marcel Reece as their Will Johnson – though used much, much more – and Jamize Olawale as their Roosevelt Nix. Reece is playing just over 22% of the time while Olawale is over 10%. Reece has 20 catches, Olawale 10 carries.
As Jon alludes to in his section, Khalif Barnes has seen 19 snaps this season as an extra tackle. We know it's been as an extra tackle and not as a fill-in because the Raiders are the only team in the NFL to have their five lineman play 100% of the snaps this year. That's remarkable continuity.
The Raiders show a variety of blocking schemes but at their core, they are a power team. Much more man and gap scheme than zone. Their calling card is getting strong double-teams on the interior and getting a big push at the point of attack. Here's the right tackle and tight end doubling the three technique, knocking him off his feet and opening a lane while the tight end works to the second level.
They love to get their lineman moving with their gap runs. Will pull any and all of their lineman with traditional trap blocks and a pin and pull scheme. They run a crack toss game similar to the Arizona Cardinals we showed a few weeks ago. Will run it to the field side and dress it up with either a bunch look or late reduced motion from their #1 receiver. Saw it a lot on first and ten, a down/distance tendency to watch out for Sunday.
Amari Cooper has also received one end around off their crack toss game.
They'll get their ultra-athletic center Rodney Hudson, a favorite of mine coming out of Florida State, on the move too with their pin and pull scheme. Pull the right guard and center with the right tackle downblocking.
Majority of their zone runs come out the shotgun. One alert to their shotgun runs are shifting the back from one side to the other.
Oakland's Passing Game
Derek Carr is having a fantastic season. Over his last three games, he's completing 68.9% of his passes with eight touchdowns and one interception. On the season, Carr has just three interceptions and joins Tom Brady and Alex Smith as the only QBs with 225+ attempts with three or fewer picks.
Amari Cooper and Michael Crabtree are obviously the top two weapons. Both are the only two with more than 20 receptions. Each have eight grabs of 20+ yards and through seven games, the Raiders as a unit have 25 plays of such gains. That's tied for 12th in the league.
They have a three-headed committee at tight end with Mychal Rivera, Clive Walford, and Lee Smith. Smith is the best blocker of the three and is playing over 50% of the time on a consistent basis. Walford's snaps and involvement are growing, logging around 40-45% of the time, and has caught five passes for 88 yards and a touchdown over his last three games. Rivera…is kind of just there, and sees 30-35% of snaps.
Cooper and Crabtree are clearly the starters. Seth Roberts act as the team's slot guy while Andre Holmes will get mixed in on the outside, seeing heavy use as a blocker and often motioned behind the offensive line.
As a team, five different players have at least two receiving touchdowns, despite some players seeing limited targets. Touchdown efficient, you could say. Reece has three scores on 20 grabs, Holmes has three on six, and Roberts has two on nine.
Oakland does a nice job pairing its plays. Using the same look to run and pass off of. Great example in Week 7 against the San Diego Chargers. On the first, the Raiders ran the ball with the TE blocking across the formation in a split-zone look.
The very next play, the Raiders line up the same way, block the same way, but playaction off it. Have to read the hat of the offensive line (low hat = run, high hat = pass) to read what the play actually is.
Similar to what Todd Haley does, here are the Raiders faking the bubble screen and looking vertical.
The Raiders will use false keys and pull their guard in their screen game. Here it is on first and ten late in the second half in both the Chargers game and last week versus the New York Jets. Both went for first downs, the former going for a touchdown via Cooper.
Often will swing receivers out of the backfield with an all-curls look, widening flat defenders to open up the curl. Don't have a great name for the idea but they sure love doing it.
On third and short, they will look to isolate their receiver to the boundary for a quick out. Against the Jets, on third and three and third and two, they showed the same look. Four by one with one player to the quad side getting motioned into the backfield and a three step drop with a throw to the boundary.
Will use level concepts for vertical shots. Here's a level concept against the Chargers. Shallow dig influences the linebacker, opening up the one behind it.
And basically a split/dig route combination that went for a touchdown versus the Jets a week later.
Derek Carr has his fair share of RPOs, though not to the extent we've seen from other quarterbacks. They will mix up his landing spot and get him moving on some half rolls and dashes.
Oakland's Special Teams
Cornerback D.J. Hayden and running back Taiwan Jones serve as the team's jammers. T.J. Carrie is the punt returner and has called just 2 fair catches on 19 attempts. Pretty aggressive.
Their kick return formation is a 5-1-2-1-2. Jones is the kick returner, averaging over 28 yards per kick with a long of 41. Reece serves as his upman. Punter Marquette King is the Raiders' holder on field goals and has never attempted a pass in the NFL.
JON'S INDIVIDUAL REPORT:
I honestly wasn't sure I would live to see the day where the Oakland Raiders offense was in the NFL's top ten in yards per game (9th), points per game (8th), passing yards per game (10th), 3rd down percentage (8th), and turnovers (9th), but here we are. Through seven games and battles against several quality opponents, those numbers are no fluke either. In fact, this Raiders offense is likely just beginning to hit their stride.
Perhaps the most improved area of a Raiders offense that is full of them has been the play of Oakland's offensive line. All five starters have played every one of the offense's 460 snaps, and several members of the unit are turning in the best season of their careers.
The individual numbers on the line this season, via the Washington Post:
LT Donald Penn: 1 sack allowed, 4 penalties
LG Gabe Jackson: 0 sacks allowed, 1 penalty
C Rodney Hudson: 0.5 sack allowed, 3 penalties
RG J'Marcus Webb: 2.5 sacks allowed, 2 penalties
RT Austin Howard: 3.0 sacks allowed, 5 penalties
As the stats indicate, Oakland's offensive front is a tale of two halves, as the left side and Hudson have been brilliant, while the right side has struggled. You'd be hard-pressed to find someone as high on Jackson as I was before the 2014 draft, and he was been everything I believed he would become in his second season in the NFL. A nasty, grinder on the interior, Jackson can straight up move people off the ball, showing great technique and football IQ.
Jackson lasted until the third round because many teams believed he wasn't athletic enough to play in space, and while he's a phone booth hero, the Mississippi State product can pull and hit targeted defenders with the best of them.
While Jackson's run blocking is still ahead of his pass protection, he's no slouch there either. Watch how flawlessly he and Penn handle this twist by Denver's ultra-athletic front.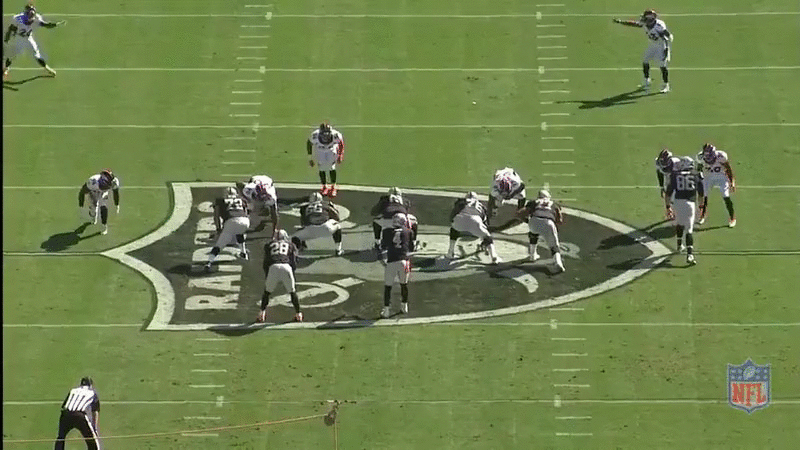 Great help by Jackson to double the crasher until DeMarcus Ware loops around, at which point the guard effortlessly slides laterally to knock the pass rusher off his feet. Check out Hudson finding work from his center spot too, knocking Malik Jackson off his feet to provide a clean pocket for Carr to work from. Textbook stuff against the best pass-rushing team in the league.
Unfortunately for Oakland, the right side of their offensive line has far more issues with handling simple stunts than the left side. Howard fails to pass off Von Miller here, allowing Malik Jackson to loop around him and get to Carr for the sack on a big third down in the red zone.
Hudson is the rock in the middle of Oakland's line, one of the hardest-working and more agile centers in the NFL. The Raiders love to get him out in space on screens and such, allowing him to hit targets on the move with devastating power and accuracy. Just flattens the safety on this slip-screen to Amari Cooper, hustling to get 15 yards downfield and throw the block that frees the receiver for a touchdown.
Oakland's offensive line does commit a whole passel of penalties, with 15 in seven games this season. That number reflects the offense as a whole, which has record 64 penalties this season, the 5th worst mark in the league. One other aspect of the offensive line to note, tackle Khalif Barnes will often come in as an extra blocker in run-heavy packages.
Latavius Murray is the main back for Oakland, although he's played in just 65.1 percent of the offense's snaps this season. He needs to be in more often in my opinion, as the 6'3, 230-pound back is tough to bring down thanks to his long, decisive strides and well-built frame. 534 yards and three touchdowns on just 115 carries is good for a 4.6 average per tote, one of the better marks in the league.
Just extraordinary balance by Murray along the sideline to tip-toe around and through arm tackles with ease to maximize this gain. He's a poor-man's Le'Veon Bell in many ways, able to be a fully-capable target out of the backfield with 19 catches this season as well.
Roy Helu is a great backup running back because of his versatility, but Taiwan Jones has leap-frogged the longtime veteran over the past two weeks, recording 23 snaps to Helu's 10. Both have just 12 attempts on the season however, and Marcel Reece is the team's primary option off the bench due to his well-rounded game and ability to help the offense in a number of roles. He's the Raiders more heavily-utilized version of Will Johnson, with 20 catches on 24 targets while playing over 22 percent of the team's offensive snaps, basically doubling Helu and Jones. Reece will line up as a fullback, wide receiver, and even carry the ball on occasion.
If the offensive line isn't the most improved aspect of the Raiders offense, then Cooper's emergence easily is. The Raiders have been toiling in wide receiver hell for far too many years, so long that they actually thought players like Brice Butler, Denarius Moore, Rod Streater, and Andre Holmes were going to become studs for awhile (gasp). Oakland hasn't had a 1,000-yard receiver since 2005 (Randy Moss, 1,005 yards), but Cooper is on pace for almost 1,300 yards, a mark that hasn't been eclipsed since Tim Brown in 1999.
Cooper was my sixth overall player in the 2015 NFL Draft class, which may actually be too low in retrospect. He was a consensus top ten prospect among almost every draft board, mainly due to his elite route-running abilities and exceptional short-area quickness. If you watch his footwork on Sunday, you'll see a receiver with an advanced ability to separate, easily one of the best qualities Cooper possessed entering the league.
What has maybe surprised some people is Cooper's ability to win contested catches by high-pointing the football consistently. It isn't that Cooper didn't do it in college, its just that he rarely was asked to, and his catch radius clearly isn't as extensive as fellow rookies such as Dorial Green-Beckham and Kevin White. Regardless, this kind of form at catch points is pretty difficult to argue with.
Michael Crabtree is no slouch either, with 40 grabs on 68 targets for 483 yards and three scores this season. Watching him on tape just reinforces the stance I had this spring, one of utter amazement that no team seemed interested in the 28 year-old free agent, who went unsigned for two months before Oakland nabbed him in April. He's a great target for Carr, as his wingspan and sure hands allow him to improvise on the quarterback's occasionally slightly off target pass. Crabtree is also tough to bring down after the catch, a testament to how hard he's worked as a route runner to put himself in position to succeed with the ball in his hands.
Crabtree and Cooper have been the intended recipients of 127 of the Raiders 260 attempted passes this season, or just under 50 percent. No one else on the team has more than 24 targets in the passing game, and that number belongs to the fullback Reece.
That isn't to say the rest of the Raiders weapons are bad, because that simply isn't the case. There is big play potential all over the offense, from backs to tight ends to receivers. Andre Holmes has six catches this season, but three are for 20+ yards and three are for touchdowns. Seth Roberts has nine catches this year, and two are for 20+ yards and two are for touchdowns. Taiwan Jones has just five grabs out of the backfield, but made several Jets miss on a 59-yard touchdown catch-and-run last Sunday. Even rookie tight end Clive Walford, who has managed just seven grabs on 160 snaps, has a touchdown from 23 yards out and another 33 yard catch. Don't forget about tight end Mychal Rivera, who has 11 catches this season but is still looking for his first touchdown of the year.
Offensive coordinator Bill Musgrave has done a great job getting all the weapons involved in the attack, yet still relying heavily on the guys who have the ability to carry the offense like Cooper, Crabtree, and Murray. The Steelers have done a fine job of eliminating big plays this season, but it is critical to note that Oakland is one of the best teams in the NFL after the catch. The Raiders currently rank seventh in total yards after catch, but gain about an average of 6.3 yards after the catch per reception, good enough for fifth in the NFL. If Pittsburgh wants to limit the Raiders offensive output, they're gonna have to tackle the catch as well as they did against Cincinnati this past week, and much better than they have for much of this season.
At last we come to Carr, the star of Oakland's revamped offensive attack. The biggest difference between Carr this year and Carr last year is the improved protection in front of him. He's always had the arm to make every throw, but has had difficulty throughout his college career and his rookie campaign against pressure. That hasn't been nearly as much of an issue this season for a couple of reasons. One is the offensive line, but two is Carr's excellent movement within the pocket and ability to keep his attention downfield.
Feels the edge pressure here, but instead of winging the ball under duress or turtling up, Carr simply slides up in the pocket, gets his feet set, and fires a pass on-target to Crabtree for 16 yards on third down to get his team in range for a 47-yard field goal. Big time quarterback play.
Carr has a rocket arm, but he's quickly learning to vary his trajectory and add some touch when necessary as well. Look how calm he is in the pocket on this throw, floating the ball just over the head of the defender and into the arms of Walford for the score.
Just gorgeous. Carr might honestly throw the prettiest looking spiral in the NFL. The spin and velocity he can put on the ball is pretty remarkable.
There honestly aren't too many negatives to Carr's game right now. I think he's a rhythm passer, so making him uncomfortable early on in the game is going to be critical. I'd attack the right side of the Raiders offensive line with both barrels, which is why Stephon Tuitt's health is going to be critical. Carr has a bit of a long delivery, but the ball comes out with so much velocity that it makes up for whatever time is lost in his mechanics. His footwork is so improved, but he'll throw off his back foot against interior pressure a bit too. Carr takes some chances, but he's much more calculated this season, as 15 touchdown passes and just three interceptions indicate. Trusts his arm, but not to a fault.
Sebastian Janikowski is still a pretty solid kicker at age 37 in his 16th season, and has not missed an extra point this year. In fact, you have to go all the way back to 2008 for the last time Sea Bass missed a point-after attempt, a ridiculous streak of 104 consecutive games and almost seven full seasons. Lifetime, Janikowski is 501-504 on extra point attempts in 243 NFL games. Whew.
Janikowski missed nine field goals in 2013, but bounced back with a 19-22 season last year, including hitting a 57-yarder. His range isn't as consistent as it used to be, but he's still hit a 51-yarder or longer in every season of his NFL career except one, including a handful from 60+. I wouldn't want the game coming down to whether he can hit one from distance or not, no doubt about that.
As crazy as it sounds, in 16 NFL seasons Janikowski has never attempted a pass or a rush on a fake field goal. You'd think at 6'1, 265 pounds, just once the Raiders would want to give him the ball and see what kind of damage he could do. After all, they did spend a first round pick on him….
About 65 percent of his kickoffs go for touchbacks, and when they are returned, the Raiders are allowing just 19.9 yards per attempt.
The Raiders haven't had a kickoff return for a touchdown since 2011, when Jacoby Ford took one back, and haven't scored on a punt return for a touchdown sinceJohnnie Lee Higgins did it three times in 2008.
Most of the time safety TJ Carrie handles the punt return duties this season, but occasionally the Raiders will slide Cooper back there if they need a big play. Both are averaging just over six yards a pop. Taiwan Jones is the kick returner does a great job, averaging over 28 yards per return in just nine tries. Busted a 41-yard return this season too. Occasionally Helu will get a crack at a return as well, with four on the season, including one for 37 yards.