We're back to break down the lone sack allowed by the Pittsburgh Steelers in Sunday's 30-9 win over the Cleveland Browns.
1. 3rd and 10, 4:14 2nd. 01 personnel. Five block against a three man rush. This breakdown is actually really simple and won't take long to explain. Steelers want to run a TE screen to Heath Miller. Not a terribly uncommon playcall in this area of the field from Todd Haley. Karlos Dansby just makes a heady play to stop rushing upfield and cover Miller, taking the option away.
With the offensive line releasing to block on the screen, there's no one to pick up the blitzing Christian Kirksey. With no one to throw to for Ben Roethlisberger, he is forced to take the sack. Still in the pocket so he can't throw the ball away.
Just a great individual play by Dansby to snuff this one out. So we'll attribute it entirely to coverage and no one else.
Blame: Coverage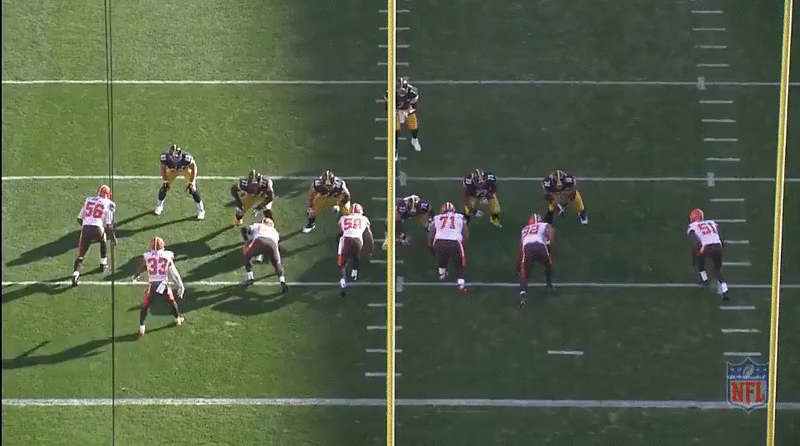 Sack Counter (Game):
Coverage: 1
Sack Counter (Season): 
Cody Wallace: 4.5
Mike Vick: 3.5
Alejandro Villanueva: 3.5
David DeCastro: 2.5
Kelvin Beachum: 2
Ramon Foster: 2
Coverage: 1.5
Marcus Gilbert: 1
Todd Haley: .5
Penalty Breakdown (Game): 
Ramon Foster: 1
Alejandro Villanueva: 1
Cody Wallace: 1
Penalty Breakdown (Season):
Cody Wallace: 7
Kelvin Beachum: 5
Marcus Gilbert: 4
Ramon Foster: 3
David DeCastro: 2
Alejandro Villanueva: 1