Speaking strictly as a football player, there are few players I respect more than Antwon Blake. Coming out of UTEP, not one NFL team thought highly enough of the diminutive corner to risk a draft choice on him, as Blake was signed by Jacksonville as a free agent. They said he was too small at 5'9, that he lacked NFL-level athleticism, and that four collegiate interceptions showed a lack of ball skills heading into play against a much higher level of competition than he faced in Conference USA.
Most of you know all that, just like you know how Blake eventually worked himself into the starting lineup last season and played well enough to remain at left cornerback this season. Thanks to injuries and a dearth of talent last season, Pittsburgh had no other options at cornerback, and compared to the oft-torched Cortez Allen, Blake looked like Mel Blount.
But now the year is 2015, and this Steelers defense isn't the hapless unit that got shredded by team-after-team the past few years. The defensive line is the strength of the team, the linebacking corps is deep and talented, and Mike Mitchell is finally showing why Pittsburgh signed him to a healthy deal last offseason as a free agent.
The concern of course, is the cornerback position, where Ross Cockrell and Blake have teamed up with veteran William Gay to man the top three spots for the Steelers nickel-heavy defense. Gay has been excellent in coverage as expected, despite the fact that he seems to be missing an unusually high amount of tackles. Cockrell isn't perfect, and struggles in man coverage, but he's had good positioning most of the time, and has picked up the defense quickly.
Then there is Blake, who was lit up by the Arizona Cardinals offense time and time again on Sunday afternoon. The list of reasons for Blake's struggles is substantial, but amongst his worst traits is his footwork. You've probably heard myself or Alex Kozora talk about it before, but Blake is very clunky working out of his pedal to defend underneath passes in front of him. We saw it in San Diego quite clearly on this catch-and-run by Keenan Allen.
Cornerbacks who are weak vertically typically give a bigger cushion to receivers underneath, in hopes of giving themselves more space to recover on a double-move or go route. Blake's employing that strategy here, willing to give up the underneath route provided he can make the tackle immediately following the catch.
Two issues with that. One, Blake's closing speed is always a struggle due to his lack of explosiveness when asked to change directions. On this play we see it in the transition from his backpedal to his straight-line speed burst, and also laterally when he misses the tackle. That's the second issue, you can't succeed in off-coverage if you can't tackle, and Blake has struggled in that arena this year, with a team-high 13 misses. Here he simply takes an overaggressive angle to the ball, overcompensating inside as if he believes he'll arrive in time to make a play on the ball. This allows Allen to pivot outside into the clear, and leaves the fourth-year cornerback clutching air.
But none of Blake's brutal performances this season compare to his dud against Arizona, which prompted Pro Football Focus to make this commentary:
"The Cardinals picked out CB Antwon Blake (-3.4) as the man they wanted to pick on in the passing game for this one, and evidently they chose correctly. Blake was targeted 13 times, and allowed nine of those to be caught for 163 yards and a touchdown. Every reception he allowed was for a first down, and on two of the incompletions Blake was beaten and Carson Palmer just missed his receiver. If you take away Blake's rough game, the rest of the Steelers' secondary actually didn't play that poorly, allowing 20 receptions on 31 targets for 258 yards and 0 touchdowns."
Regardless of what you think of PFF's overall numeral ratings, the statistics listed there can't really be argued. Blake's issues stemmed from a variety of concerns on Sunday, the most paramount of which was his footwork and overall technique. Michael Floyd beat him with an inside release on this touchdown in the 1st quarter.
Admittedly this is a great release by Floyd, but Blake hops outside immediately on the receiver's first movement, falling for the fake and allowing several yards of separation when he can't recover in time. Perhaps Blake is a bit overaggressive here, but one wrong move on the goal line can get you killed. I don't mind his desire to bite on an outside release right away, but Blake simply doesn't have the footwork and lateral agility to compensate for a false step or two. As soon as he takes that step outside, the play is basically over. Even when the pass is tipped at the line of scrimmage, Blake has given up too much separation to get there in time to make a play on the ball.
I won't show you video of this, but in the first half against Arizona, I noted Blake flipping his hips outside on an inside release three times, giving up tons of separation. This aspect of his game is simply mental/technical. You cannot flip your hips outside and turn all the way around on an inside release as a corner in man coverage.
While Blake wasn't targeted in either of these instances, pivoting the wrong direction in this way results in a large throwing window for the quarterback to place the pass, and makes it much more difficult to locate and make plays on the ball as a defensive back. Can't turn your back to the ball on inside releases and expect to make the play.
Blake's coverage and technique is actually sound on this play: jam the receiver into an inside release at the line of scrimmage to funnel him to the safety for help. Blake does this, but simply can't mirror Floyd on the inside stem of his route. Just doesn't have that kind of quickness and ability to change directions smoothly, and Floyd won't be the shiftiest guy he faces either.
Speaking of shifty, my biggest fear was seeing Blake matched up against John Brown on Sunday, and the speedy receiver justified that trepidation time and time again. This is an excellent route by Brown, but also illustrates just how much Blake struggles to mirror-and-match in man coverage.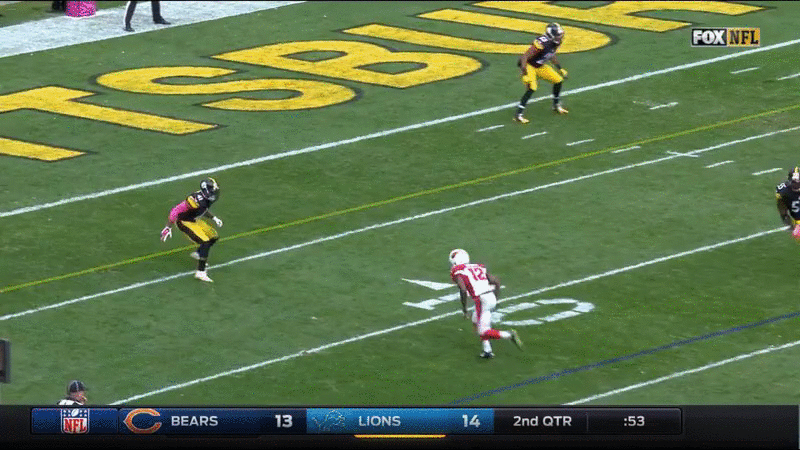 Inside fake by Brown is immediately bit on by Blake, allowing the receiver to stem inside uncontested. It is an outstanding pattern by one of the best route runners in the game, but Blake's inability to recover even slightly shows the deficiencies I've been talking about. Weight shifts to his heels as the receiver stems (a big no-no), causing Blake to lose his balance and stumble repeatedly trying to open his hips and recover. Undisciplined footwork without the lateral agility and overall quickness to recover from any false steps. In man coverage, those weaknesses will get you killed.
Last thing I want to touch on with Blake is his astounding lack of ball skills. You may have seen Alex and I discuss this in the past, but it needs to be repeated. I love Blake's ability to play the pocket as a corner, as it forces receivers to secure the ball all the way through the catch, a difficult task to complete. The strategy is often employed on fade routes in the end zone, when the ball is in the air for a limited amount of time and the cornerback does not want to risk losing feel for the receiver. Do I love it? No, but some corners are simply not fluid enough to turn, locate the ball, make a play on it, and not lose the receiver in the process. Blake is limited in this way.
Where these lack of ball skills really present themselves is in vertical shots down the field, when the ball is hung in the air for an ample amount of time that should allow even the stiffest of corners to turn, locate, and attempt to make a play on the ball.
Carson Palmer lofts this ball considerably, yet Blake makes no move to turn and adjust to the football. If he simply knew where the ball was, there is a good chance he could make a play on it. At the very least, watch the receiver and let him take you to the ball. Cornerbacking 101. Instead Blake is so concerned with getting beat over the top, that he fails to find the football or the receiver.
I've got other GIFs queued up, but I think you get the gist. In short, while I respect Blake's ability to understand assignments, play tough at catch points, and stick his nose into the run game, he's simply far too limited in his technique, athleticism, and ball skills to play the heavy man-coverage role that Pittsburgh is asking him to play.
Last year they had no options. This year they have a top five slot cover corner in the NFL on their bench, and they aren't playing him. I get that they want Gay in the slot for communication purposes, or perhaps because they think he's best there, but the longtime Steeler corner excelled on the outside last season, and has played there plenty this season.
At this point, I don't know what Brandon Boykin's mental psyche is like after being benched for players clearly worse than he is, but there isn't any way he can be more inefficient than Blake. The corner I've watched and loved on tape for years has top-notch mirroring skills with clean footwork, excellent technique, and ideal ball skills. For a front office that seemed to make that last one a real priority this offseason and in the draft, it becomes even harder to understand why he isn't playing.
The Steelers defense has two major weaknesses right now: missed tackles, which were cleaned up on Sunday, and man coverage. They have the opportunity to eliminate the main culprit in BOTH of those areas by benching Blake. Not many teams have the luxury of replacing the weakest link in their defense with one of the best cover guys in the NFL at any moment, yet the opportunity is there for Pittsburgh every week. Blake deserves to play in the NFL, but not in this role, not with these responsibilities. Let him thrive as a special teams guys who can play corner in a pinch, and alleviate your defense's top concern by starting the guy you spent a fifth round pick on this offseason. I promise you, the results will look considerably better than this: