As we did last year, we'll review the Pittsburgh Steelers position-by-position, player-by-player, based on what I have recorded in my Game Rewind notes throughout the season.
We'll move forward today with a recap of the Steelers running backs.
Le'Veon Bell: It's been an offense on the hunt for a feature running back for a long time. There was the Rashard Mendenhall era. The Jonathan Dwyer season. The Isaac Redman…week?
And though we live in a league dominated by committees, Bell has bucked the trend. In his breakout year, still just his second season mind you, he's become the Steelers' workhorse. And in turn, their MVP.
It was immediately apparent Bell shed weight in order to become much quicker. Faster hitting the hole and giving him some breakaway speed he lacked in his rookie year.
It paid off. Perhaps his biggest jump occurred in his ability to explode laterally, find a lane, and hit it with conviction.
He doubled his 20 yard runs in year two, eight to four. And had another 10 catches go for that much.
At the time, I wrote this 21 yard carry against the Baltimore Ravens would probably be forgotten over the course of the season. But it shouldn't because of how good it was in an otherwise forgettable 20-6 defeat.
That lateral agility allowed him to press linebackers. Get them to commit to one side and jump cut away. The first one showed him pressing the talented Thomas Davis, getting upfield, and sprinting 81 yards.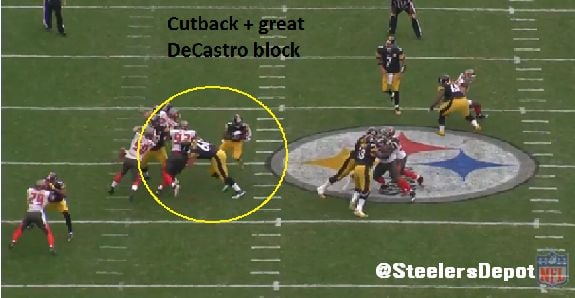 While he showed that finesse, there wasn't a shortage of power either. He was so dominant at times that defenders may have been weary to tackle him. It looked like Kendrick Lewis was scared to close on him in Week 7, opting to chase the back to the sideline.
And when Bell has runs like this one against the New Orleans Saints, it's almost hard to blame them. Stiff arm the safety, truck the other, and finish the run with a few extra yards of contact
Some of the screen grabs involving Bell just look absurd. The trail of defenders he's left in his wake throughout the year.
Of all the photos of Bell, this next one is my favorite.
As the season went on and his impressive runs became routine, my reports began to shift to the other areas of his game. In a four week span, I included notes on his pass protection three times. Repeatedly, Bell had the intelligence to recognize blitzes and the size/fearlessness to square up on them.
He obliterated the team's record of receptions by a running back. John L. Williams previously held the record with 51. Bell had 83. He also was second on the team in receptions and yards, the first Steeler to do so since Merril Hoge.
He was used like a bonafide receiver. Appropriately so, on the first play of the season, he was split out wide and caught a pass. Over the season, there were 3rd downs where you could tell he was Ben Roethlisberger's primary receiver. Not many backs can say that.
He was used in the vertical game, running this sluggo (slant + go) that saw Roethlisberger just miss him.
Or the short game with an angle route that went for 43.
And as an emergency checkdown route as was the case on a 3rd and two 44 yard pickup against the Atlanta Falcons.
Put him one-on-one with a linebacker in the open field and odds were, he was going to win. The Cincinnati Bengals found that out the hardest. This Bell 10 yard touchdown came on an out route against the linebacker. Easy win.
While Bell pulled off this nifty spin on Vincent Rey en route to a 26 yard reception.
Even on days where the running game stalled, Bell was still a big component on the offense.
Oh yeah, and he never fumbled.
Go down the list of what you look for out of a running back and Bell checks them all off. The volume of snaps and the production associated with them is nothing short special.
The final numbers: 290 carries, 1361 yards 8 TDs, 83 receptions, 854 yards 3 TDs, 2215 yards from scrimmage, 11 total TDs
If there was one complaint, there were times where Bell passed up open lanes or missed following his blocks. With that volume of carries, it's going to happen throughout the year, but even Bell is not immune to some criticism.
He had his moments where I would have preferred him to plant and get upfield instead of bouncing the run over a gap.
Bounces one gap too far over, trying to hit the edge when he should plant and get what he can.
And doesn't follow Heath Miller pulling as his lead block.
And times where he didn't follow his blocks. As great of a year it was, there were some yards left on the field. I think he'd be the first to tell you that.
Dri Archer: He tantalized fans with the thought of his game-breaking speed but disappointed with a year that saw him produce just two plays over 10 yards on offense.
He predictably got first crack as the team's kick returner but didn't live up to his billing, averaging fewer than 18 yards per kick and a long of 23.
That wasn't all his fault though. Poor blocking did play a role, as shown below. An unblocked defender that meets Archer as he crosses the ten.
But the pint-sized rookie is not completely absolved of blame, either. He had trouble catching kicks with proper momentum. And at other times, running far too laterally during the return.
After consecutive poor showings against the Cleveland Browns and Houston Texans, Archer was relieved of his main kick return duties.
Then things got weird, with the coaching staff attempting to be "inventive" in ways to get him on the field.
Two weeks later, the team made him, a 173 pound rookie, the upback. Instead of asking him to traditionally block, they attempted to use him as a decoy running away from the return, ostensibly in the hopes of drawing the eyes of defenders.
It didn't work. Instead, it removed an extra blocker for the actual returner. That came back to bite the team against the New York Jets when Markus Wheaton needed one more blocker to potentially have a big play.
He was occasionally placed on the punt return unit. This screenshot below sums up its effectiveness. It's entirely possible Archer screwed up his assignment but here he is trying to run from the numbers to block this punt. Spoiler alert, he failed.
He often went down too easily on contact, showed a tendency to try and bounce runs even when it went against the scheme, and couldn't hold his own even against DBs in pass protection.
He wound up being a healthy inactive for the end of the season, sans the final two weeks.
His final offensive numbers: 17 touches, 63 yards, 3.7 yards per touch, two first downs, zero touchdowns.
There were glimpses off positive plays.
I like his speed to outrun K'Waun Williams on the edge for a 15 yard gain, his longest run of the year.
And he understood scramble rules in Week 17, extending his swing route vertically for a 15 yard gain to put the Steelers' in a short-yard situation.
During the bye week, I wrote an article on Archer and thought he might be able to give the Steelers' a spark the rest of the way. The notion that one big play could change some hearts. I was dead wrong. It didn't happen.
Some perspective is still worth keeping. An injury in the first week derailed him; a proper analogy given Mike Tomlin's penchant for describing young players need to get on a "moving train." That plays a factor. Try to remember why you liked him coming out of Kent St.
But it doesn't deny in a year filled with rookie impact players, Archer fell flat. And there's no guarantee he makes it out of camp in 2015. Bruce Davis and Alameda Ta'amu are players selected in Archer's range who were cut in their second trip to Latrobe.
Competition will be brought in and the team will take a Darwinism approach. Survival of the fittest. After one year, Archer doesn't look like that guy.
Josh Harris: Picked up during camp, Harris spent part of the year on the practice squad. Following LeGarrette's Blount release, he got the call-up to the 53 man roster. He only played 19 offensive snaps in the regular season before helping to fill in for Bell in the Wildcard game.
His most notable run of the year was all for naught – a 59 yard dash called back due to a Ramon Foster hold.
The sample size of his work is small and honestly, too difficult to make any sort of accurate conclusion. He did show poor vision on one particular run against the Ravens, cutting up into CJ Mosley instead of keeping the run outside.
He has an impressive body type and seemed to run hard but I can't tell if he's just "a guy" or if there's something a little more there. He'll definitely be back in camp and his special teams work as an upback gives him a slight boost in value. But his job is not guaranteed.