ByAlex Kozora
Game breakdown from the Pittsburgh Steelers' loss to the Baltimore Ravens.
CLICK ON ANY PICTURE TO ENLARGE
First Half
– Kick return unit. The front five: Terence Garvin, Antwon Blake, Will Allen, Vince Williams, and Kion Wilson. As they have been all year, Michael Palmer and David Paulson as the next two and Cam Heyward/Al Woods forming the wedge. Jonathan Dwyer the upback and Emmanuel Sanders started the game at kick returner.
– First run play of the game for Pittsburgh. Haloti Ngata swims over David DeCastro. He and Fernando Velasco both off balance on the play.
– Just a simple run blocking concept here. Against eight man fronts, motion the receiver to a "nasty" (tight) split so he can crack him.
Rule is stalk block the CB vs two deep shells and crack vs eight man fronts.
– Markus Wheaton and Blake the starting gunners. Interesting Wheaton got the nod over someone like Shamarko Thomas.
– Nearly a block on Matt McBriar's first punt. Wheaton nudges the defender just enough off the snap to prevent it.
– Double-move by Jacoby Jones on the first play from Baltimore. Stems to post and then runs the go. WilliamGay late in opening his hips and Jones able to eat up the cushion. Luckily, Joe Flacco's pass was underthrown and Gay was able to break it up.
– Looks like quarter, quarter, halves on the 54 yard Torrey Smith catch. Regardless of coverage, Will Allen bites on the crosser instead of watching for any vertical routes. Ike has outside leverage and protecting his portion of the field and is rightly expecting help to the inside. Doesn't get it. Not his fault.
– For those that follow me on Twitter, you may have already seen this. On the next play, Steelers only had ten players on the field. Still stopped Ray Rice.
– Guessing the confusion is with a slight change in the goalline package due to Steve McClendon's absence. On the next play, still in goalline, Will Allen comes in as the 11th man. In past weeks, the team had only employed two defensive backs, Troy Polamalu and Ryan Clark with five defensive lineman. This week, they used four lineman, four linebackers, and three defensive backs. It appears Hebron Fangupo is not apart of the goalline package.
– It was pointed out on the broadcast but on the Ravens first TD, Brett Keisel drops into coverage. Just not athletic enough to move laterally and get in the throwing lane.
– David DeCastro did a fantastic job to absorb and anchor against Ngata after being walked back into the pocket off the snap.
– Timing and anticipation on this completion to Heath. Ball comes out just as Heath is breaking his route. By the time he gets his head around, the ball is there. Required when the window is small.
– Your weekly missed T/E stunt by the offensive line.
– Terence Garvin definitely the new nickel linebacker, replacing Vince Williams.
– Instance of Jason Worilds being unable to seal the edge, letting Bernard Pierce get to the edge.
But overall, Worilds had another strong game. Even against the run, showed great hustle in backside pursuit, coming from behind to make multiple tackle on zone runs away from him.
– Thank goodness Will Allen was in the box supporting the run on this play. All three backside defenders end up on the ground.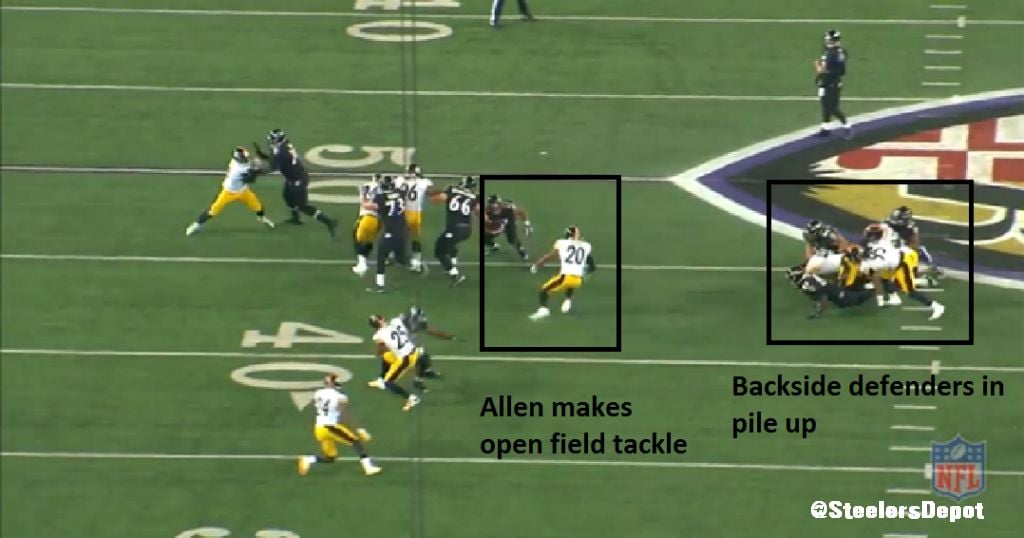 Open field tackling from the Steelers' safeties is the biggest reason why they don't allow many explosive plays in the run game.
– Ziggy Hood showing off some nice pass rushing moves vs Marshal Yanda. Tosses him aside and pressures Flacco.
– Thomas and Cortez Allen the starting jammers.
– Spot route complete for five. Time old concept that is tough to defend vs zone.
– Wildcat. Looks different obviously but just simple Power O. DeCastro and Will Johnson leading the charge.
– Mike Adams not sliding laterally vs Elvis Dumervil. Beat easily.
– Ben's mobility in the pocket. Been preaching how good yet underrated he is there. Pressure off the edge, climbs the pocket.
Resets his feet and keeps his eyes downfield with pressure still behind him.
Keeps climbing and connects with Sanders.
– Throw behind Sanders here because the receiver doesn't settle vs zone. Keeps running into the next defender and the throw misses.
– Good route concept by Baltimore. 3×1 vs single high who is naturally on the hash on the strong side. Go route on the backside. Island coverage. Draws pass interference.
– Hood so good at recognizing screens. Sees the guard pull, stays with the back the whole way, and makes the tackle for just a one yard gain.
Second Half
– Two coaches, one of them being Mike Tomlin, on the white right next to the ref on a kickoff before the interference.
– Ravens run a mesh route to force Ike Taylor over the top. Easy separation for Torrey Smith.
– 3rd and 9, 11:07 left in the 3rd. Man under coverage but Jarvis Jones is thinking zone and passes off his WR on another mesh. WR wide open and converts the first down.
– Did this vs Cleveland for a completion. Semi-fake playaction, hit Heath on a seam. Just enough to freeze the DB and put him in trail position. Another completion this week.
– Le'Veon Bell 3rd and 2 run. Split along the line tells you where the run is going. Playside "A" gap.
Credit to Antonio Brown for a key downfield block on the play, too.
– Ben's TD to Sanders. Again, shows mobility in the pocket. Pressure, climbs, eyes downfield, and makes the throw with a defender barreling down on him.
– Tomlin interfering KR. Aside from that, which has been talked about enough, a look at how Jones was able to break free. Will Allen double-teamed and sealed to the inside. Creates the gap needed for Jones to sprint through. Credit to Cortez Allen who was L1 on the play, the opposite side of the field, for hustling and taking a good angle to bring him down.
– Team has been attempting wheel routes to Bell a lot this year. Don't think they've connected on one yet. Might be time to take it out of the playbook.
– Third down 34 yard completion to Jacoby Jones. Joe Flacco had roughly six seconds to throw. Tough to stop as a defense. Though with Baltimore keeping six in and the Steelers only bringing four, the battle was in favor of the line.
– Even dating back to last year (remember Cleveland running a lot of them late in the season with Jordan Cameron) the Steelers have struggled to defend crossing patterns. Either the underneath receiver comes open or the safety bites and drives on the crosser and they get beat over the top (as what happened on the Torrey Smith reception).
On this play, I have no clue who has who. Ryan Clark trying to run across half the field to get to a man on the sidelines, everyone just out of position. Need to tighten up the screws there.
– Kudos to William Gay for getting off the block of Marshal Yanda on this screen. Made the tackle.
– Where Tomlin was standing on the next kickoff.
– Ben seeing free blitzer and smartly hits hot Le'Veon Bell. Been inconsistent in getting to his hot read but did a nice job on Thanksgiving.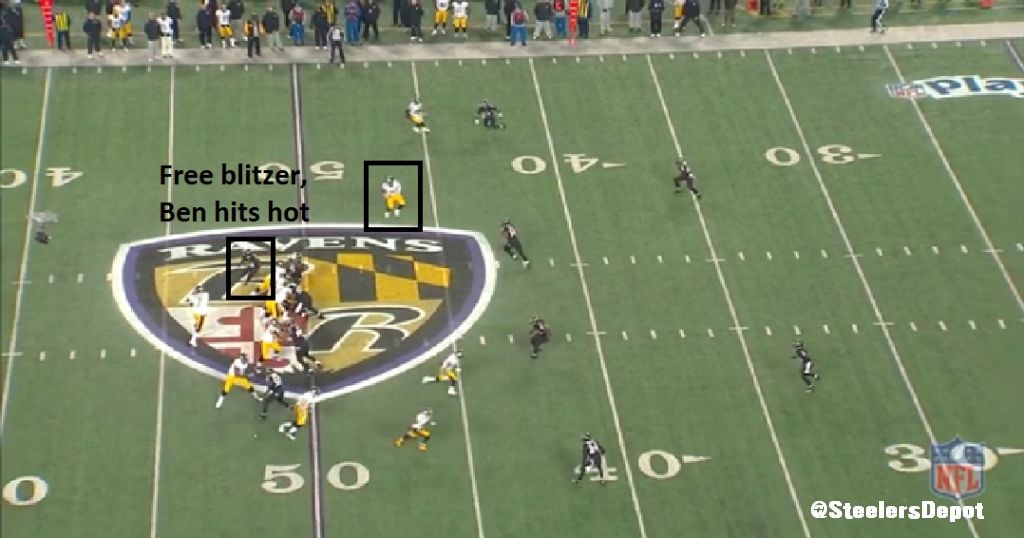 – Basically a smash concept on this play late in the contest. Brown on curl and Bell on the corner. Kudos to safety James Ihedigbo for sinking, tracking the ball, and getting a hand on it to break it up. Not an easy play when you see the team's #1 receiver sit down.
– Ravens linebackers "sugar" the "A" gaps and twist. Bell/Ramon Foster can't pick it up, allowing pressure.
– Great down bocks by Marcus Gilbert and Miller vs Courtney Upshaw and Daryl Smith on Bell's TD. Jerricho Cotchery also.
– Terrell Suggs' arms in Mike Adams' chest. Adams has his arms in Suggs' kidneys. Can't win the leverage matchup that way.
And here again, doesn't even get his arms into him.
– Look at Fernando Velasco get downfield on this screen, springing Bell for a first down!
So unfortunate he's out for the year. Was really starting to settle in and looked much better than he did even a few weeks ago when I was a bit critical of him. Still wasn't a great player but gotten better. And it's not just the loss of Velasco as it is the downgrade to Cody Wallace or moving Kelvin Beachum to center and placing Mike Adams at left tackle.
Went back and forth on which change I'd rather see and settled on starting Wallace at center. Not because I have much faith in him (or Eric Olsen/David Snow) but seeing Beachum excelling at left tackle, it's impossible to move him. You'll stunt and potentially stop his growth.
I get the idea of wanting to give Mike Adams another shot but if you've found your left tackle in Beachum, don't try to find another in Adams. Maybe he's destined to be a tight end eligible. Maybe his days with the team are numbered. But once you find a piece that fits, don't change it.
– Sanders misses his seal on LaDarius Webb, preventing Bell's TD on the final drive.
– Scary to see Bell's arms go stiff like that. It's called The Fencing Response.
One definition describes it as,
"It is used as an overt indicator of injury force magnitude and midbrain localization to aid in injury identification and classification for events including, but not limited to, on-field and/or bystander observations of sports-related head injuries."
Lucky to be ok.
– TD on the final drive. Slant/flat combo. Ravens have corners at the same depth, a big no-no along the goalline, but it doesn't even matter. There's miscommunication, the corners don't pass off, and it's an easy TD to Cotchery.
– Two point conversion. Same play. And something to note pre-snap. It's a "check with me" where the QB has one play called and can check to another. In this case, it's a called draw. DeCastro pulls off the snap, the line shows low hat, they all think it's run. But Ben again grabs his facemask and looks to Sanders to signal the pass.
Because of the run, it's a free rush from the right side so there's no chance Ben can look to his #2 read. Brown ends up being open in the flats/corner of the end zone because the Ravens again, can't pass off correctly.
– Ziggy Hood has been playing excellently in Keisel's absence. As a whole, this defensive line is getting after the quarterback.
– Jarvis Jones again non-existent as a pass rusher.
– Line obviously playing so much better. Zero sacks allowed last two weeks.
– In the two games against Baltimore, the Steelers were in base personnel on just 14 of 133 plays (10.5%). Vast majority in dime, including 55 of 65 this past meeting.