By Alex Kozora
A breakdown of every offensive snap of Pittsburgh Steelers tight end David Paulson Saturday versus the New York Giants.
First Drive
Snaps: 7
Run Block: 4
Pass Route/Block: 1/2
Play-by-Play
– 1st and 10, 15:00 1st. Starts the game in 12 personnel with Michael Palmer. Outside zone away from him. Down blocks Kiwanuka.
– 2nd and 5, 14:17. Works to second level on MIKE Mark Herzlich. Paulson holds his own though falls off the block towards the end of the play.
– 3rd and 3, 13:36. Pass. Paulson releases upfield down the seam before going out of picture.
– 1st and 10, 13:08. Power O with him as the backside TE and Ramon Foster pulling. Paulson lowers his shoulders into Keith Rivers but the linebacker bounces off him and helps in on the tackle.
– 2nd and 6, 12:20. Run. Obvious mismatch vs Cullen Jenkins who walks him back and then sheds him. Tough assignment but Paulson can't let Jenkins get into his pads so easily. Once that happens, the battle is over. Holding on the play by Marcus Gilbert results in a 2nd and 16.
– 2nd and 16, 11:56. Attempted screen to Brown away from the tight end. He briefly pass blocks but the pass is batted down and the play quickly ends.
– 3rd and 16, 11:53. Pass blocking. Initially solo on the OLB Adrian Tracy before Gilbert slides over to help. Wasn't the prettiest job but Paulson keeps moving laterally and doesn't let Tracy shed him.
Second Drive
Snaps: 11
Run Block: 5
Pass Route/Block: 5/1
Play-by-Play
– 1st and 10, 9:52 1st. Stretch that Howling cuts back. Good down block from Paulson, getting some revenge on Jenkins. Seals him to the inside and LASH goes for a gain of 10.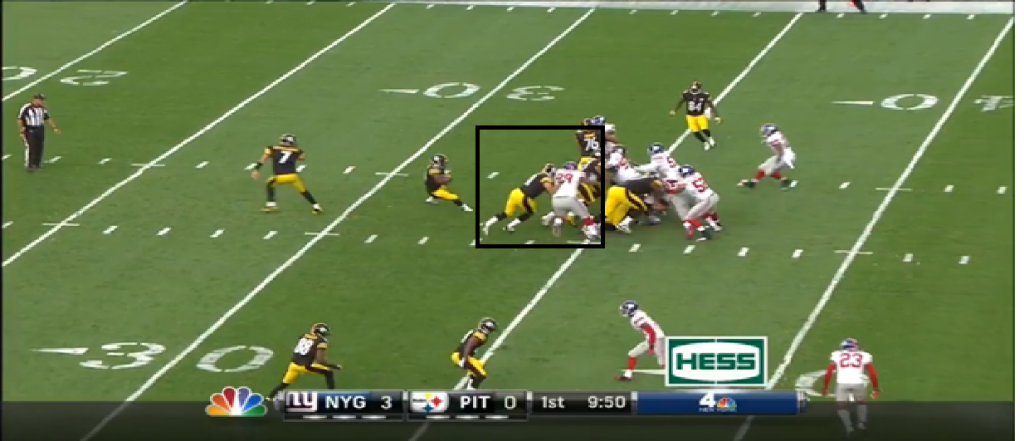 – 1st and 10, 9:11. Pre-snap motion coming behind center and then returning to original spot (terminology for it varies). Off the line in a two point stance shaded just to the inside of Adams. Helps Adams double a little but not much going on.
– 2nd and 4, 8:29. Playaction. Paulson free release down the seam. Ben hits Sanders on a five yard out.
– 1st and 10, 7:47. Outside zone to Paulson's side. Doubles with Palmer vs Kiwanuka though Palmer is to the inside and does the bulk of the work.
– 2nd and 4, 7:02. Run. Base blocks the LB and with a bit of help from a pile of defenders underneath, pancakes him. Good arm extension and leg drive on this play.
– 3rd and 1, 6:34. Lined up in the slot as the No. 2 receiver to the closed side. Ben has option between throwing screen to Sanders or dive to Howling. Paulson gets downfield ready to block but Ben hands it off.
– 1st and 10, 5:54. Screen to Dwyer. Paulson as decoy/clearout running a dig. Plant/break at about 10 yards.
– 2nd and 10, 5:51. Pass. Paulson releases down the numbers. Safety Stevie Brown tries to reroute him but Paulson does a nice job of getting past, dipping his inside shoulder as he passes. Pass complete to Sanders on the opposite side of the field.
– 1st and 10, 5:14. Will be counted as a pass block but it's a hot route from Ben to Brown. So low hat from Paulson. Defensive end DaMontre Moore quick off the ball and beats Paulson through the "C" gap, taking Ben down in the process.
– 2nd and 9, 5:10. Pass. Releases upfield. Botched camera work, it stays static on Ben so impossible to say what route was run. This was the backside fade to Brown that he couldn't get both feet in.
– 3rd and 10, 5:05. Skinny post from Paulson. Plays like this where it's obvious he's not much of an athlete. Not a strong cut and doesn't gain a lot of separation. Isn't fluid enough to do so.
Third Drive
Snaps: 5
Run Block: 2
Pass Route/Block: 1/2
Play-by-Play
– 1st and 10, 1:10 1st. Pass. Looks like a dig route. Gradkowski dumps it off to Will Johnson.
– 2nd and 2, :35. Power O with Paulson and Foster again pulling from the backside. Paulson able to occupy the OLB just long enough for Dwyer to get to the edge. On this angle, it'd be unreasonable to expect him to be able to stick on the 'backer on an outside run. What you hope for is being able to hit a moving target and that's what Paulson did.
– 1st and 10, :08. Run to his side. Tough to see what's going on here in a sea of bodies but he starts off doubling the OLB with Palmer. Then it looks like he tries to come off that block and get a piece of safety Tyler Sash, knifing into the backfield. Unable to get to him and Sash drops Dwyer for a loss.
– 2nd and 12, 15:00 2nd. In pass protection. Just a three man rush after DE Moore drops so nothing to note here.
– 3rd and 12, 14:55. Off the LOS in a two point. Pass blocking vs Nickel blitz. Initially, Paulson put on skates but absorbs, gets square, and anchors. So pretty good job.
Fourth Drive
Snaps: 7
Run Block: 2
Pass Route/Block: 3/2
Play-by-Play
– 1st and 10, 13:23 2nd. Playaction. Paulson in pass protection. Jolted initially but that's likely because he's faking the down block to sell the run action. With that low hat, it's hard to be too critical. He recovers and anchors. Lets the linebacker get into his pads a little too much but not a terrible job all things considered.
– 2nd and 10, 13:15. Off LOS in a two point. Releases into the flats on bubble screen to Justin Brown. But Gradkowski hits Dwyer on middle screen instead.
– 3rd and 9, 12:31. Originally, off the LOS at TE. But motioned into the backfield by Gradkowski. False start negates the play so it doesn't count in my snap log but I wanted to note the motion.
– 3rd and 15, 12:06. Again in a two point stance. Block/release and with no one coming, he runs a five yard curl. Gradkowski hits him. Plucks it out of the air (no body catch) and quickly gets upfield. Doesn't have the speed to get away from LB Dan Connor who has the angle on him. He and the safety take Paulson down about two yards shy of the sticks.
– 4th and 2, 11:19. Tries to release upfield but has trouble getting off the line. Jammed by safety Tyler Sash. Lose him offscreen but he reappears a few moments later coming across the field towards Gradkowski. Hard to say if that was the route design or just him working to the QB in a scramble drill. Also worth nothing Sash is all over him. Paulson has zero separation.
– 1st and 10, 10:36. Run. Chips the LB and tries to work to the CB. But with Dwyer cutting back up the "A" gap, the CB is drawn away so not much to note.
– 2nd and 4, 9:57. One of the worst plays from the second year man on the evening. Run to his side. Justin Trattou gets his arms into Paulson and drives him back a bit. Dwyer shouldn't have tried to bounce it to the outside but he did and had nowhere to go. Dropped for a loss.
– 3rd and 5, 9:17. Curl about a yard short of the sticks. Gradkowski targets him. The pass is a bit high and sails through Paulson's hands.
Fifth Drive
Snaps: 7
Run Block: 3
Pass Route/Block: 2/2
Play-by-Play
– 1st and 10, 5:39 2nd. Interesting wrinkle. Lined up off the line in a two point. Run to his (strong) side but he comes across the entire line to kick out the free weakside linebacker. Guy Whimper gets in the way though and Paulson whiffs.
– 2nd and 10, 4:58. Pass protection. Not much to note. Helps out Beachum on the crashing end. Safety does blitz late but seems unlikely he was Paulson's responsibility. The safety gets picked up by the back.
– 3rd and 4, 4:16. Releases into the flats. Rub by the OLB Tracy knocks him off for just a moment. Gradkowski scrambles to opposite side of the field.
– 1st and 10, 3:34. Off line in two point. End around to Wheaton. Paulson pulls and is the lead blocker. Puts the CB on his butt. James Daniels Is probably beaming.
– 1st and 10, 2:48. Releases upfield as clearout/decoy on screen to Dwyer.
– 2nd and 11, 2:06. Two point stance off the line. Power O. Good jolt into the OLB Williams, kicks him out.
– 3rd and 10, 2:00. Pass blocking against a seven man rush. Picks up the safety Sash and does a nice job. Gets his arms into him and moves well laterally. In complete control.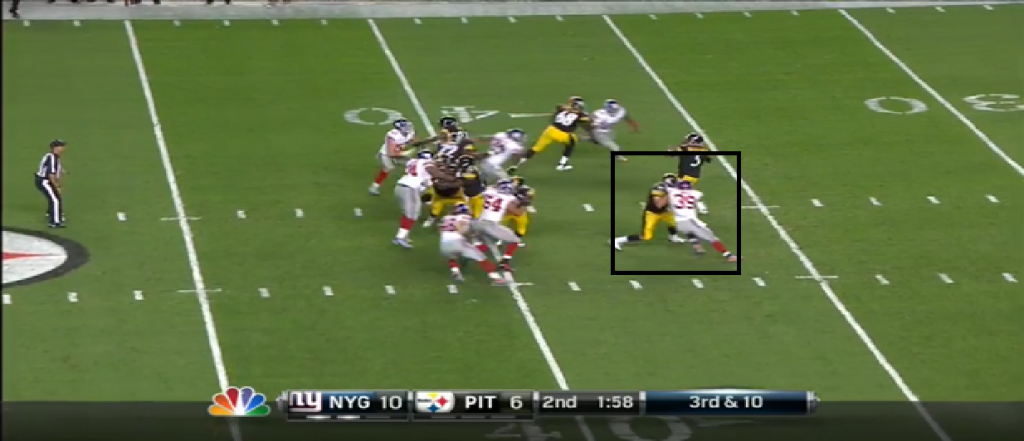 Total/Conclusions
Snaps: 37
Run Block: 16
Pass Route/Block: 12/9
While he's still going to grow and get better, making any conclusions dangerous, this seems to be the prototypical game from Paulson. A willing blocker who doesn't have the strength to bully defenders around but takes good angles and has solid technique to get the job done. An average athlete with a limited route tree and difficulty getting separation but a heady player who doesn't make mental mistakes. He's the chair you've had since college. It's not the "big ticket" item in the room but the comfort you have knowing it's there if you need it has its own value. Even if it doesn't show up in the box score.