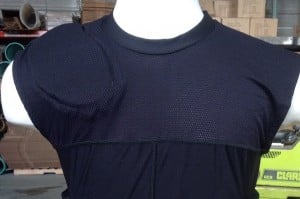 The Pittsburgh Steelers have asked Unequal Technologies to create a custom-made protective vest for quarterback Ben Roethlisberger to wear Sunday against the San Diego Chargers in order to protect his injured right shoulder.
The compression vest will include Concussion Reduction Technology – CRT – padding which is currently being used by Steelers linebacker James Harrison, safety Ryan Clark, and safety Troy Polamalu in their helmets
Roethlisberger will wear a custom fitted rib/chest compression shirt and a layer of Kevlar-lined composite made by Unequal Technologies in his shoulder pads to help absorb any hits he should take to his clavicle and shoulder joint areas.
The CRT padding has become very popular in the league right now as more and more players use the kevlar padding in their helmets
The extra padding in Roethlisberger\'s shoulder pads will be about the same thickness that the company puts in its chest protectors for baseball catchers
Both Harrison and Clark swear by the CRT padding with Harrison claiming that it has helped with his headaches since he started using it early last season.
Roethlisberger practiced fully again on Friday and is making all of the necessary throws according to head coach Mike Tomlin. It was announced formerly on Thursday that he would return this Sunday as the starter after sitting out the last three games.