Below are the offensive player play counts and participation chart for the Pittsburgh Steelers week 12 loss to the Cleveland Browns.
Player Notes:
The Steelers only used their 11 personnel grouping featuring 3 wide receivers 29 times against the Browns on 63 offensive plays with 9 of those times coming on the last 11 plays. This is not surprising as Jerricho Cotchery and Antonio Brown were sidelined by injuries and Plaxico Burress had only been with the team for 3 practices. This severely limited what the Steelers could do in the passing game. Of course it didn\'t help that the running backs kept fumbling the ball away as well. With Brown back this week, I fully expect to see a little higher ratio of three wide sets, which should free up Heath Miller just a tad more.
Burress, as previously noted, only played 11 snaps this past Sunday. I am guessing he will get around 15 snaps this week in a slightly expended role depending on just how healthy Brown is.
Click on the image below to see the full PDF version of the participation chart.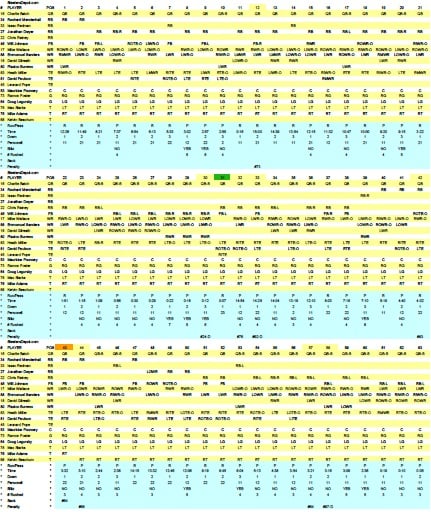 | | |
| --- | --- |
| 63 | Charlie Batch |
| 63 | Heath Miller |
| 63 | Maurkice Pouncey |
| 63 | Ramon Foster |
| 63 | Doug Legursky |
| 63 | Max Starks |
| 58 | Mike Wallace |
| 53 | Emmanuel Sanders |
| 43 | Mike Adams |
| 32 | Will Johnson |
| 26 | David Paulson |
| 21 | David Gilreath |
| 20 | Kelvin Beachum |
| 19 | Jonathan Dwyer |
| 18 | Chris Rainey |
| 11 | Plaxico Burress |
| 8 | Rashard Mendenhall |
| 5 | Isaac Redman |
| 1 | Leonard Pope |